March 3, 2015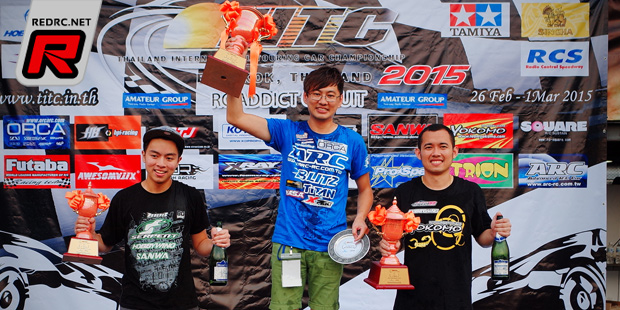 The annual Thailand International Touring Car Championships was held this past weekend at the RC Addict Circuit in Bangkok, Thailand, home of the 2012 IFMAR 1/10 Nitro World Championship. More than 300 drivers competed in the five electric on-road classes of Touring Car Modified, Open Brushless, Non Boost, Formula and a Junior Class. Tyre strategy and car setup was crucial in getting the car dialled for the ever changing condition of the fast and flowing track with some sections being very bumpy, but the track offered high traction most of the time. In the Open Brushless Class, PY Tang was in control of things, scoring the only 19-lap run in controlled practise to top the group. On qualification day 1, PY again showed that that he was the man to beat, topping the time sheet in the first three qualifiers, securing the overall TQ just on day 1. On day 2 PY ran old tyres taking 3rd fastest in Q4 and Q5, allowing him to use the last fresh set of tyres from the qualifiers in the finals and in addition to the two fresh sets of rubber the A-main finalists received.
Open Brushless qualifying top 10 result:
1. PY Tang
2. Kittipong R.
3. Daryl Thong
4. Mongkolphan Lomros
5. Felix Law
6. Stick King
7. Anusorn S.
8. Trin T.
9. Natee T.
10.Derek Yuen
PY remained strong and continued to dominate in the finals taking the win in A-main 1 holding off Kittipong R. who finished 2nd and Stick King in 3rd. PY then also cruised to the win in the second A-main to take the overall win early. He then sat out the third and final A-main to let Kittipong R., Daryl Thong and Stick King to battle for the remaining podium spots, with Kittipong R. ultimately taking the win and the runner-up spot from Daryl Thong.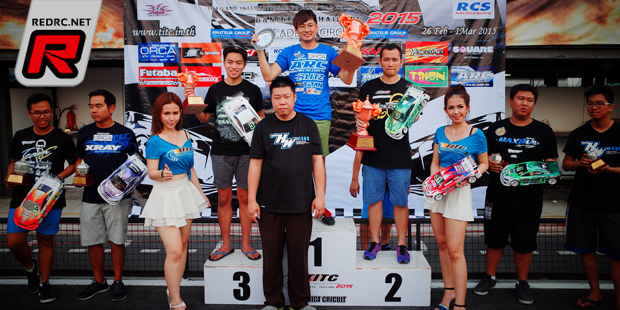 Open Brushless A-main top 10 result:
1. PYTang
2. Kittipong R.
3. Daryl Thong
4. Stick King
5. Trin T.
6. Mongkolphan Lomros
7 Natee T.
8 Anusorn S.
9. Felix Law
10.Derek Yuen
Source: ARC [arc-rc.com.tw]
---