March 6, 2015
For the 3rd consecutive year, the Storm Team organised what is considered one of the biggest and most fun 1/10th off-road events in France. Around 130 drivers attended the event for both 4WD and 2WD classes. In the 4WD class Renaud Savoya came out successful in front of Arnaud Vialle and Cham Dassanayake after taking the TQ position.
4WD top 12 result:
1. Reno Savoya
2. Arnaud Vialle
3. Cham Dassanayake
4. Jean-Marc Betticher
5. Jimmy Weimann
6. Lorenzo Crolla
7. Stephane Deroch
8. Yael Zurfluh
9. Alexandre Prviat
10.Dominique Mouffle
11.Rayan Medjoubi
12.Rémy Barbillon
In the 2WD class it was again Renaud who took the TQ and win. Jean-Marc Betticher came in 2nd while Arnaud Vialle rounded out the podium in 3rd.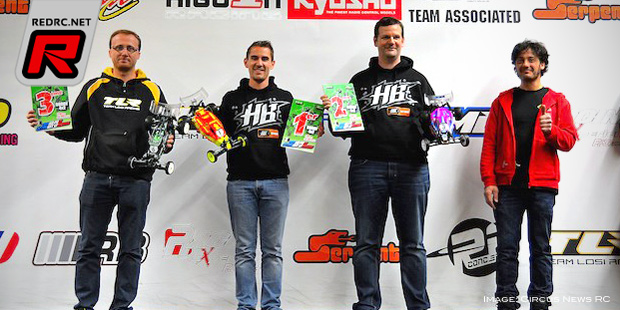 2WD top 12 result:
1. Reno Savoya
2. Jean-Marc Betticher
3. Arnaud Vialle
4. Stephane Deroch
5. Cham Dassanayake
6. Rémy Bertrand
7. Lorenzo Crolla
8. Maxime Colas
9. Cédric Guillaud
10.Anthony Boissonnade
11.Mathieux Chaffardon
12.Jimmy Weimann
Source: HPI Racing [hpiracing.com]
---