April 27, 2015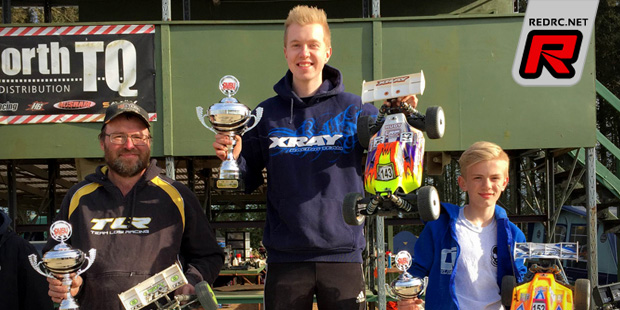 The second round of the Danish 1/8th Off-road Nationals was held at the Hillerod RC Club, around an hour drive away from Copenhagen. The track is a high-speed track with some tricky sections like astroturf jumps, a lot of camber corners, and a big Neo-style jump in the middle of the track, also covered in astroturf. The weekend started out on Saturday with the E-Buggy and Nitro Truggy classes and in E-Buggy it was Mike Gosvig who TQ'd three of the four qualifiers to take the overall TQ from Magnus Frandsen and Jan D. Hansen.
E-Buggy qualifying top 10:
1. Mike Gosvig
2. Magnus Frandsen
3. Jan D. Hansen
4. Pelle Culmsee
5. Nikolaj Lamberts
6. Rasmus Petersen
7. Daniel Rose
8. Henning Warner
9. Ole Klinge
10.Thomas Hansen
The first E-Buggy final had Mike Gosvig pulling away with no problem, opening a gap on Pelle and Magnus who were in a fight for 2nd place. Soon Jan D. Hansen overtook Magnus and Pelle and would hold on his 2nd place right until Mike's car went out of power around mid-race. Mike was trying to keep racing, but with a car that was not able to take any jumps he knew it would stop very soon. Jan D. Hansen was coming closer and closer, and on lap 10 Mike's race was over as the car stopped with electric issues. Up front Jan took the win in the opening main with Pelle Culmsee in 2nd position and Magnus Frandsen in 3rd. For the second final Mike had fixed the electrical problems and he was able to take the win from tone to tone, some 24 seconds in front of 2nd placed Pelle who had and very close battle with Magnus again in this main, but Magnus made some mistakes and could not catch on Pelle in the last laps. Jan, who won the first main, finished 5th in this main. In the third and decisive final Mike again got a perfect start and he could soon pull away. Leg 1 winner Jan D. Hansen would overtake Magnus Frandsen and would stay in 2nd position for the remainder of the main. Pelle was struggling a little bit with his tyre choice but got back to the 3rd spot.
E-Buggy overall results:
1. Mike Gosvig
2. Jan D. Hansen
3. Pelle Culmsee
4. Magnus Frandsen
5. Rasmus Petersen
6. Nikolaj Lamberts
7. Ole Klinge
8. Daniel Rose
9. Thomas Hansen
10.Henning Warner
The Truggy class had Silas Hogholt taking the TQ after the qualifiers from Peter Hader and Mike Gosvig with the latter racing a Truggy competitively for the first time.
Truggy qualifying top 10:
1. Silas Hogholt
2. Peter Harder
3. Mike Gosvig
4. Steffan Culmsee
5. Tim Culmsee
6. Oscar Harder
7. Jesper Lund
8. Christian Schat
9. Tom Mortensen
10.Patrick Petersen
At the start of the main disaster stroke for Silas whose engine cut which allowed Peter and Mike to get into the 1st and 2nd spot respectively. At first it looked like Peter would be in control of things but once Mike started to push a bit more he was able to close the gap on his teammate. Following a good battle Mike made a small mistake and Peter was able to open a 5 second gap only to suffer from technical problems shortly after. Now it was Mike in the lead in front of a hard chasing Silas with whom Mike had some nice battles. With more than half of the final run Mike also ran into trouble as he suffered an engine flameout which cost him about 10 to 20 seconds. Up front Silas ended the race in 1st place from Mike Gosvig and Tim Culmsee.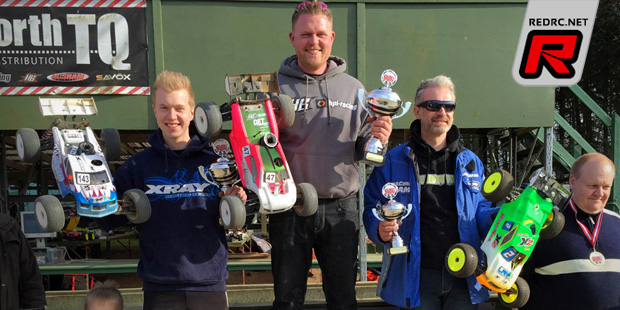 Truggy overall results:
1. Silas Hogholt
2. Mike Gosvig
3. Tim Culmsee
4. Jesper Lund
5. Oscar Harder
6. Patrick Petersen
7. Peter Harder
8. Tom Mortensen
9. Christian Schat
10.Steffen Culmsee
Sunday was devoted to the Nitro Buggy class and again the weather was perfect with the sun shining and no wind all day. In the qualifiers Mike Gosvig was battling with Silas and Peter for the TQ. At the end Peter TQ'd three of the four rounds with one round won by Silas. Both looked very strong and only some small mistakes cost Silas a better qualifying result. Behind the two Mike Gosvig ended the qualifiers in 3rd place.
Buggy qualifying top 10:
1. Peter Harder
2. Silas Hogholt
3. Mike Gosvig
4. Pelle Culmsee
5. Steffen Culmsee
6. Magnus Frandsen
7. Jan D. Hansen
8. Tim Culmsee
9. Soren Hempel
10.Nikolai Lamberts
After the semi finals Peller Culmsee put his buggy on the pole position for the finals with Peter Harder in 2nd and Magnus Frandsen on the 3rd spot. The opening stages of the Nitro Buggy main then proved to be very eventful. In the first lap Mike Gosvig was able to jump into 2nd place right behind Pelle at the Neo jump only to find himself in the lead in lap 2 when Pelle's buggy broke due to a big mess up at the said Neo jump. With Pelle out of the race Mike now had Peter right behind him in 2nd place. With consistent and fast driving Mike opened a gap on Peter only to make an error in lap 11 which cost him about 16 seconds and to loose the lead. Now with Silas on his tail Mike was able to push on Peter again but Silas made a mistake which allowed Mike to catch on Peter who was out in front. Both swapped positions now and then and as they were on a different fuel strategy things became interesting towards the end. In the closing stages Mike would pass Peter and he began to open a little gap, and after Mike's pitstop Peter was right behind him again, but Mike knew that Peter needed to pit soon, so he took it easy and tried to further open the gap. In the last minutes Mike was around 15 seconds in front of Peter, but the latter had some technical problem with the throttle servo and needed to retire. Up front Mike took the win from Peter who had a large enough margin on 3rd placed Magnus Frandsen in 3rd.
Buggy overall results:
1. Mike Gosvig
2. Peter Harder
3. Magnus Frandsen
4. Tim Culmsee
5. Jan D. Hansen
6. Kim Petersen
7. Morten Krogh
8. Silas Hogholt
9. Pelle Culmsee
10.Henning Warner
Source: Xray [teamxray.com]
---