April 28, 2015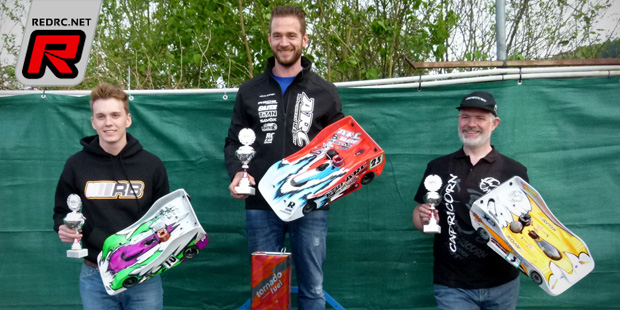 Only two weeks after the season opener at Dormagen, round two of the Western German Nitro On-road Championships was held at the Rhein-Ahr-Motodrom in Bad Breisig, located between Bonn and Koblenz at the river Rhine. With rain announced for the weekend 52 entries were received with 50 drivers finally attending the race, but the weather turned to be much better than expected and finally allowed for an excellent race weekend. On Saturday the track was wet in the morning but at about lunch time an intense practice was on the way. On Sunday morning the track was nearly dry and only the first heat was affected just a little bit.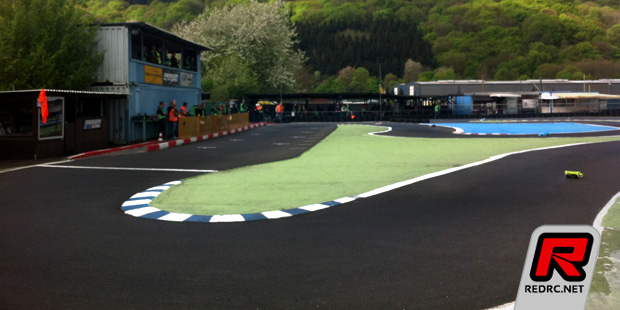 In 1/8th scale class 1 the TQ was captured by John Ermen for the second time in a row. With his Reds-powered ARC the Dutch was the only one to complete 21 laps in 5 minutes on the 254 metre track. The 2nd spot in the qualifying ranking was taken by young Tobias Hepp (Mugen) followed by Steven Cuypers (Mugen). The 20-minutes semifinal B was won by Hepp in front of Capricorn racer Frank Schewiola and the three Serpent drivers Karl-Heinz Meister, Ralf Vahrenkamp and Thomas Kroeger. Ermen achieved a strong win in the semifinal A with a three lap advantage over Christian Wurst (Capricorn) with Uwe Baldes (Mugen), Philipp Roemer (Xray) and Ingo Odenthal (Serpent) on positions 3 to 5. As Ermen and Hepp were prominent victims of the semifinals at Dormagen, this time Dormagen winner Cuypers had bad luck and after only 3 laps the game was over for the Belgian.
The 30-minute main race was a battle between Ermen and Hepp with the ARC racer leading from tone to lap 58. Then, when slight drizzle made it a bit difficult for a short period of time, Hepp took over the lead and stood in front the reigning champion until lap 103 but then Ermen was in front again to bring home his first victory for ARC. Hepp was only about half a lap down of Ermen. The podium was completed by Wurst who enjoyed a lonely race on the 3rd position from start to finish. Schewiola dropped back to 7th right after the start but made his way back to 4th to achieve the same result as at Dormagen with Meister on 5th place. Kroeger had to retire already after less than nine minutes and also Baldes was stopped with less than eight minutes to go because of a broken throttle servo.
1/8 scale class 1 result:
1. John Ermen – ARC/Reds – 118 laps
2. Tobias Hepp – Mugen/RB – 117
3. Christian Wurst – Capricorn/XRD – 114
4. Frank Schewiola – Capricorn/Picco – 112
5. Karl-Heinz Meister – Serpent/Picco – 112
6. Ralf Vahrenkamp – Serpent/Novarossi – 109
7. Ingo Odenthal – Serpent/Novarossi – 103
8. Philipp Roemer – Xray/RB – 99
9. Uwe Baldes – Mugen/Rex – 81
10.Thomas Kroeger – Serpent/Novarossi – 29
After two of four rounds Frank Schewiola is leading the championships ranking by 234 points followed by Meister (231), Ermen (230), Baldes (230) and Cuypers (227). As for the statistics, Serpent had four 977 chassis in the finale and a total of seven cars in the class 1 field followed by four Mugen, three Capricorn and one ARC and Xray each.
In 1/8 scale class 2 Hans-Peter Holl was leading the heats ranking with his Sonic-powered Serpent ahead of Marco Muscara (Mugen) and Christoph Loose (Serpent). From the semifinals Joachim Kuehn (Shepherd), Benny Ciere (Mugen), Michael Woeste (Capricorn), Detlef Spiess (Xray) and Heinrich Wenner (Serpent) as well as Holl, Heiko Kube (Mugen), Reinhard Zick (Mugen), Christoph Loose (Serpent) and Matthias Guenther (Shepherd) made it into the main final while Dormagen winner Muscara had to retire because of lost screws on the rear end of his Mugen.
Holl led the 30-minute finale from the tone to the checkered flag and was finally more than a lap in front of Heiko Kube. Also Benny Ciere, Christoph Loose and Matthias Guenther were separated by one lap each. The only close battle was for the 6th place which was taken by Joachim Kuehn with just half a second in front of Reinhard Zick. Nine cars made it to the finish line with only Michael Woeste retiring at the 15 minutes mark.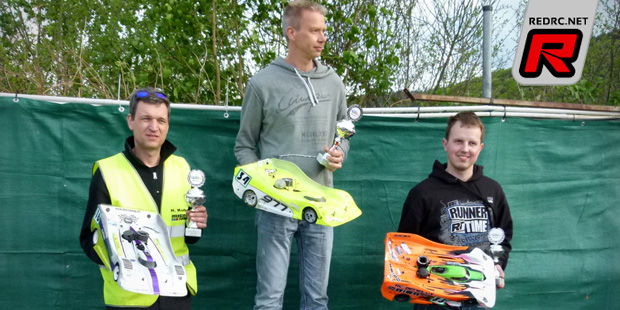 1/8 scale class 2 result:
1. Hans-Peter Holl – Serpent/Sonic – 108 laps
2. Heiko Kube – Mugen/RB – 107
3. Benny Ciere – Mugen/Team Orion – 106
4. Christoph Loose – Serpent/Novarossi – 105
5. Matthias Guenther – Shepherd/Sonic – 104
6. Joachim Kuehn – Shepherd/Sonic – 102
7. Detlef Spiess – Xray/Novarossi – 102
8. Reinhard Zick – Mugen/Rex – 101
9. Heinrich Wenner – Serpent/Novarossi – 99
10.Michael Woeste – Capricorn/Novarossi – 50
At halftime the ranking of the Western German Championship is led by Ciere (237) in front of Guenther (233), Zick (231), Loose (231) and Muscara (229). In the field 1/8th class 2 field Mugen leads the statistics with six cars ahead of Serpent (5), Shepherd (4), Xray (2) and one Capricorn and KM each.
With a rental Serpent 748 Marc Fischer made his 1/10th nitro debut in the 2015 Western German nitro division. The factory driver and regular electric touring car racer was ranked 7th in qualifying with Thilo Toedtmann (Capricorn/Tesla) taking the TQ ahead of the Shepherd teammates René Puepke and Bernd Rausch. From the semifinal B German Champion Daniel Thiele (Serpent) stepped up into the main winning ahead of René Puepke (Shepherd), Marco Nenner (KM), Benny Lehmann (Shepherd) and Faehd Labik (Xray) while Marc Fischer pushed his S748 to the 1st place in semifinal A ahead of Serpent fellow Andy Weyhoven, Daniel Toennessen (Mugen), Joerg Baldes (Serpent) and Bernd Rausch (Shepherd) who was in the lead until he lost a minute to repair his Velox V10. Caused by engine issues Toedtmann, a so called guest driver in the Western division, following his move to the Mid-German region, had to close-down his racing activities for this particular Sunday after finishing on 6th spot in his semi.
The 30-minute finale saw Marc Fischer leading for most of the race. Finally he took victory with a two lap margin over Puepke who lead the race for about 30 laps in the early stage. Thiele completed the podium in 3rd, keeping Rausch a few seconds behind. The Dormagen winner had been on 2nd place as his highest position during this race while Weyhoven and Nenner had to retire at about halftime.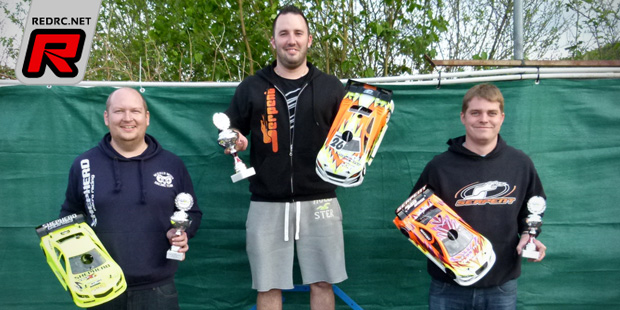 1/10th scale result:
1. Marc Fischer – Serpent/Max – 107 laps
2. Rene Puepke – Shepherd/Orcan – 105
3. Daniel Thiele – Serpent/O.S. – 104
4. Bernd Rausch – Shepherd/Sonic – 103
5. Benny Lehmann – Shepherd/Orcan – 103
6. Daniel  Toennessen – Mugen/RB – 102
7. Faehd Labik – Xray/Orcan – 97
8. Joerg Baldes – Serpent/Rex – 89
9. Marco Nenner – KM/Novarossi – 39
10.Andreas Weyhoven – Serpent/Max – 37
Shepherd was the leading chassis brand with six cars followed by Serpent (4), Capricorn (2) and one each Mugen, Xray and KM. Nitro racing in Western Germany will continue the two-week rhythm with the first of six round of the Nitro-West-Masters (NWM) to take place at the famous track at Oberhausen on May 9th and 10th. The third round of the Western German Championship will be held at the fast track at Hamm on June 6th and 7th.
Source: Nitro-West [nitro-west.de]
---