April 14, 2015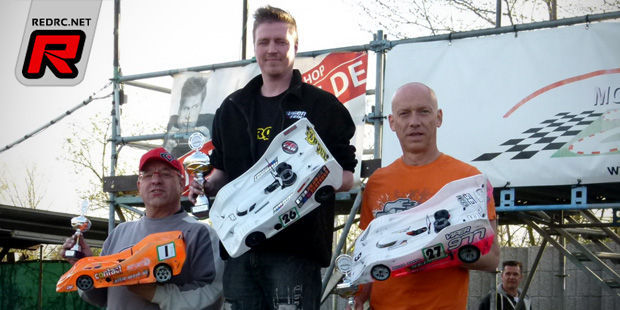 The first of four rounds of the Western German Nitro Onroad Championships was held at the track of the MCK Dormagen in the North of Cologne. A total of 65 competitors joined this first qualifier for the German Nationals in the three classes of 1/8th scale class 1 and 2 and as well as 1/10th scale 200mm. Following the Nitro-West warmup race two weeks before, which has been washed out by rain, all drivers tried to make maximum use of the ten hours of practice on Saturday, which was interrupted by slight rain for about one hour at lunch time. Unfortunately more rain hit the track in the evening which resulted in a still damp track during the first heat on Sunday morning.

In 1/8th scale class 1 it was Tobias Hepp who took pole position with his RB-powered Mugen. Reigning champion John Ermen put his Reds-powered ARC onto the second spot although he missed to finish the final lap. Christian Wurst, now racing with Capricorn and XRD, made it to third position in the heats ranking ahead of Michael Salven with his Picco-powered Serpent.
After smashing his Mugen in the second heat, having him end up in 22nd and last position in the ranking, Steven Cuypers, with a completely rebuilt MRX5, stormed through the 11-car field in the semi final B to win with a one lap advantage over Michael Salven. Also Karl-Heinz Meister (Serpent), Uwe Baldes (Mugen) and Martin Baumann (Serpent) went into the final. One who did not made it was John Ermen who was leading the field halfway into the 20 minute race but he finally had to retire due to engine troubles. Capricorn newbie Frank Schewiola took the win in the semi A ahead of the four Serpent racers of John Lenaers from Belgium, Ralf Vahrenkamp, Dirk Rischard from Luxembourg and Thomas Kroeger. Among those who did not made it into the main race also were pole setter Tobias Hepp with a broken front belt and Christian Wurst who suffered a bearing failure.
From first spot on the grid Cupyers took the early lead with Salven at his tail for most of the time including few position changes. Later in the 30 minutes race the former German Champion from Belgium would pull away a bit to bring home the victory with a two lap advantage over Salven. Coming from fifth spot on the grid Baldes jumped to third in the first lap and he was the number one chaser of the leading duo until close to the end when Schewiola could pass. But Schewiola was pushing hard to keep Baldes behind and he finally ran out of fuel in the very last lap so Baldes completed the podium with Cuypers in first and Salven in second spot.
1/8th scale class 1 result:
1. Steven Cuypers – Mugen/Picco – 112 laps
2. Michael Salven – Serpent/Picco – 110
3. Uwe Baldes – Mugen/Rex – 109
4. Frank Schewiola – Capricorn/Picco – 108
5. Martin Baumann – Serpent/Novarossi – 102
6. Karl-Heinz Meister – erpent/Picco – 100
7. Dirk Rischard – Serpent/Picco – 49
8. Thomas Kroeger – Serpent/Novarossi – 39
9. John Lenaers – Serpent/Picco – 25
10.Ralf Vahrenkamp – Serpent/Novarossi – 2
Serpent had seven 977 chassis in the finale and a total of nine cars in the class 1 field followed by six Mugen, three Capricorn and two ARC and Xray each.
In 1/8th scale class 2 the pole position went to Arno Puepke in front of Christoph Loose and Marco Muscara. From the semi final B Christoph Loose, Benny Ciere, Michael Woeste, Matthias Guenther and Bert Poesen made into the main, while from the semi final A Marco Muscara, Reinhard Zick, Joachim Kuehn, Waldemar Liedtke and Martin Figge proceeded to the main. Pole setter Puepke was on second with his Shepherd for most of the time but following a one minute break he dropped back. In the main Marco Muscara achieved a superb win leading from tone to tone. Loose looked like to finish in second but ran into trouble to finish seventh. Instead of Loose it was Benny Ciere from the Netherlands to take second spot on the podium while old-boy Reinhard Zick made it a 1-2-3 for Mugen.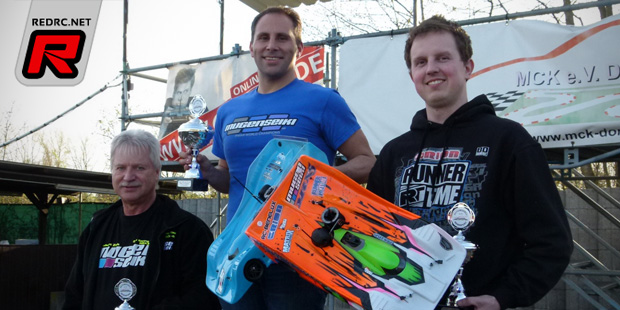 1/8th scale class 1 result:
1. Marco Muscara – Mugen/O.S. – 105 laps
2. Benny Ciere – Mugen/Team Orion – 102
3. Reinhard Zick – Mugen/Rex – 102
4. Matthias Guenther – Shepherd/Sonic – 98
5. Bert Poesen – Mugen/Picco – 97
6. Michael Woeste – Capricorn/Novarossi – 86
7. Christoph Loose – Serpent/Novarossi – 85
8. Joachim Kuehn – Shepherd/Sonic – 85
9. Martin Figge – Motonica/Sonic – 32
10.Waldemar Liedtke – Mugen/Novarossi – 14
In the field of 1/8 class 2 Mugen led the statistics with ten cars ahead of Serpent and Shepherd with five chassis each and one Capricorn and Motonica each.
In the 1/10th scale class last season's tough battle was looking to be continued. René Puepke pushed his Orcan-powered Shepherd to pole position with German Champion Daniel Thiele (Serpent/O.S.) in second and Daniel Toennessen (Mugen/RB) in third. Bernd Rausch, fourth after qualifying, managed to win the semi final B in front of Shepherd fellow Arndt Bernhardt. Salven (Serpent) came on third with Marco Nenner (KM) and Joerg Baldes (Serpent) in fourth and fifth, all three finishing in the same lap. Daniel Thiele was leading but crashed his 748 and lost about ten laps in the pits. The semi final A went to René Puepke with fellow Shepherd racer Benny Lehmann in second followed by Andy Weyhoven (Serpent), Daniel Toennessen and Ingo Braun (Capricorn).
In the main René Puepke was chased hard by Bernd Rausch but seemed to have it all in his hands until a malfunction of his receiver occurred with just a few laps to go. That handed over the victory to reigning champion Bernd Rausch with his Picco-powered Shepherd. Two laps down Benny Lehmann (Shepherd/Orcan) came in second, the third spot on the podium was taken by Weyhoven (Serpent/Max) who was another three laps down. In a very tight battle Ingo Braun was the lucky boy to take the fourth position in front of Arndt Bernhard and Joerg Baldes – all three crossing the finish line within less than a second.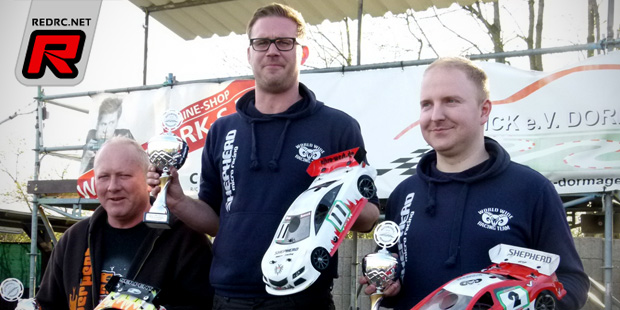 1/10th scale result:
1. Bernd Rausch – Shepherd/Sonic – 101 laps
2. Benny Lehmann – Shepherd/Orcan – 99
3. Andreas Weyhoven – Serpent/Max – 96
4. Ingo Braun – Capricorn/RB – 95
5. Arndt Bernhardt – Shepherd/RB – 95
6. Joerg Baldes – Serpent/Rex – 95
7. René Puepke – Shepherd/Orcan – 94
8. Marco Nenner – KM/Novarossi – 91
9. Daniel Toennessen – Mugen/RB – 83
10.Michael Salven – Serpent/Picco – 14
As for the statistics, Shepherd was the leading chassis brand with eight cars followed by Serpent with seven. Furthermore Mugen and Xray had two cars each in the field, Capricorn and KM one each.
The next round of the Western German Championships will be held in only two weeks time at the Motodrom Rhein-Ahr at Bad Breisig, located between Bonn and Koblenz at the river Rhine.
Source: Nitro-West [nitro-west.de]
---