May 29, 2015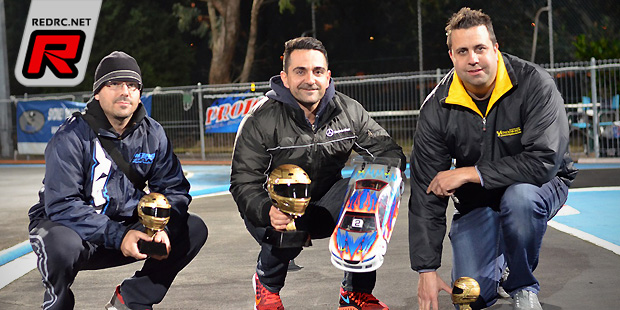 The recent 2015 Muchmore Masters took place last at Sydney Model Autosports with this year's racing format was a 1 day event with finals completed under lights in the evening. The classes contended were Touring Car Stock 13.5T, 21.5T, Formula and 1/12th scale. After drying off the track due to overnight rain practice and qualification rounds kicked off just before lunch time. After the four qualifications rounds and some very close racing Christian Silva and Damien Zarb were at the front of the Touring Car Stock field in position 1 and 2.

The Touring Car 21.5 top qualifier was local SMA expert Matt Morris in front of Steve Rich while in Formula Christian Silva was fastest followed by Paul Smith. 1/12th scale top qualifier was Aaron Lee who was consistently outpacing the rest of the field during the meeting. Dave Craft qualified 2nd with Hiroshi Ishizaki in 3rd. Finals were started under lights with cooling track conditions. Triple A-mains were ran for all classes and at the end it was Damien Zarb who took the overall win in the Touring Car Stock finals from pole-setter Christian Silva with Nathan Reese rounding out the top 3 result:
Touring Car Stock A-main result:
1. Damien Zarb
2. Christian Silva
3. Nathan Reese
4. Jeffrey MacKie
5. Bradd Vercoe
6. Christian Atal
7. Ed Clark
8. Raymond Williams
9. Scott Griffiths
10.Alex Ilievski
Touring Car 21.5T had TQ man Matt Morris snatching the overall victory from Josh Mason and Stephen Rich in 2nd and 3rd respectively.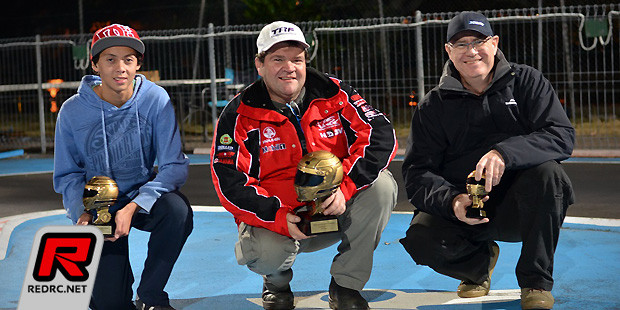 Touring Car 21.5 A-main result:
1. Matt Morris
2. Josh Mason
3. Stephen Rich
4. Patrick Saelzle
5. Brett Norris
6. Ray Zarb
7. Dean Paraskevas
8. Greg Bakla
9. Peter Kazanis
10.Simon Stewart
In the Formula class Christian Silva defended his top position against Paul Smith. Ed Clark came in 3rd to complete the podium.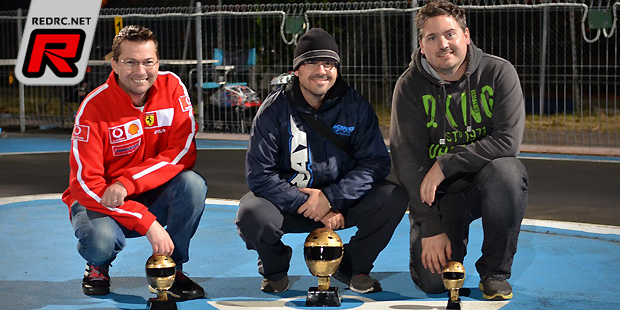 Formula A-main result:
1. Christian Silva
2. Paul Smith
3. Ed Clark
4. Brett Allen
5. Anthony Gullotta
6. Greg Bakla
7. Dan Maher
8. Dennis Leung
9. David Niven
10.Gerad Elias
Source: Xray [teamxray.com]
---