May 9, 2015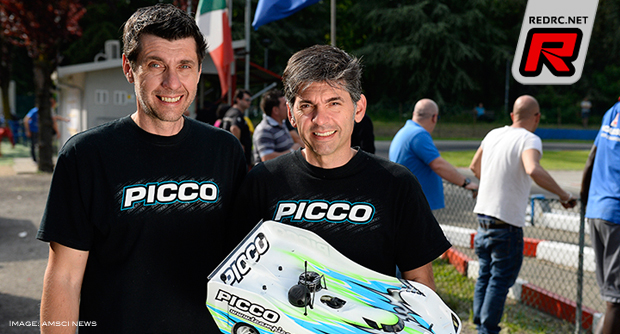 During this weekend's opening round of the Italian Nitro On-road Nationals Alberto Picco again presented himself in exceptional by taking the overall TQ following his overall 4th place at the ENS season opener held at the same track. Killing the competition taking the TQ honours in the first three rounds, he used the final qualifier to break in a new conrod in his engine. Behind him Dario Balestri suffered a clutch problem in Q1 and got a penalty for missing his marshalling, but managed to get a good Q3 and Q4 to place himself 3rd overall. Engine problems affected Lamberto Collari's race, with the 9-time World Champion driving safe in Q3 and Q4 to ensure himself a good starting spot in the semifinal and eventually a chance to compete in the Superpole. Andrea Pirani completed the qualifying in 2nd position after snatching the TQ from Balestri in Q4, with the ENS podium finisher being very competitive in the 10 minutes long qualifiers.

Picco declared himself delighted with his package, especially praising his engine. Using some experimental parts they have been working on in preparation for the Worlds, he said the power band truly is something he had never experienced before, with both top speed and acceleration being a key point of his performance. "Although I didn't drive perfect, I've been able to run consistently on a terrific pace, and that means the car, the engine and the tires are working flawlessly", was how the 43-years-old summed up his impressive performance, adding that he will leave the car unchanged for tomorrow's practice.
Second on the grid is Andrea Pirani, who claimed his direct ticket to the main event by winning the Superpole and putting in a best lap that was two tenths of a second on faster than Balestri's, with the latter having missed the chance to get into the main but he will start on pole for the faster semifinal tomorrow.
Source: AMSCI News [amscinews.com]
---