May 1, 2015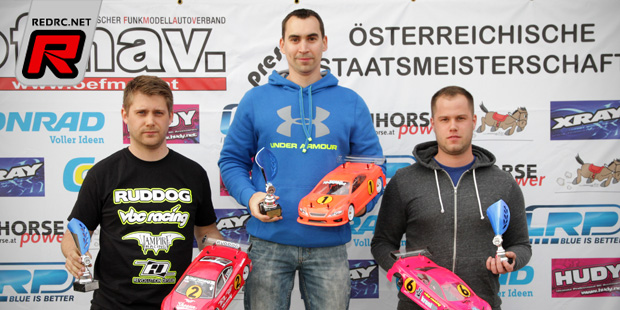 The first round of the Austrian Electric On-road Nationals was held at the beautiful track of 1. MRC Wiener Neustadt in Lower Austria and it attracted over 50 driers in to race in the four classes of Touring Car Modified and Standard, Formula and World GT. Unfortunately due to bad weather conditions the race had to be stopped during the second leg of the Touring Car Modified class. In Touring Car Stock there was a close race between Jürgen Horn and Martin Szunyogh. Whilst Q1 to Q3 brought Jürgen a solid TQ, Martin set the fastest qualification time in Q4. Obviously Martin's car seemed to perform better as the track temperature increased. Third on the grid was last year's vice champion Christian Schiff. In the finals the weather was getting colder and so it was Jürgen Horn who dominated the mains and he took an easy win followed by Martin Szunyogh and Jürgen Linsberger, who managed to grab 3rd position starting from 6th on the grid.
Touring Car Stock final result:
1. Jürgen Horn
2. Martin Szunyogh
3. Jürgen Linsberger
4. Christian Schiff
5. Marcus Helmecke
6. Manfred Pasch
7. Vinzenz Schrank
8. Rene Kronsteiner
9. Markus Linecker
10.Ralph Dorninger
In the Formula class defeating champion Herbert Weber again laid down an impressive performance during qualification as he took the TQ, followed by Thomas Landegger and Andreas Teubl. In A1 Thomas put a lot of pressure on Herbert but finally Herbert made a clean sweep by winning A1 and A2. The runner-up spot went to Thomas Landegger and Andreas Teubl took the overall 3rd place.
Formula final result:
1. Herbert Weber
2. Thomas Landegger
3. Andreas Teubl
4. Markus Wurmhöringer
5. Bernhard Welker
6. Peter Wiesmüller
7. Hannes Zuckerstätter
Only three drivers attended the first ever World GT race at the Austrian Nationals, nevertheless they offered a very good show. The TQ spot went to Andreas Wirl followed by Martin Holzeis and Christian Machalik. After two exciting finals, Andreas was able to set the fastest final time and to win this round while Martin was on the runner up spot followed by Christian.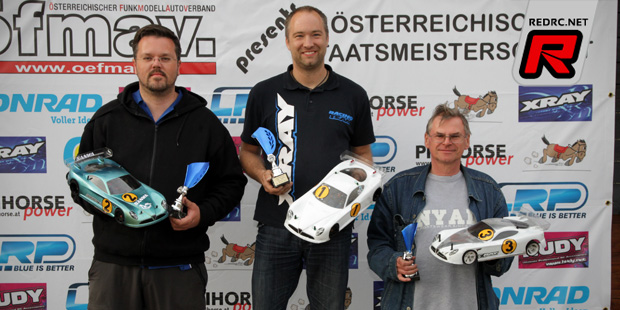 World GT final result:
1. Andreas Wirl
2. Martin Holzeis
3. Christian Machalik
Touring Car Modified was dominated by last year's champion Dominic Vogl. He set the fastest times all weekend long in this class and he and his car were nearly unbeatable. Also Dominic had some technical issues in Q1 and Q2, he took the overall TQ at least, followed by Patrick Gollner and Thomas Pumpler. Due to the weather conditions the Modified class would not finish the 2nd A-Main, so the qualification result was used to determine the day's ranking.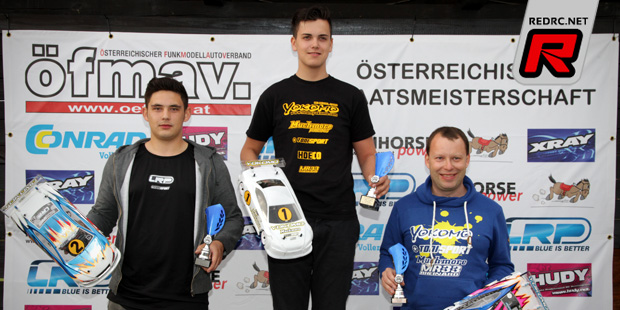 Touring Car Modified final result:
1. Dominic Vogl
2. Patrick Gollner
3. Thomas Pumpler
4. Jakob Zündel
5. Mario Sowka
6. Manuel Gremlica
7. Werner Schmitzer
8. Florian Luyer
9. Sascha Klug
10.Phillip Neudinger
The next round of the championship will take place on the 16th and 17th of May in Nussdorf am Haunsberg nearby Salzburg.
Source: ÖFMAV [ofmav.at]
---