May 22, 2015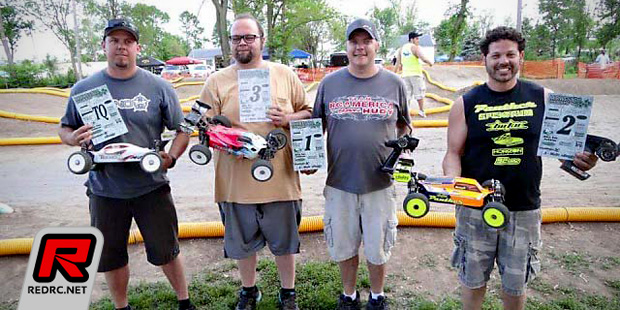 Round 2 of the Midwest RC Tour was held at Thunder Road Hobbies in E. Moline, IL.  A pretty bleak forecast hurt the entry count a little but still had 90 entries spread across Nitro Truggy, E-Buggy and Nitro Buggy. The layout was pretty straight forward with a couple of critical timing jumps. Qualifying was really close but as the 2nd round of qualifying came around the Sun broke thru and the track started changing drastically.

Up first would be A1 of the double A-mains for E-Buggy. A costly mistake by the leader got Danny Bartholomew, coming from the 3 spot, into the lead and after a few laps Danny was able to stretch out a good lead and cruise on to the win. A2 would be a perfect start for Danny as was able to grab the lead on lap 2. He then crashed a couple of laps later and that put 2nd and 3rd all over him but they would tangle and Danny again stretched out a big lead and cruised on to take the overall win in E-Buggy.
E-Buggy top 5 result:
1. Danny Bartholomew
2. Sonny O.
3. Jason Blooom
4. Mike Murphy
5. Tony Bacon
After a short 10 minute break it was time for the Nitro Buggy main. Right from the start Danny Bartholomew, coming from 3rd, again took the lead on lap 2 and would go on to win the main by almost 2 laps on 2nd placed Sonny O.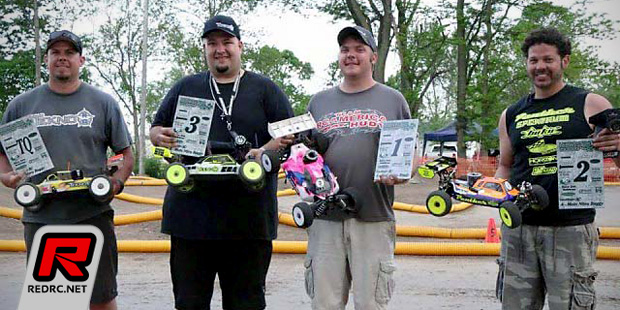 Nitro Buggy top 5 result:
1. Danny Bartholomew
2. Sonny O.
3. Slim Gravy
4. Shane Rasmussen
5. Mike Murphy
Source: Xray [teamxray.com]
---