May 4, 2015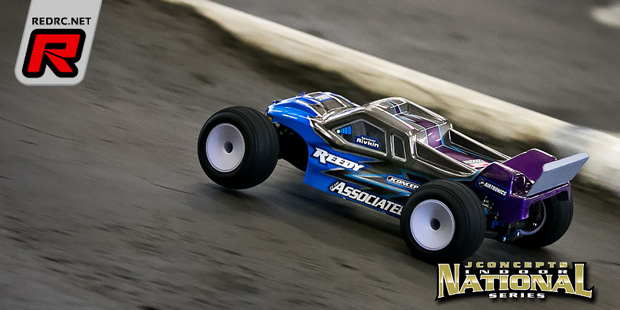 The final round of qualifying at the second round of the JConcepts Indoor National Series was a barn burner. AE/JConcepts' Spencer Rivkin stepped up to the plate in Modified Truck with another convincing win in Q4 that earned him the overall TQ for the class. Taking another 2nd place in qualifying and securing the 2nd spot on the grid was Kyosho/JConcepts' Ryan Matesa putting in solid runs all rounds of qualifying. Brent Thielke would make the top 3 in the final round of qualifying and ties Harely Yoshii on qual points, but with a faster tie-breaker Yoshii will start 3rd on the grid for the main event.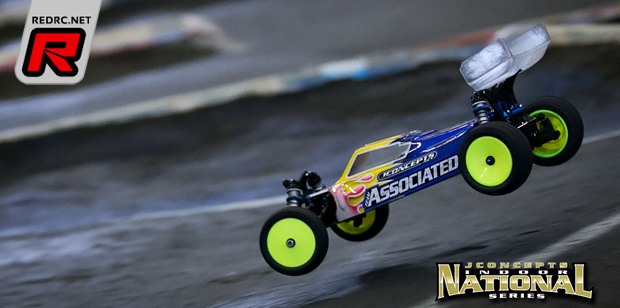 Already having two TQ runs in the 4WD Modified class, the only competitor that can challenge for the overall TQ was Spencer Rivkin who TQ'd round 3. The pressure was on for the young Arizona native to challenge his good friend and mentor to take overall TQ, but it would be AE/JConcepts' Michael Schoettler taking the win in Q4 giving the local favorite his first TQ run in 4WD. With only 2 points, Schoettler will start 2nd for the triple A-mains.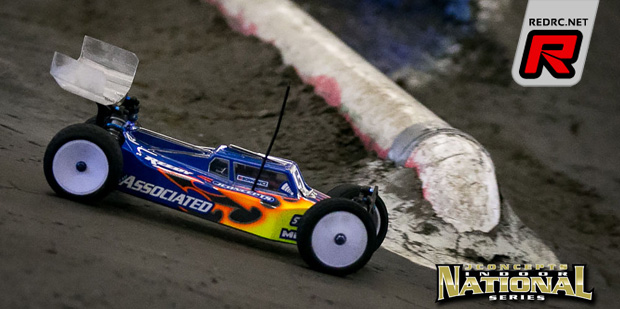 Team Muppets is starting to come on strong with Daimon Borkowicz having his best qualifying run late in the game finishing 2nd with a spectacular run on almost full slicks. Electing to go with JConcepts Dirtwebs all the way around on his B44.3, Borkowicz will start 4th on the grid. Spencer Rivkin would make another top 3 run. Staying consistent and smooth, Rivkin will start just behind Schoettler. Taking the overall TQ and putting his TLR 22-4 in front is none other than Ryan Maifield.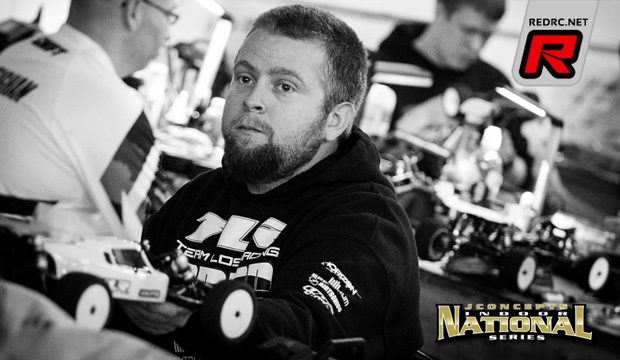 Almost perfect in qualifying and TQ'ing 3 of 4 rounds, Ryan Maifield has been looking sharp all weekend long with his Orion powered TLR 22 2.0. Putting an exclamation to the final round of qualifying, Maifield takes another win by just 0.4 seconds over Michael Schoettler. Schoettler would chase hard till the very end to try and catch Maifield as the two drivers would trade laps. With a 2nd in Q4, Schoettler secures his position right behind Maifield for the mains. Rivkin would hang tough and finish 3rd in Q4 giving him the 3rd spot on the grid.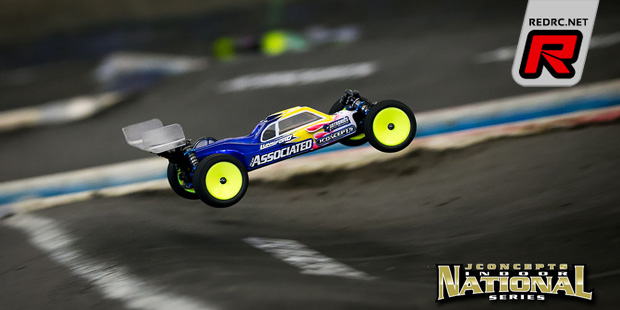 The action in Stock Truck is starting to get interesting as Chris Barton joins the growing list of TQs by taking the win in Q4. With this great result, Barton will start 3rd in the mains. Travis Harker would put in his best run and finish 2nd just behind Barton and jump all the way up to 4th on he grid. Patrick Morehead would also put finish strong with a 3rd for Q4. Shane Borden will lock up TQ with David Mclean starting 2nd. Taking the win in Q4 in stock buggy was Shane Borden which ties Casey Vitale in TQ points with zero. However, by having the faster tie-breaker, Vitale will start first on the grid while Borden will start 2nd. Sneaking into the top 3 for the A main event was Evan Overmars who finished Q4 with a strong 2nd. Casey Vitale would close out a great weekend in qualifying with another top 3 finish.
Thanks to Thomas Tran for the report.
---