May 13, 2015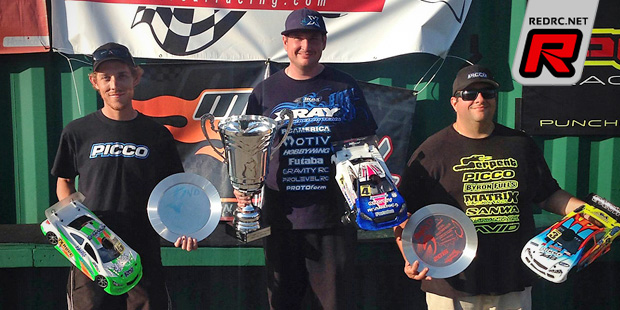 The 2015 ROAR Nitro On road Nationals was held at Full Throttle Raceway in Kissimmee Florida in the ROAR classes of 1/10 Touring Car and 1/8 Open as well as the two exhibition classes of 1/8 Masters and 1/8 GT. In 1/10th Touring Car the qualifying saw DJ Apolaro on top of the timing sheets in front of Mike Swauger and Paolo Morganti. The top 4 would be rounded out by Paul Lemieux. In 1/8th Open Paolo Morganti took the TQ from DJ Apolaro and Mike Swauger. Vincent Jackson came in 4th. The top 4 would qualified directly to the main finals while the others had to go through the semifinals to proceed to the hour long A-mains.

The 1/10 Touring Car main was up first. From tone to tone the race was exciting. Lead changes happened often with some racers having problems and all racers doing tyre changes. In the end it was Paul Lemieux to take the ROAR National championship. Scotty Grey would take 2nd and Paolo Morganti taking 3rd.
1/10 final results:
1. Paul Lemieux
2. Scotty Grey
3. Paolo Morganti
4. Mike Swauger
5. Chris Tosolini
6. Walter Diaz
7. Eduardo Cabal
8. Craig Xavier
9. KJ Jones
10.Joseph Wright
11.Uriah Murnan
12.DJ Apolaro
The 1/8 Open A-main would close the day and the event. This one also was some great racing from tone too tone. Leaders were Paolo, DJ, Mike, Paul, and Vincent. With a hard charge at the end Mike Swauger was able to secure his ROAR National Championship from Vincent Jackson on the runner up spot and Felix Law in 3rd.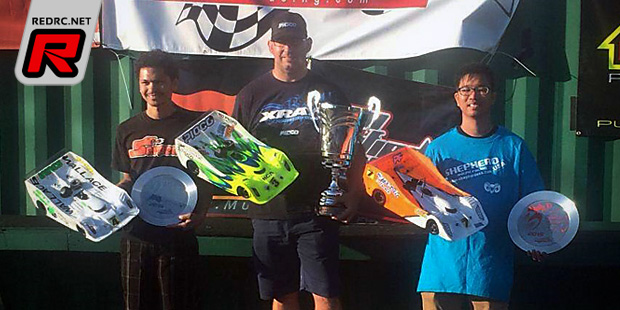 1/8 final results:
1. Mike Swauger
2. Vincent Jackson
3. Felix Law
4. Brain Thomas
5. Paul Lemiuex
6. Tony Roce
7. Timothy Harrington
8. DJ Apolaro
9. Michael Palazzola
10.Chris Tosolini
11.Paolo Mornganti
Source: Xray [teamxray.com]
---