May 28, 2015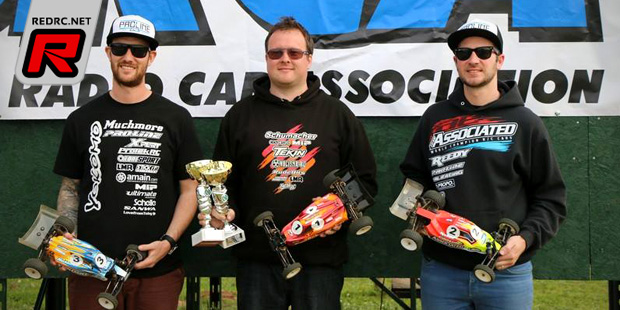 Round 3 of the BRCA 1/10th Buggy Nationals was held at the Telford club in Broseley, Shropshire. In the 2WD class, run on Saturday, Schumacher's Simon Moss took the TQ and pole position for the triple A-mains from Neil Cragg (Team Associated) and Lee Martin (Yokomo). Tom Yardy (Team Associated) and Elliott Boots (Kyosho) rounded out the top 5 result.

Leg 1 of the A-main was a very close affair with certainly three guys looking super-fast at the front end of this main. The top 5 set off and they were extremely close for a long time in this final. Simon Moss was always going to come under pressure from Neil and Lee. Everyone knew this and in a strange way probably took some pressure off Simon. That was proven correct as Simon drove a great race, held his nerve and took the win for leg 1. Lee came in 2nd after a out of character Neil error. Tom Yardy in at 3rd and Danny McGee in at the 4th spot.
If Simon would win A2 it would be a TQ and win that he hasn't done for some time. Neil and Lee knew this and it was never going to be easy for Simon. They all took off, all in regulation order, no heroics from Simon, keeping it on line and accuracy second to none that makes him the good driver he is. The following pack was hustling each other along but Simon just kept it exactly where he needs to be at. Lee took over 2nd from Neil after a bobble. Elliott made a move on Tom Yardy and looked like he wanted a piece of the action too. Time was running out but only to Simon's joy of bringing his car over the line to take the 2WD National win at Telford. Lee came in 2nd, Neil 3rd.
A3 and it has to be said that Simon Moss drove an immaculate last race to take all 3 legs of the final. Lee pushed him real hard in the last leg but it was always going to be difficult to pass when Simon was so accurate in all three legs. Neil Cragg came in 3rd to take the final podium spot.
2WD A-final result:
1. Simon Moss – Schumacher
2. Lee Martin – Yokomo
3. Neil Cragg – Team Associated
4. Tom Yardy – Team Associated
5. Danny McGee – Schumacher
6. Elliott Boots – Kyosho
7. Ellis Stafford – TLR
8. Nathan Waters – Schumacher
9. Tom Cockerill – Yokomo
10.Ben Jemison – Schumacher
Onto the 4WD class, held on Sunday, and it was Lee Martin (Yokomo) who would grab the TQ from Neil Cragg (Team Associated) and 2WD winner Simon Moss (Schumacher). In the opening A-main the two main contenders, Neil and Lee who battled it out for the TQ, would go at it again in the 4WD event. Lee Martin, Neil Cragg and Simon Moss all in close battle for leg 1 win. These three just drove such a close race. For the 5 minute duration it was difficult to decide the outcome. Ultimately it was the pole man Lee Martin that would bring it home though from Neil Cragg and Simon Moss.
A 2 and Lee Martin doesn't need an invitation to take a win. Neil made a mid race error that set him back a long way in comparison to where he is expected to be at. Everyone then saw some heroic fast driving by the current champion. He put in fastest lap after fastest lap to get back on terms with Lee that looked like he was in cruise control. Even a 24.12 (fastest lap of the day) could get Neil the win. Lee came in 1st won the meeting. Neil not even guaranteed overall 2nd at this stage. Tom Yardy came in 3rd and so was a contender for the podium.
Before A3 Lee already won the event and he knew he moves ahead in the Championship. The podium is open though. If Simon Moss wins the leg, he can snatch 2nd off Neil. If Tom Yardy wins the leg he could snatch 2nd spot. All to play for but everyone forgot Lee Martin. Lee was again on one of those cruise control drives he has become very familiar with. He went on to win the 3rd leg too. Richard Taylor had a great battle with Tom Yardy and took 2nd in the leg and with Tom in 3rd secured the last spot on the podium. Neil was to finish 4th and so 2nd overall.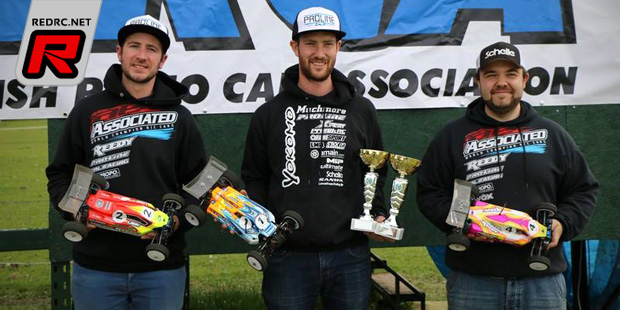 4WD A-final result:
1. Lee Martin – Yokomo
2. Neil Cragg – Team Associated
3. Tom Yardy – Team Associated
4. Richard Taylor – Schumacher
5. Craig Collonson – Team C
6. Simon Moss – Schumacher
7. Nathan Waters – Schumacher
8. Greg Williams – Team Associated
9. Ben Jemison – Schumacher
10.Tom Cockerill – Yokomo
Source: BRCA [brca.org]
---