May 8, 2015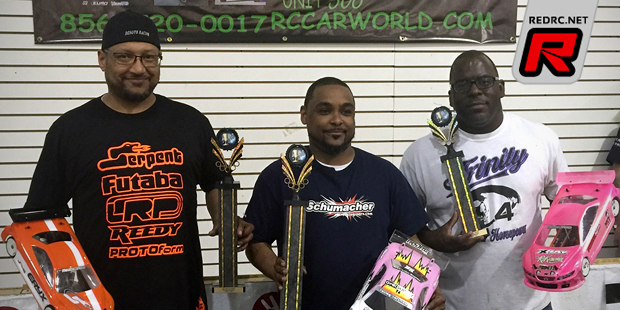 Last weekend saw the conclusion of RC Car World's Spring Challenge Points series at RC Car World in Willingboro, NJ. Qualifying started of strong with new Xray driver Oladelé Bolden qualifying 2nd to Schumacher driver Aja Archibald and Thomas Lane qualifying 3rd driving a Yokomo. As usual the track conditions varied as the racing continued throughout the day and Thomas Lane was able to set TQ and pole position heading into the final A main of the series.

At the start of the A-main there was a pile up exiting the sweeper entering the infield in which four drivers were entangled with each other. Once order was restored, Albin Melendez found his Xray leading the race, followed closely by Tom Lane (Yokomo) and Carlyle Forbes (Xray). Aja Archibald after early misfortune was able to make his was through traffic to start challenging for a podium position. On lap five Archibald was able to overtake Forbes for the number three position and by lap 16 was only 0.03 seconds behind Lane for the number two position. With Archibald in tow Lane began to set his sights on the leader Melendez who was now 0.06 ahead. Lane was able to overtake the leader Albin Melendez however, the top three positions now only separated by a total of 0.06. Three quarters of the way through the race Albin encountered some bad luck and dropped down to 5th place, allowing Tom Lane to hold of Aja Archibald for the win.
17.5 Touring Car A-main results:
1. Tom Lane – Yokomo
2. Aja Archibald – Schumacher
3. Daniel Pawling – Xray
4. Juwan Hunter – Serpent
5. Albin Melendez – Xray
6. Carlyle Forbes – Xray
7. Oladelé Bolden – Xray
8. Quinn Moon – VBC
Overall Aja Archibald took title from runner-up Juwan Hunter and Oladelé Bolden in 3rd.
17.5 Touring Car overall top 5:
1. Aja Archibald – Schumacher
2. Juwan Hunter – Serpent
3. Oladelé Bolden – Xray
4. Mike Senn – TOP
5. Paul Duggins – Serpent
Source: Xray [teamxray.com]
---