May 14, 2015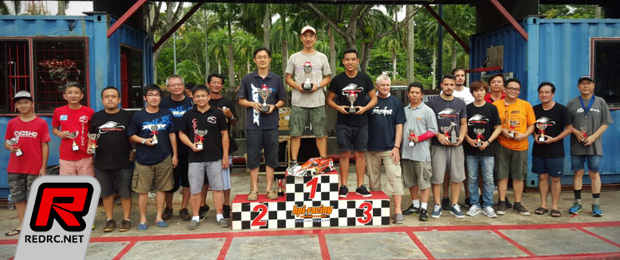 The SG50 Singapore Open Race was held in the three classes of 1/8th GT, 1/8th On-road and 1/10th On-road with a great turnout of national and international racers from Italy, Japan, UK, Thailand, and Australia. In the premier 1/8th On-road class the round 1 and 2 TQs were captured by Nelson Lee while round 3 was basically a race between Carmine Riola, Jesse Davis and Nelson Lee. All three racers were separated by only about 1 second until the final lap and unfortunately, Nelson Lee ran out of fuel and he DNF'd in the last qualifyier resulting in a start from the 7 spot on the grid. Up front Carmine started from pole position into the main and Nelson tried to work his way through the field to make up lost ground. During the second round of fuel stops, Nelson moved up to 4th position and after a mid-race stop for tyres he found himself lapping half a second per lap faster on the larger tyres. He now was in 2nd position and only one lap behind the leader Erwin Luhur. Pushing himself to the limit, Nelson Lee continued to clock fast lap times on the fresh rubber and thanks to swift refuelling, he took over the lead after the last rounds of pit stops to take the win from Erwin and Trin.
1/8th On-road top 3:
1. Nelson Lee, Singapore
2. Erwin Luhur
3. Trin
In the 1/10th On-road class Nicholas Lee was the only one to score a 23 laps qualifying run to take the TQ and it looked like he would be the man to beat in the finals until bad luck kicked in as a flame out of his car's engine allowed Jesse Davis and Ryan Maker to take the 1st and 2nd spot. Both were able to retain their positions until the checkered flag for a 1-2 win for Australia.
1/10th On-road top 3:
1. Jesse Davis
2. Ryan Maker
3. Nicholas Lee
In the GT class Aaron Sim took the TQ after the qualifiers and he lead the A-main by 2 laps until around the 20 minute mark a flame out, caused by a small pebble, cost him 2 minutes which let Ah Boon and Kimie by. Aaron was able to rejoin the race in the 3rd spot that he would hold until the end of the race.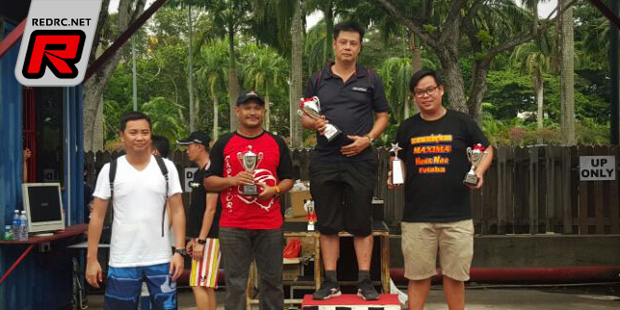 GT top 3 result:
1. Ah Boon
2. Kimie
3. Aaron Sim
Source: Acorn [acornracing.com]
---