May 18, 2015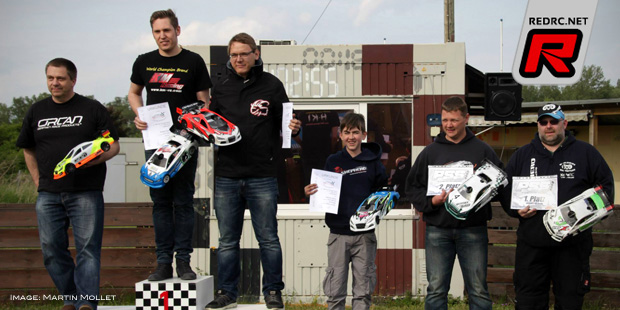 The second round of the North German Nitro On-road Regionals was held in Hildesheim this past weekend. In the 1/10th 200mm Touring class Rico Kröber (Capricorn) took the TQ after the qualifiers in front of Lars Hoppe (Shepherd) and Kristof Sielaff (KM). In the 30 minute final Lars Hoppe took the win from Kristof Sielaff and Bernd Hasselbring but due to Lars' car not complying with the technical regulations he got disqualified which handed Kristof the day's win. Bernd gained the runner-up spot while TQ Rico Kröber rounded out the podium in 3rd.
Final result:
1. Kristof Sielaff – 111L 30:04.432
2. Bernd Hasselbring – 110L 29:56.159
3. Rico Kröber – 109L 30:12.434
4. Martin Mollet – 104L 30:01.389
5. Kai Bode – 102L 30:08.801
6. Henrik Eilers – 100L 30:00.701
7. Tim Benson – 91L 30:13.053
8. Lars Hoppe – 0L 0:00.000
Thanks to Kristof Sielaff for the report.
---