May 5, 2015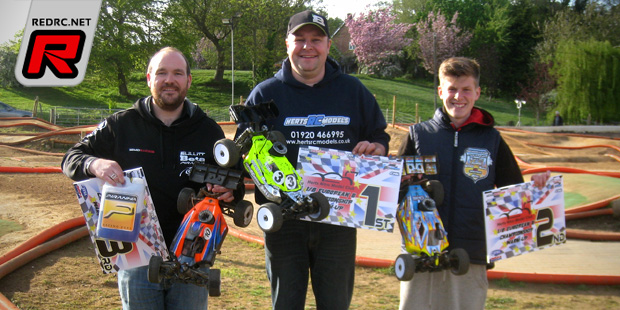 The EFRA European Championship B warm-up race was held at the Herts Nitro Model Club this past weekend. After fantastic weather on Saturday the organisers were faced with rainy conditions on Sunday but thanks to hard work of both the club and the BRCA the race would continue. Joao Carlos Figueiredo would put his car on pole position for the 45 minute main final but at the end it was Simon Reeves who came out successful after getting into the lead around the 10 minute mark and never looking back. Oliver Currie came in 2nd, some 25 seconds behind the leader while Jon Hazlewood rounded out the podium in 3rd, another 8 seconds down.
Final result:
1. Simon Reeves – 61/45:08.257
2. Oliver Currie – 61/45:35.170
3. Jon Hazlewood – 61/45:43.077
4. Kevin Brunsden – 60/45:10.699
5. Richard Barton – 60/45:14.000
6. Karl Jackson – 58/45:18.713
7. Leon Goode – 57/43:27.752
8. Rhys Herd – 57/45:41.503c
9. Joao Carlos Figueiredo – 55/45:30.757
10.Lewis Jones – 54/45:30.909
11.Jonathan Skidmore – 52/41:17.292
12.Callum Niblett – 20/14:46.826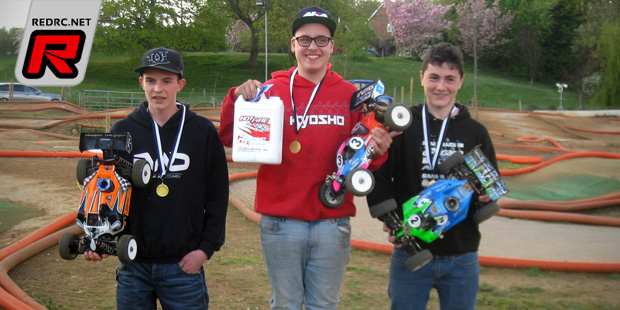 In the 15 minute Junior final Taro Cradock came out successful in front of William Skidmore and Rajco van der Sluijs.
Thanks to James Thompson for the report.
---