May 20, 2015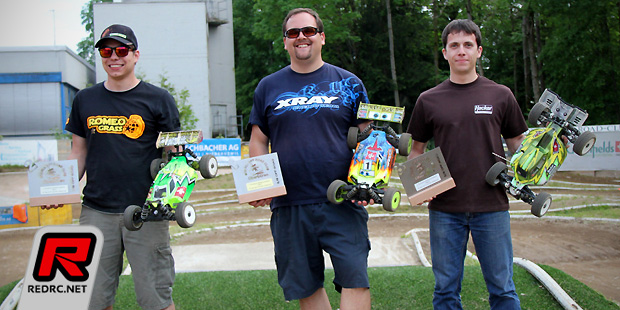 The maiden season of the Swiss 1/8th Electric Buggy Championship kicked off at the MORC Oberbüren with about 30 drivers attending the event. The schedule saw two separate races to be held on Saturday and Sunday and the nice weather made for good racing conditions on both days. The race format had the EFRA 1/8th electric rules used with endless qualifying runs and 10-minute bump-up finals. Robin Frischkopf grabbed the pole position for Saturday's main final during which he wasn't the quickest but Robin did not make a single mistake and kept the lead despite pressure from Sandro Bamert and team mate Romeo Grass who were a few tenths quicker but less consistent. At the end Robin took home the first ever win in this category in Switzerland.
Final results race 1:
1. Robin Frischkopf – Xray
2. Romeo Grass – Xray
3. Sandro Bamert – Mugen
4. Roman Kummer – Agama
5. Gerd Pfeifer – TLR
6. Kevin Zwahlen – HB
7. Michel Guggisberg – Team Durango
8. Marcel Herzog – Kyosho
9. Daniel Sauter – Xray
10.Tamar Schäfer – Intech
On Sunday Robin managed to take the TQ but after a single mistake in the semifinal Sandro got past and Frischkopf had to start the final from the 2 spot. Robin followed Sandro for the whole 10 minutes and tried to get past in the last lap but it did not work out and Robin had to settle for 2nd place. Behind Sandro and Robin, Roman Kummer completed the podium of Sunday's race 2.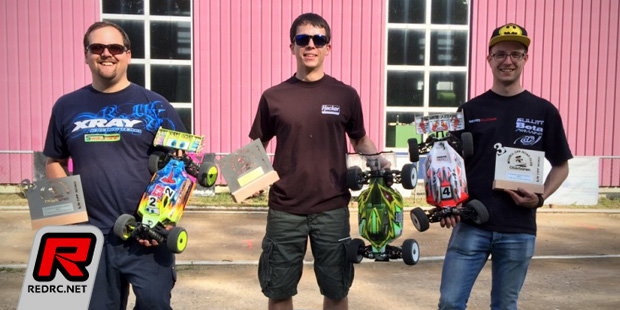 Final results race 2:
1. Sandro Bamert – Mugen
2. Robin Frischkopf – Xray
3. Roman Kummer – Agama
4. Kevin Zwahlen – HB
5. Gerd Pfeifer – TLR
6. Michel Guggisberg – Team Durango
7. Marco Fuchs – Mugen
8. Beat Knutti – HB
9. Thomas Bodmer – Mugen
10.Lukas Segato – Team Durango
Source: Xray [teamxray.com]
---