May 31, 2015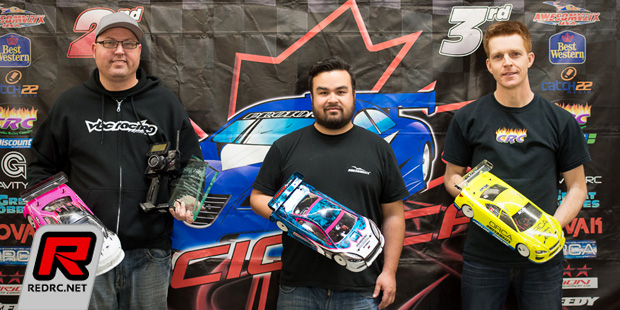 The Western Canadian Indoor Championship Series final race was held in the Cowboy capital of Calgary, Alberta. Hosted by CarCar, this was by far their best event in several years. The numbers say it all: with over 200 registrations it was their largest turnout ever. Racers came from across Western Canada and the NW United States and were treated to some great racing action. In the Touring Car Modified class the TQ holder, VBC Racing's Dave Ehrlich, looked to have this one locked in, but Awesomatix' Wayne wasn't going to be denied a top TC trophy after losing it later in Stock. Coming from 4th on the grid, Awesomatix' Wayne took only 14 laps, and one rare mistake by Dave, to move into first, also posting the fastest lap of the race. Blake Bell drove his Awesomatix cleanly, only allowing Dave and then Wayne to get past, finishing in a strong 3rd.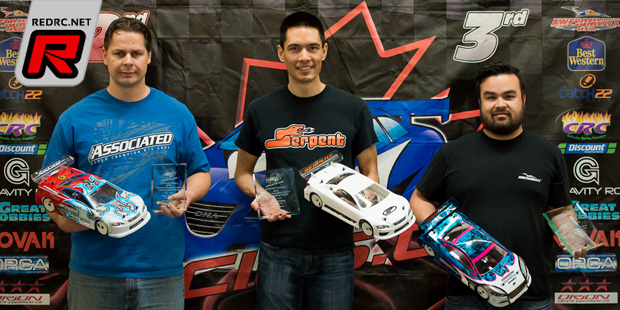 The biggest class of the weekend, Touring Car Stock, didn't hold back with great racing action. Awesomatix' Wayne Mah had TQ, but problems on lap 6 handed the lead to Serpent's Steve Soon. Another 5 laps later, Wayne dropped to 5th, moving Xray's Danny Buck to 2nd, and Team Associated's Peter Tozser to 3rd. Steve and Pete would drive on to finish in that same order, but Wayne pushed hard all race and with just 3 laps left took back 3rd place from Danny, reclaiming a spot on the podium.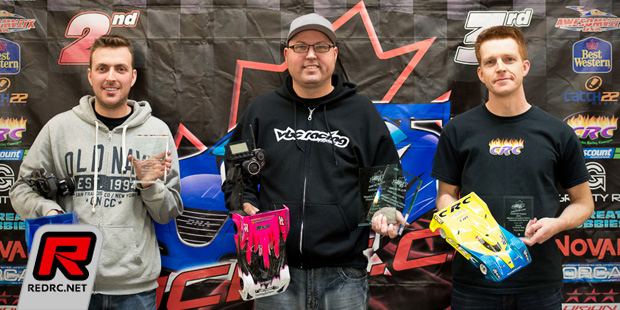 1/12th scale Modified, the fastest class of the weekend, had VBC Racing's Dave Ehrlich almost repeated his trifecta of TQ, win and fastest lap, but CRC's Blake Bell, starting from 2nd, held a solid run and just snatched fast lap behind Dave until a big off dropped him to last place. Jason Melnyk ran a very consistent race, and in 1/12th Modified that is often the key, putting him 2nd on the podium. Blake drove hard but clean for the rest of the race working his way back up, finally taking the last spot on the podium with just 5 laps remaining.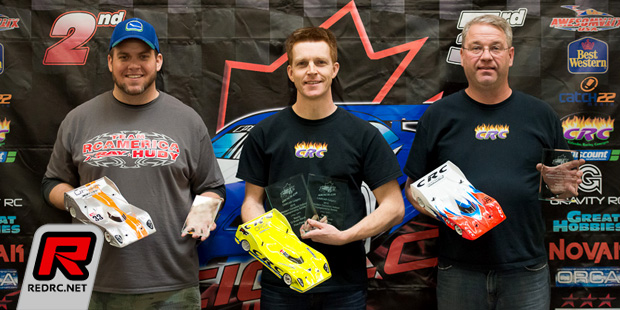 In Reedy 1/12th Stock series points leader, and newly crowned Canadian Champion, CRC's Blake bell had TQ, and held off 2nd place CRC's Brian Bodine to lead every lap and take the win. Brian only briefly allowed 3rd place qualifier Xray's Luke Pitman to take over 3rd, but then put in his fastest laps of the race and took back second but wasn't able to make any ground on Blake. Luke ran a solid race and put his Xray on the last spot on the podium.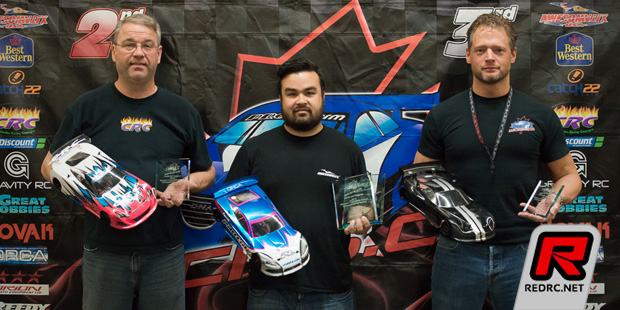 In the WGT class CRC's Wayne Mah, CRC's Brian Bodine and top privateer and WCICS President Josh Carter lined up on the grid. But first lap high jinx allowed Josh to slip through cleanly and take the early lead. Wayne dropped from first to almost worst (7th), with Brian in 6th. Like Batman and Robin the dynamic duo had it all to make up. It was a race of 3's, as Josh came from 3rd, and held top spot for the first third, when Brian took over for the middle third, then Wayne took top spot for the final third. The top 3 finished in exactly their qualifying order. It was great to watch Wayne and Brian expertly slice through the field to take back the podium, very well deserved.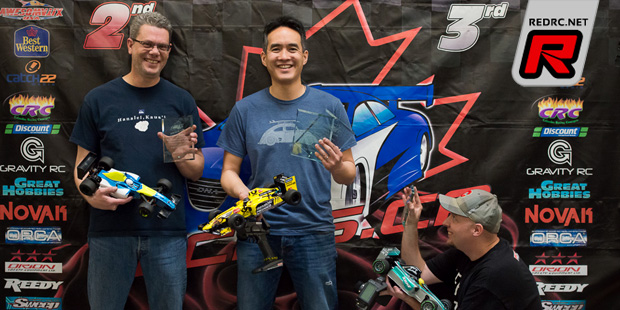 1/10th Formula, WCICS newest class was pretty straight forward. It saw Ivan Chan take the win from pole. Earl Towson was 2nd on the grid, and Cal Freeman 3rd, and that's just how they'd stay all race and across the finish line.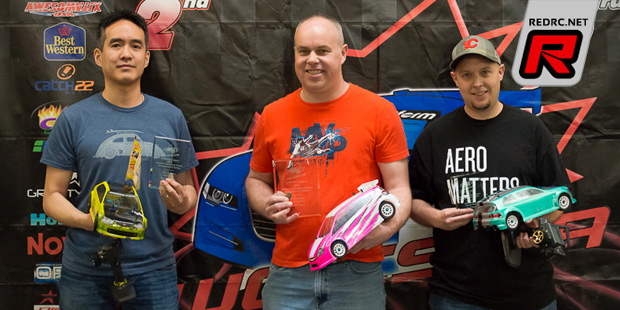 In the Tamiya Mini class TQ Ivan Chan made an unforced error early in the race dropping him to 2nd, then another 10 laps later dropped him to 3rd. Walter Slany took over the lead and never looked back, being the only guy to hit 25 laps. Chan eventually took back 2nd, and Cal Freeman, with a last lap pass took 3rd.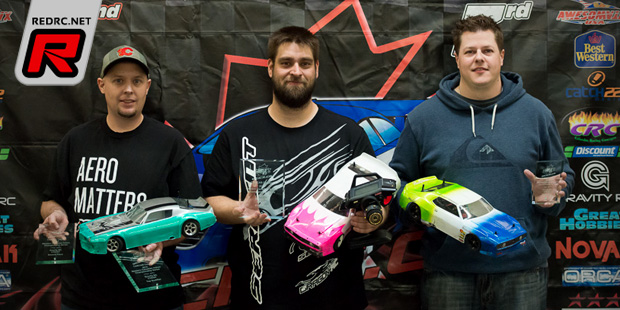 Finally in CTA Cal Freeman had TQ, but didn't have the same luck moving up as he did in Mini, with only 5 laps left Nick Kinar took over the lead and held it to the end. Cal finished second. Cam Spence, who started third, but had dropped all the way back to 7th, put on a hard charge to get back on the last podium spot.
Source: WCICS [wcics.ca]
---