June 9, 2015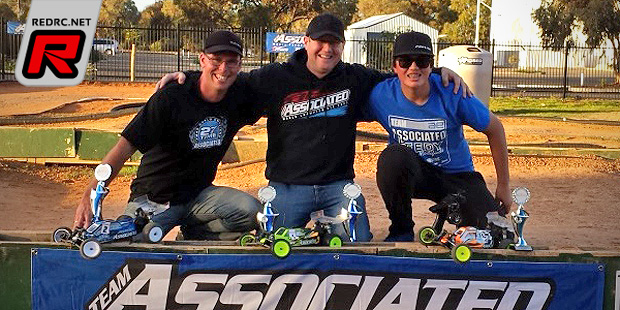 The 2015 AARCMCC Victorian State titles were held last weekend at the Mildura offroad track, 6 hours north of Melbourne, Australia. Just under 150 drivers from around the country made the trek to the red clay track, which started off wet following a rain dump Thursday night but grooved up beautifully through the weekend with perfect weather. The format was Friday practice, Saturday 2WD and Sunday 4WD and Truck classes with Pro-Line Holeshots were chosen as the control tyres for all classes. In the 2WD Modified Buggy class Ray Munday (Team Associated) defended his title with the TQ from local hero Mark Rogers (Team Associated) and young gun Cameron Zammit (Team Associated). After winning all four qualifiers, Munday was pushed hard in A1 by Zammit with Rogers taking A2 to set up an A3 showdown that was ultimately won by Munday sealed the title with a 6 seconds win in the deciding A-main.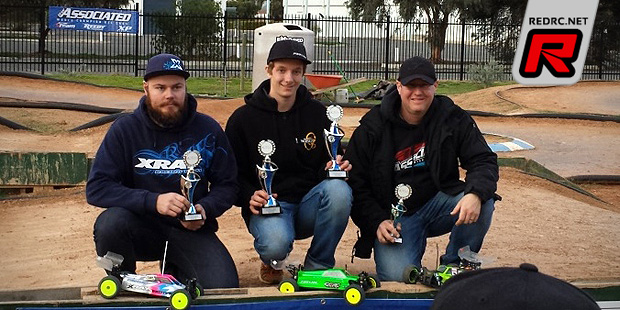 In 4WD Modified Buggy young Queenslander Mitchell Steer (Yokomo) took TQ from Munday and went on to take a popular win, with Tasmanian Sam Wells (Xray) in 2nd and Munday 3rd. Munday took out the first two qualifiers but Mitchell steadily improved through the day to take TQ in Q3 and Q4. A1 was an easy win for Steer but the second main was a very close race with Munday just 0.4 seconds behind but Steer held on for the win and the title. A3 was a tight race between Munday and Wells for the runner-up spot with Wells taking the win by 0.2s and 2nd overall.
Stadium truck saw Simon Heally (TLR) take a popular and dominant win from Andrew Selvaggi (Team Associated) and John Watkins.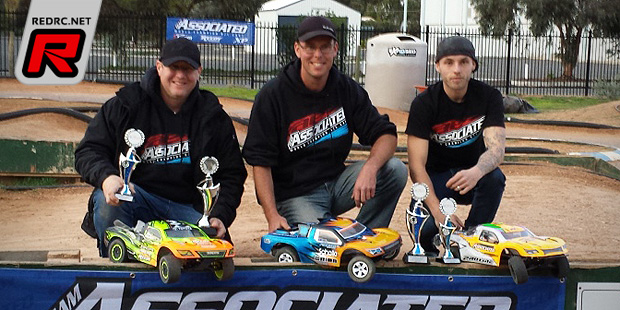 The Short Course Truck TQ was taken by Munday, with Rogers taking the win in A3 after three close finals and Matt Kellet (Team Associated) finishing off the podium as he continues to improve his off-road skills.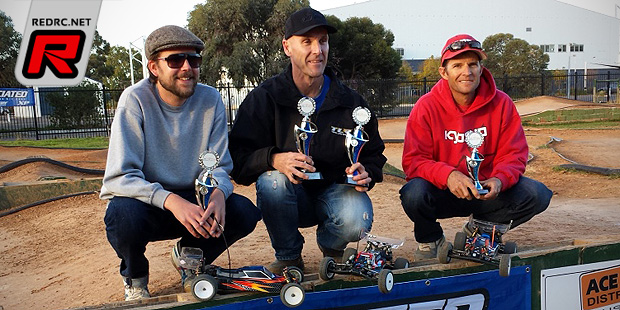 2WD Buggy 17.5T was won by multi-time stock national champ Scotty Giles (TLR) with Simon "Sticks" McHugh 2nd and Andrew Giddings 3rd.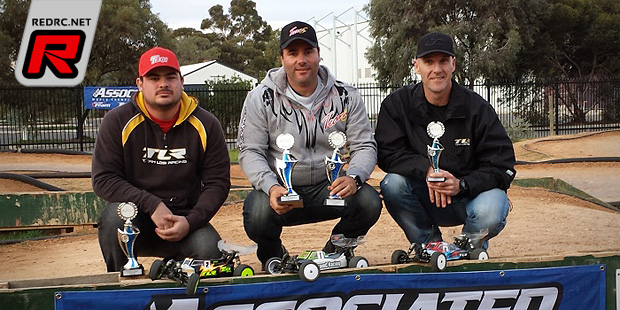 4WD went down to the last final, TQ Shaun Thiel (Team C) winning in his comeback race after a close battle with Kyle Sanders (TLR) and Scott Giles 3rd.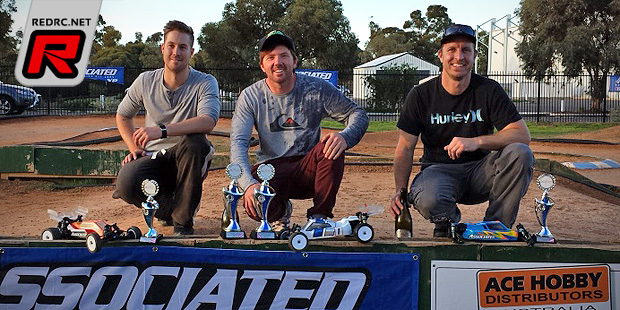 In 2WD 21.5T Steve "Beshy" Beshman (Team Associated) had put in a lot of practice and it paid off with TQ and 1st in this tightly contested class.  Paul Slifka (Team Associated) pushed him hard for 2nd with Jae Shields (Team Associated) coming home 3rd.
In 4WD 21.5T, old schooler Daryn Gardner turned the tables on Beshman with TQ and 1st, Steve settling for 2nd and 11 years old Lachlan Salvatore (TLR) a fine 3rd.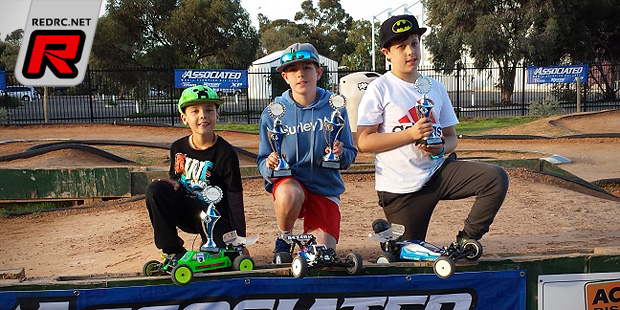 The Junior 17.5T under 16 class was a 3-way battle with Carter Sims (11) taking TQ and the win from Lachlan Salvatore (11) and Lachlan Munday (9) after some very close racing in the qualifiers and the finals.
Thanks to Ray Munday for the report.
---