June 9, 2015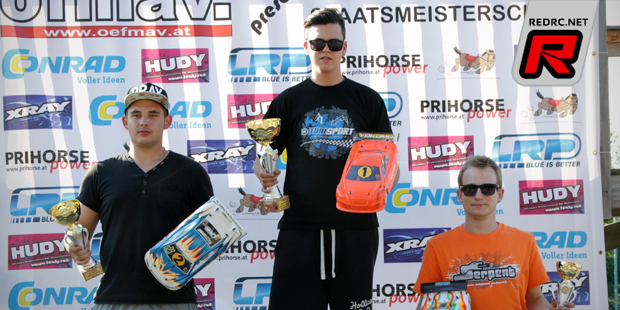 The third round of the Austrian Electric On-road Nationals was held in Laa a.d. Thaya with 30 driver attending in the three classes of Touring Car Modified, Touring Car Stock and Formula. Two extremely hot racing days displayed awesome racing in every class and in Touring Car Modified everyone expected the next safe victory from Dominic Vogel, but this time there was more to come. Patrik Gollner proved to be a tough challenger and by using his second set of new tyres in the last qualification heat, Dominic managed to take the TQ in front of Patrik and Mario Sowka. For the finals Patrik had a new set of tyres and from the very first corner he was the fastest man on the track but it was Dominic who held the line and even though Patrik was up to 0.5 seconds faster he was not able to pass. Finally Dominic had two flawless finals and was able to take a very very close win, followed by Patrik and Mario on third position.
Touring Car Modified final result:
1. Dominic Vogl
2. Patrick Gollner
3. Mario Sowka
4. Manuel Gremlica
5. Toni Eder
6. Jakob Zündel
7. Helmut Frauenschuh
8. Christian Frauenschuh
9. Christoph Rasmauser
10.Marcus Galler
In the Touring Car Stock class Jürgen Horn remained control this time. From the very first heat Jürgen set the pace and no one was able to follow. He took four out of the four qualification heats, followed by Jan Popic and Christian Schiff. In the A-mains Jürgen was unmatched again and after A-main 2 he secured his second victory of the season. Jan Popic took a safe runner up spot followed up by Manfred Pasch in third.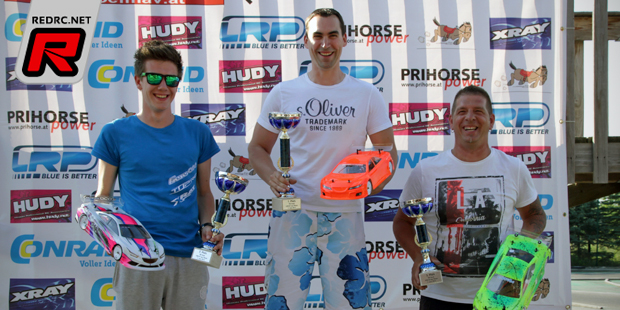 Touring Car Stock final result:
1. Jürgen Horn
2. Jan Popic
3. Manfred Pasch
4. Christian Schiff
5. Vinzenz Schrank
6. Markus Linecker
7. Rene Kronsteiner
8. Roland Bauer
9. Marcus Helmecke
10.Thomas Bauer
Like in the previous rounds, Herbert Weber was the man to beat in the Formula class. Herbert made a clean sweep in the qualification heats as he set the fastest qualification time and he took a never challenged TQ in front of Markus Wurmhöringer and Andreas Teubl. In the finals Herbert showed an impressive performance and he easily won the first and second A-main. Herbert then opted to sit out the third A-main to allow the other driver to battle for the runner-up spot. In an exciting race it was Markus Wurmhöringer who took the final victory after a nail-biting last lap in front of Andreas Teubl.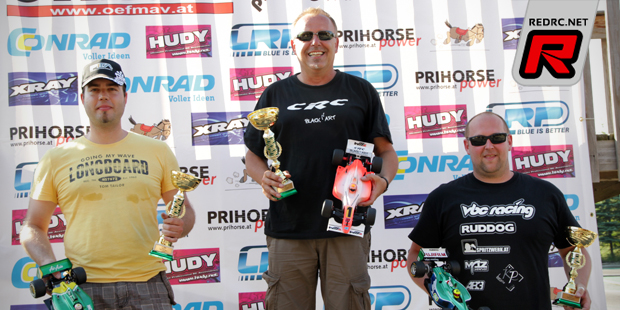 Formula final result:
1. Herbert Weber
2. Markus Wurmhöringer
3. Andreas Teubl
4. Christian Schiff
5. Bernhard Welker
The fourth round of the Austrian Nationals will be held on the 11th and 12th of July at the Team Speedfreaks Austria club in Krieglach.
Source: ÖFMAV [ofmav.at]
---