June 29, 2015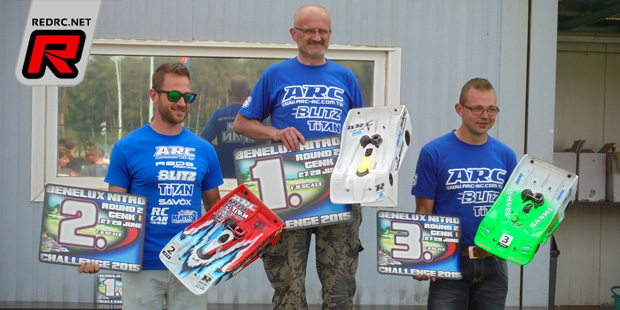 The second round of the BeNeLux Nitro Challenge, a 3-race series for 1/8th and 1/10th nitro on-road cars, was held last weekend at the track of Model Race Genk. Overall a total of 41 drivers competed the 1-day race in very nice weather conditions and a friendly atmosphere. In the 1/8th class it was Tobias Hepp (Mugen) who took the pole position, ahead of first round winner John Ermen (ARC).

The 45 minute finale was exciting to watch from start to finish. John took over the lead from Tobias at the start only to lose it after his car's engine stalled during a pitstop. 18 minutes in the race, Tobias was leading with a few seconds over John, who was followed by Frank Baggen and Miquel Hereijgers with all of them being still in the same lap. Following an engine failure Tobias had to retire, allowing John to take the lead in front of Frank and Miquel who were battling for 2nd and 3rd. With 1 minute to go, John again lost some time due to a stalling engine and this promoted Frank Baggen, reigning EC 40+ champion, the win with a 1 lap margin on John and Miquel, making it a full ARC podium.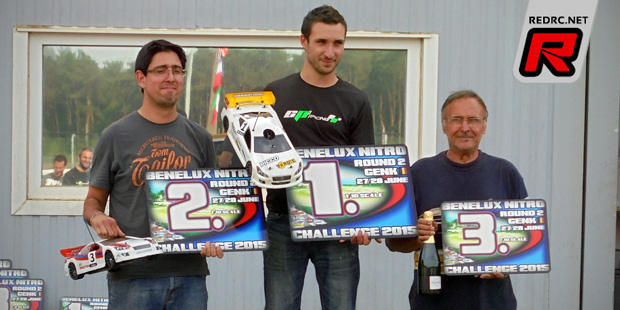 In the fully Belgian 1/10th scale field, top qualifier Jonathan Sanza dominated the final to take the day's win in front of Ludovic Petrucci and Gilbert Wilkin.
Third and final round of the BNL Nitro Challenge will be held in Rucphen on the 2nd of August.
Thanks to Bert Aerts for sending the report.
---