June 10, 2015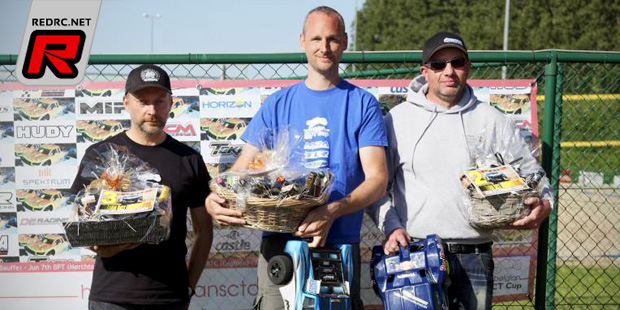 Round 2 of the Belgian SCT Cup was held at the astroturf track of the BPT club on a technical yet fun layout. As usual the event was run very smoothly and due to the track being in the shadow in the early hours of the day the qualifying started with a wet and slippery surface but from round 2 on the grip came up, making for ideal racing conditions. In Pro2 qualifying Nicolas Evens (TLR) swept all three qualification rounds to take the TQ from Philippe Hautecoeur who put his mid motor converted Team Associated truck on the 2 spot for the finals. Behind the two ten drivers were covered by only 5 points meaning that getting into the A-final was not an easy task. At the end Laurent Halluin (Team Associated) would end up in 3rd place ahead of Pascal Bouffioux (Team Associated).

The opening A-final saw Nicolas Evens pushing Philippe Hautecoeur out of the way but with great sportsmanship Nicolas waited for Philippe to be marshalled while the whole pack went through with Laurent Halluin taking the lead. Philippe and Nicolas then put the pedal to the metal to make up the lost time. At the end Nicolas recovered to 2nd, battling with Laurent who had the upper hand and took the win. Philippe was able to move up to 3rd but had to retire with a technical failure. In the remaining two legs, Nicolas held everything together to take tone-to-tone wins and being the only driver to score 14 lap runs. In the final leg, Philippe and Laurent were fighting fiercely and but in a friendly manner for the heat and overall 2nd place with Pascal Bouffioux and Tom Pierard (TLR) being also in the mix. At the end the four drivers ending up in that order, separated by 3 seconds only.
Pro2 A-final top 3
1. Nicolas Evens – TLR
2. Laurent Halluin – Team Associated
3. Philippe Hautecoeur – Team Associated
In Pro4, Philip De Keersmaecker (Tekno) took the TQ in first two qualification rounds while Sam Puttevils (TLR) grabbed the round TQ in the final qualifier. Nicolas Evens (TLR) secures a 3rd place on the grid in front of fast local driver Nic Segers (Team Durango). The A-final then saw a clean sweep of Nicolas Evens who came in 1st in the first and second A-main to take the day's win early. Behind him Thierry Mathieu (Tekno) and Philip De Keersmaecker placed 2nd and 3rd. Overall Sam Puttevils (TLR) ended the day in 3rd place, tie on points with Philip.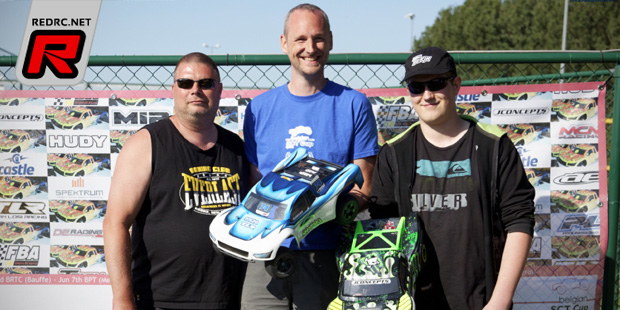 Pro2 A-final top 3
1. Nicolas Evens – TLR
2. Thierry Mathieu – Tekno
3. Sam Puttevils – TLR
Source: Belgian SCT Cup [belgiansctcup.be]
---