June 9, 2015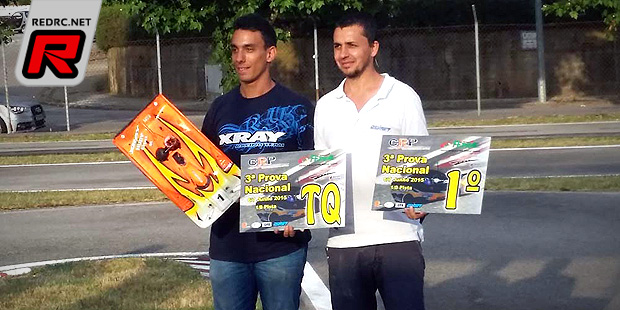 Round 3 of the Portuguese Nitro On-road National Championship was held at the São João da Madeira track in Oporto in the north of the country. The track was recently revived after not being in use for some ten years and due to the surface being pretty green tyre wear would be an issue for both the 1/8th and 1/10th classes. Bruno Coelho was the man to beat in both categories and so he would take the TQ after the qualifiers with a margin of a lap to the 2nd place drivers. In the 1/8th final Bruno's biggest competitor for the win scored a DNF due to an engine failure only ten laps into the race. From that moment on Coelho was able to cruise to the win with his Xray prototype and despite a total of three tyre changes Bruno won the race some 7 laps in front of 2nd placed Hugo Exposto (Mugen).
1/8th final result:
1. Bruno Coelho – Xray
2. Hugo Exposto – Mugen
3. Jorge Azinheira – Serpent
4. Paulo Rodrigues – Serpent
5. Raul Prata – Mugen
6. Joaquim Rego – Motonica
7. Jose Felix – BMT
8. Andre Goncalves – Capricorn
9. Claudio Souto – Motonica
10.Andres Diz Montez – Motonica
In the 1/10th 200mm final Bruno took the lead right from the start and he was able to built a gap of about a lap to the 2nd place driver only to be forced to pit some 10 minutes into the race due to a lose screw on his Xray car. After loosing a lot of time and about three laps Bruno re-entered the race and from that moment on he was on a mission, breaking lap record after lap record to ultimately win the final one lap ahead of Carlos Rodrigues, despite making a stop for tyres mid-race.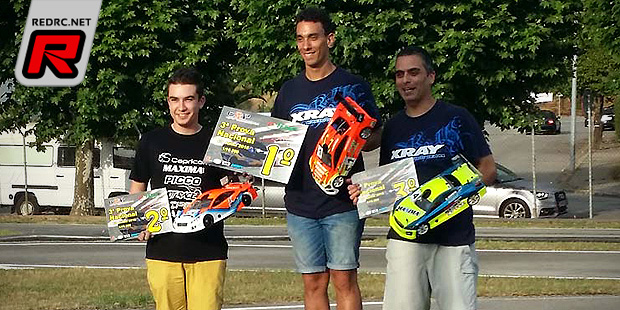 1/10th final result:
1. Bruno Coelho – Xray
2. Carlos Rodrigues – Capricorn
3. Pedro Grandão – Xray
4. Rolando Caseiro – Serpent
5. Pedro Diniz – Xray
6. Paulo Mota – Xray
7. Tiago Afonso – KM
8. Carlos Ferreira – Serpent
9. Abilio Ganilho – Xray
10.Nuno Silva – Shepard
Source: Xray [teamxray.com]
---