June 15, 2015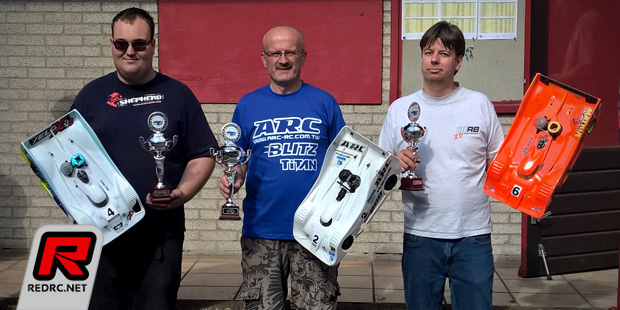 The MAC de Baanbrekers track in Rucphen in the South of the Netherlands played host for last weekend's round 2 of the national Nitro On-road Championship. Free practice on Saturday started out wet, but during the day the sun came out and the drivers were able to start finding a good setup for Sunday. In the premier NK class, Belgian driver Gunther van Staey (Serpent) returned from absence from the first round due to sickness, but it was Arie Manten (Shepherd) who came out on top after qualifying. The semifinals then gave some surprising results, because both Arie Manten and Ad Vissenberg (ARC) had to retire due to engine troubles and also the main final held some drama, because Gunther Van Staey with engine troubles and Martin Zevenhoven (Serpent) with an empty tank and a broken glowplug would not compete for a podium finish. In the end, it was last year's EC 40+ winner Frank Baggen (ARC) who took the win in the 30 minute final from Joey Sorber (Shepherd) in 2nd and Donny Blommers (Mugen) in 3rd.
NK class final result:
1. Frank Baggen – ARC
2. Joery Sorber – Shepherd
3. Donny Blommers – Mugen
4. Marc Meijer – Serpent
5. Roy Bakker – Shepherd
6. Marc Schouten – Mugen
7. Patrick Vannieuwenhuyse – Serpent
8. Martin Zevenhoven – Serpent
9. Gunther van Staey – Serpent
10.Koen Geurts – WRC
In the Nomac class Peter Berkhout took the win in the 30 minute main final, one lap ahead of Jesse Keller with Stephan van Rooijen rounding out the podium another two laps down.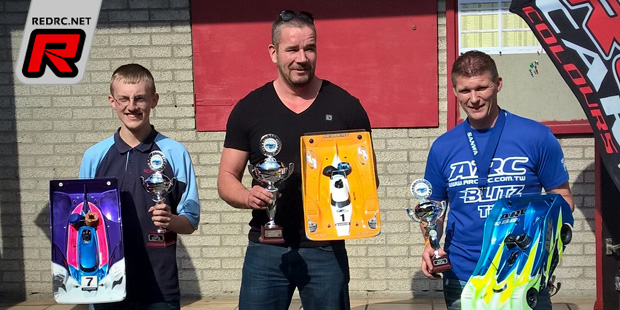 Nomac class final result:
1. Peter Berkhout
2. Jesse Keller
3. Stephan van Rooijen
4. Stanley Bauer
5. Martijn Smits
6. Emiel Jansen
7. Peter van Marion
8. Ad Arents
9. Robbin Hertong
10.Freek van Delft
The Promo class had local racer Dennis Verhoeven coming out successful from Dylan Roks in 2nd and Remco de la Haye in 3rd.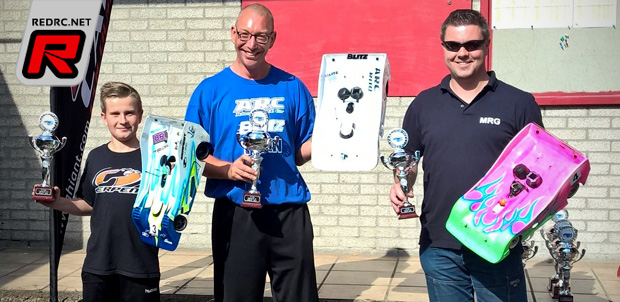 Nomac class final result:
1. Dennis Verhoeven
2. Dylan Roks
3. Remco de la Haye
4. Hans Dokman
5. Marvin Theeuwen
Thanks to Martin for sending the report.
---