June 17, 2015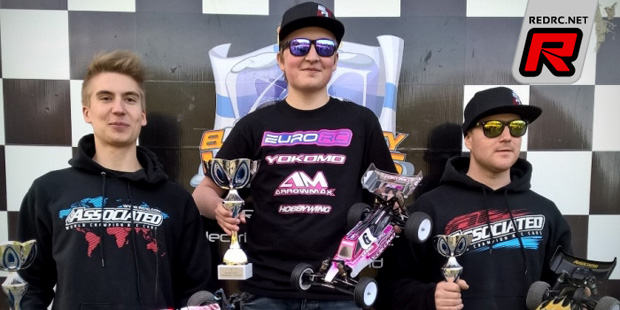 The opening round of the Finnish 1/10th Electric Off-road Nationals was held at the Vaasa track, home of the 2011 IFMAR Worlds. The 2WD class would be run on Saturday while the 4WD buggies would be used on Sunday. On Saturday morning the track was pretty wet, but Joel Valander was immediately on pace, setting the fastest time in the controlled practice session. The first qualifying round saw a really close battle for the top three positions with the round TQ going to Petri Ström, Karri Salmela finishing 2nd and Joel Valander 3rd. From that moment on Joel started dominating. He TQ'ed the remaining three rounds to take the pole position for the finals in front of Petri Ström and Karri Salmela. Joel was then able to cruise to the win in A1 and A2 to take the overall win in the 2WD class. Petri and Karri were battling behind him for the runner-up spot with the better end for Karri while Petri rounded out the podium in 3rd.
2WD A-final result:
1. Joel Valander – Yokomo
2. Karri Salmela – Team Associated
3. Petri Ström – Team Associated
4. Jussi Luopajärvi – Team Associated
5. Toni Niinivirta – Yokomo
6. Mikko Luopajärvi – Team Associated
7. Jani Hovi – Yokomo
8. Max Söderlund – Team Durango
9. Sami Salmela – Team Associated
10.Oskari Mäki – Team Associated
On Sunday it was time for the 4WD class. In practice Petri Ström showed a great pace while the others were kind of struggling with the grip because it was pretty wet again. Then it was time for qualifying and the first round was taken by Karri Salmela. Joel Valander and Petri Ström made a couple mistakes so it was easy an TQ for Karri. Come round two and Petri was again on a good pace and he ultimately took the round TQ from Karri and Joel. In round three Karri was unstoppable and TQ'ed again, Joel was 2nd and Jussi Luopajärvi 3rd. In the final round Karri had to retire while Joel and Petri also had a rough round. Instead Oskari Mäki took the TQ from Joel in 2nd and Petri in 3rd.
After qualifying Karri was on pole with Petri in 2nd, Oskari in 3rd and Joel 4th. The opening A-final was dominated by Karri while Petri and Joel had a tight race for 2nd place. Joel could not find a way to pass Petri so they ended up in this order. In the second final Karri crashed on the first lap and dropped almost to the last place. Petri and Joel were racing for the 2nd spot side by side for almost the entire 5 minutes. Ultimately Petri won with a 0.3 second gap on Joel. The last final saw Joel and Petri having a couple of mistakes and Karri cruised to the win while Petri and Joel finished in 2nd and 3rd respectively.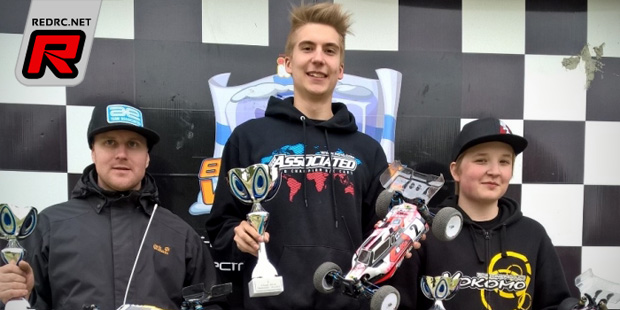 4WD A-final result:
1. Karri Salmela – Team Associated
2. Petri Ström – Team Associated
3. Joel Valander – Yokomo
4. Oskari Mäki – Team Associated
5. Jussi Luopajärv – Team Associated
6. Max Söderlund – Team Durango
7. Tomi Mairue – Xray
8. Mikko Luopajärvi – Team Associated
9. Harri Kervola – Team Associated
10.Ari-Pekka Kyykkä – Xray
Source: Euro RC [eurorc.com]
---