June 9, 2015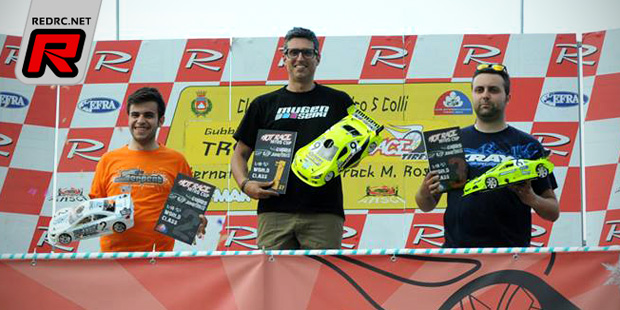 This past weekend the Miniautodromo Internazionale Mario Rosati in Gubbio, Italy hosted the Hot Race Nitro Cup. Run in the three classes of 1/8th on-road, 1/10th National with free tyres and additive as well as 1/10th World with spec tyres the race attracted a good amount of drivers. The TQ in the 1/8th class went to Jonathan Marchetti (Mugen/Reds) in front of Nicola Marrone (Xray/Max) and Domenico Calce (Serpent/Max). The main final then saw Marchetti carrying on to dominate while Marrone and Calce were forced to retire. This allowed Sandro Sammarini (Serpent/OS) and Enrico Gallorini (Serpent/Max) to grab podium spots in 2nd and 3rd place respectively.

In the 1/10th National class Marco Festuccia (Xray/Novarossi) took the TQ honours from Stefano Neri (Capricorn/Novarossi) and Massimo Giombolini (Capricorn/Novarossi). At the end of the final Sandro Baliani (Capricorn/Max) was able to grab the win from Andrea Maggiolo (Xray/Max) and Giuseppe Manno (Xray/Max) who rounded out the top 3 result.
Finally in the 1/10th World class Mario Spiniello (Xray/Novarossi) came out first after qualifying from Alessio Agostinelli (Capricorn/Novarossi) and 3rd placed Alessandro Brunelli (Xray/Max). The one hour main then held a lot of drama as at the start Mario had a crash that let him drop back to 11th place while Alessio Agostinelli took over the lead. After the first pit stops for fuel Mario Spiniello found himself in the lead following a great recovery while Alessio Mazzeo and Giuseppe D'Angelo sat in 2nd and 3rd place so far. Then, some 25 minutes in to the race Spiniello had to retire, leaving the lead to Giuseppe D'Angelo, followed by Mazzeo. Mario Spiniello wasn't the only driver with problems as also David Loppini, World Champion Alexander Hagberg and Generoso Mazza had to end the final early. Up front, after an exciting 60 minutes, Giuseppe D'Angelo (Mugen/GIMAR) took the win from 2nd placed Alessio Mazzeo (Serpent/GIMAR) and Alessio Menicucci (Xray/Max) in 3rd at his first ever 1/10th nitro on-road race.
Source: Hot Race Tyres [hotracetyres.com]
---