June 4, 2015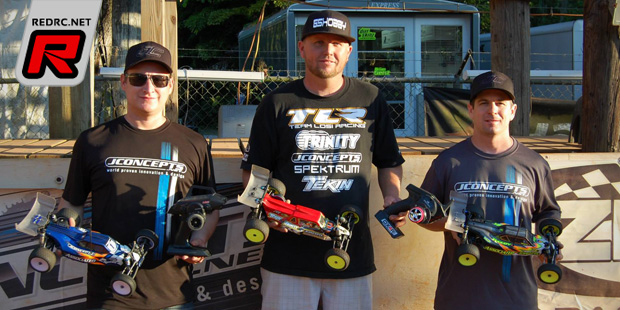 The JConcepts Super Cup Spring Session Race 4 was held in Sarasota, Florida at FZRC, a hidden treasure of golden (red) clay. After many trips to Marty Chilton's track, all racers have learned it's going to be a great time on his fast, flowing, groomed surface. Racers packed the track to full capacity Friday for practice and returned very early Saturday morning for the final minutes of practice before racing began. Jason Ruona took is 2WD Modified Buggy to start P1 after qualifying. JR Mitch nailed the setup on his car for the early evening mains making the pass on Ruona during lap 5 and raced into the sunset with the win. Jason took 2nd with Paul Wynn 3rd, Daimon Borkowicz 4th and Shon Harding 5th.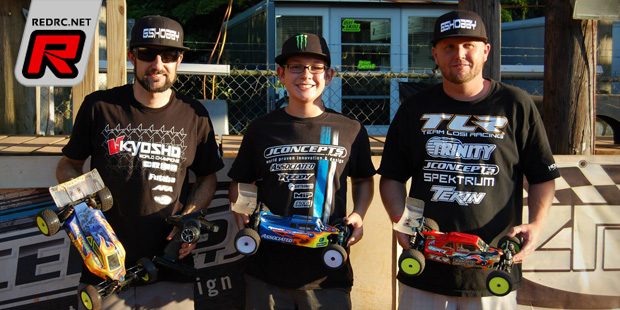 The state's top professionals put on a show in 4WD Modified Buggy. JR Mitch was the top qualifier but would hit a snag at the start and fall to mid pack. Damion Borkowicz took the lead and looked to cruise to a win. JR moved to 2nd just behind Borkowicz by lap 3. Ryan Eckert would also put himself in the mix with the lead pair for a 3 way battle to the finish. Borkowicz 1st would edge Mitch 2nd by 1 second and Eckert looked on for 3rd. Felix Law took 4th and Chris Viesins 5th.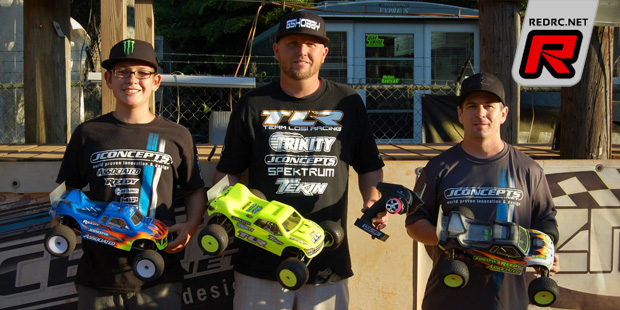 JR Mitch reigned supreme in 2WD Modified truck setting TQ and leading all but 1 lap of the 16 lap main in his truck. His team mate Daimon Borkowicz was a close 2nd with Paul Wynn 3rd. Sherwin Diaz edged out Mitch Zeck for 4th on the day.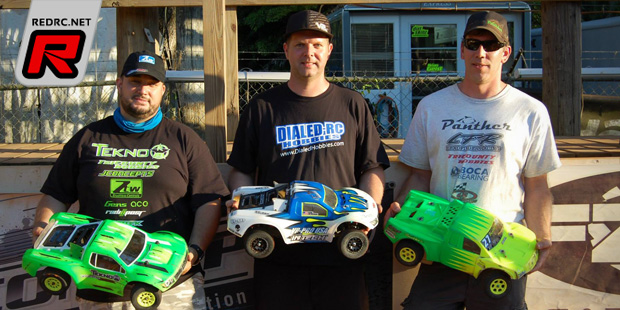 Gene Hickerson set TQ after 2 rounds of rocket qualifying in 4WD Short Course. He would also lead every one of the 16 lapped 5 minute main. David Iler's consistency locked him in for 2nd as Janos Lazar was 3rd. Kyle Conover and Trey Robert finished 4th and 5th.
13.5 4WD Stock Buggy ran a full field of 10 as TQ holder Owen Watts lead the pack for 5 laps until mechanical troubles set him out and handing the lead over to Matt Kepple. Brian Giest put pressure on Kepple for the lead but could never make the pass on Kepple's car. Matt took the win with Giest 2nd. Tracy Carver 3rd, Kyle Dempsey 4th and Trey Roberts 5th.
Alan Wight dominated Expert Stock Buggy. Setting TQ and leading every lap of the 5 minute A-Main. AJ Marasco and Erik Everett had an epic battle for 2nd passing each other many times for a great clean race. AJ would find the right groove in the final laps for second overall as Erik was a close 3rd. Owen watts and Shon Harding would round out the top 5.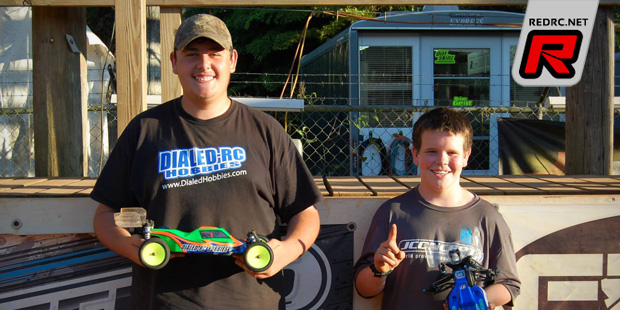 Independent Stock Buggy had the Cinderella story of the series. Local Scott Blaney set the bar with TQ and fell to 7th at the start but would make his way back to 3rd just behind Mitch Zeck who took 2nd. It was a 12 year old that showed maturity and great composure as he raced from the C-Main to the B-Main to the lead on lap 5 of the A-Main and never looked back for the win. Hats off to David "Wally" Wallace as he too raced from the C-Main for a place in the show.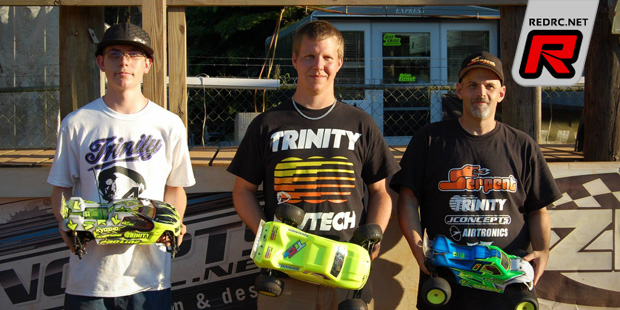 A lot was on the line for 2WD Stock Truck with a tie in points heading into the final round. Alan Wight TQ'd the class with both finalists making the show for 1 final race for overall point's title. Alan walked away with the win, making the points battle even tighter as it was a must win for 2nd place race finisher Tilar Pollack. Erik Everett placed 3rd, Joe Barbera took 4th with Dave Duncan 5th. With 4 races in the session, it was a first with Dan Borkowicz and Tilar Pollock in a dead tie, making them co-champions for the spring session.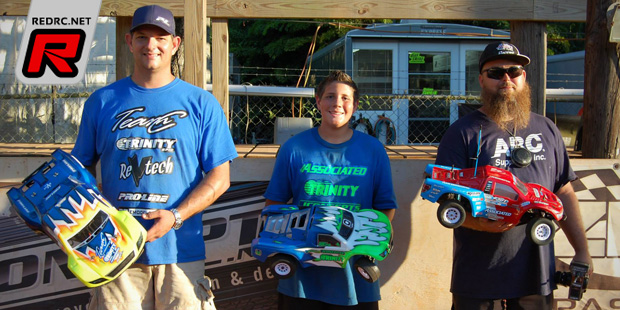 Jim Hess set TQ for 2WD Stock Short Course and fought to keep his lead. Robert Molina took his truck to the top on lap 11 after tight racing with Chris James and Paul Stall. After the all the 15 laps were ran, Molina sat atop for the win, James 2nd, Stall 3rd with Jim Hess 4th and Owen Watts 5th.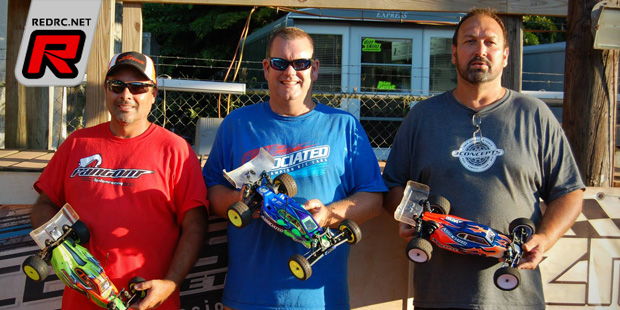 Rich Schaffer took lessons from his sons and wasn't going to drive home with the boys talking about their wins and he coming up short. So from the 2nd starting spot, Rich took the lead right away and cruised for a Schafer trifecta of wins. Ruben Diaz and Tracy Carver battled for 2nd until Diaz made his final move to secure 2nd with Carver 3rd and David Wallace 4th, Brian Giest 5th.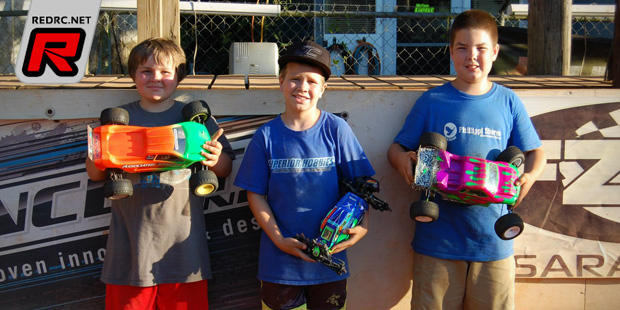 Novice started off the excitement in the A-Mains with Trevor Schaffer and Justin Barbera putting on a show for everyone. The 2 youngsters age combined would barely make them teenagers, but the duo drove like pros to a 1-2 finish.
The Fall session of JConcepts Super Cup Championship Series will begin August 1st at NewRed Hobbies.
Source: JConcepts [jconcepts.net]
---