June 24, 2015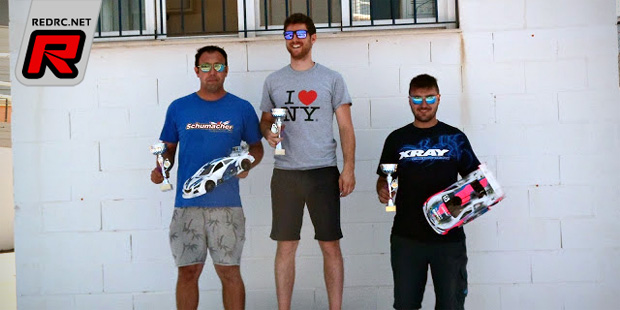 The opening round of the Nitro Series Espanilas, a new championship based on the Euro Nitro Series format, was held at the VillaReal track, home of the 2008 European Touring Car Championships. The event, that was run in a single 200mm class, saw some novelties for a Spanish race such as a control tyre, made by Matrix, and a qualifying points system among other news; such as a car chase challenge called Desafio. The race attracted a good amount of drivers including local talent and internationally experienced drivers such as 2014 200mm Spanish Champion and Euros runner-up Edu Escandon, former Champion Jonhy Pastor and former Spanish Touring Car Champ Juan Hidalgo. The TQ honours were taken by Edu who also set the fastest lap and new track record with his Novarossi-powered KM car, followed by Jonhy Pastor (Mugen/Novarossi), Juan Hidalgo (Mugen/Novarossi) and David Cuesta (Mugen/Novarossi). Following the qualifying the "Desafio Challenge" was held and it was Ruben Marco (Shepherd/Picco) who came in 1st after a faultless drive.


Qualifying top 4
 result:
1. Edu Escandon – KM/Novarossi/Nitrolux – 0p /14L 4.07
2. Jonhy Pastor – Mugen/Novarossi/Nitrolux – 4p/14L 4.14
3. Juan Hidalgo – Mugen/Novarossi/Maxima – 6p/14L 4.12
4. David Cuesta – Mugen/Novarossi/Maxima – 11p/14L 4.17
The A-main then saw Edu Escandon taking off with no problem and with Juan Hidalgo in 2nd and Jonhy Pastor in 3rd in tow. Jonhy ran out of fuel before the pit stop and dropped down the order with Juan taking the 2nd place for now. Meanwhile David Cuesta was fighting for the 3rd place with Raul Sancho but having a flame out later he dropped back. Up front Edu was leading with a comfortable margin of 1 Lap when the steering servo on his car broke which meant he would have to retire at the 20 minutes mark. Ultimately Juan Hidalgo won the race in front of Raul Sancho and Raul Amella who rounded out the top 3 result.
A-final top 3 result:
1. Juan Hidalgo – Mugen/Novarossi – 96L 30:00
2. Raul Sancho – Xray/Novarossi – 96L 30:14
3. Raul Amella Jr – Xray/Novarossi – 93L 30:12
Source: Nitro Series Espanolas
---