June 26, 2015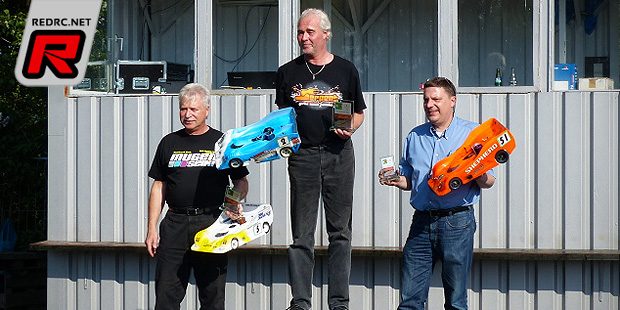 Round two of the 6-event Nitro-West-Masters 2015 was recently held in Haltern. It was the third race meeting on the 234 meter track since its comeback in 2012 following a break of a couple of years. The track, located  on the site of a driving training centre, is well-known for the nice atmosphere in the paddock with lots of tents and for its small but high rostrum. A total of 51 drivers attended the race that held some extremely close decisions in three of four classes. In the 1/8th Open class Serpent racer Ralf Vahrenkamp took the TQ ahead of Uwe Baldes (Mugen) and Andreas Goebel in his first race with ARC. In the 39 minutes finale Baldes was able to move into the front spot but while leading his Mugen suffered a gearbox issue which forced the reigning champion to retire. So it was Vahrenkamp who was back in the lead again and who brought home the victory after 120 laps. Only eight seconds behind old-boy Reinhard Zick (Mugen) crossed the finish line. Much closer was the battle for the third spot on the podium which went to Matthias Guenther (Shepherd) who completed 117 laps only 7/10th of a second ahead of Martin Figge (Motonica). Also Thomas Kroeger (Serpent) did 117 laps but he ended the race another two and a half seconds down on Figge.
1/8th Open result:
1. Ralf Vahrenkamp – Serpent/Novarossi – 120L
2. Reinhard Zick – Mugen/Rex – 120L
3. Matthias Guenther – Shepherd/Novarossi – 117L
4. Martin Figge – Motonica/Sonic – 117L
5. Thomas Kroeger – Serpent/Novarossi – 117L
6. Rainer Rosskothen – Mugen/Novarossi – 115L
7. Andreas Goebel – ARC/Picco – 100L
8. Uwe Baldes – Mugen/Novarossi – 89L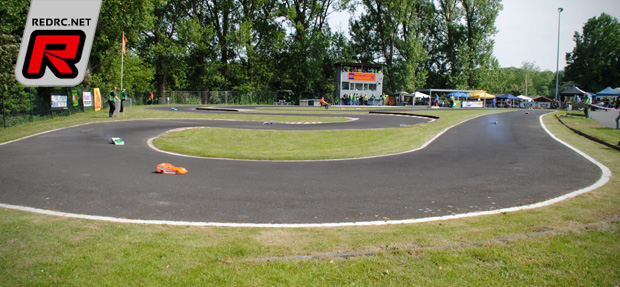 The 1/10th Open class as usual saw a tough battle for TQ and for the podium. In the three heats Bernd Rausch pushed his Shepherd to the top with fellow team mate Benny Lehmann only 23/100th of a second behind. Melvin Diekmann and René Puepke on positions three and four made it an all-Shepherd direct qualifying for the main finale. At the start of the 30 minute final Rausch jumped into the front and he pulled away until he was forced to retire due to an engine failure on lap 81. Puepke was the new leader but only for three laps when Daniel Toennessen, winner of the semi final, put his Mugen in front, but ultimately young Melvin Diekmann took the win. Toennessen crossed the line just one and a half second behind. Puepke, four laps down, completed the podium in third followed by Lehmann and Bernhardt.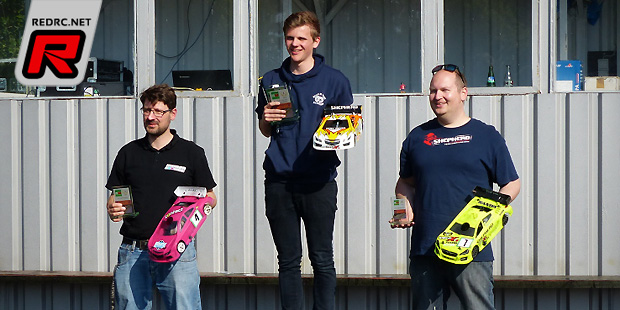 1/10th Open result:
1. Melvin Diekmann – Shepherd/Orcan – 116L
2. Daniel Toennessen – Mugen/RB – 116L
3. Rene Puepke – Shepherd/Orcan – 112L
4. Benjamin Lehmann – Shepherd/Orcan – 112L
5. Arndt Bernhardt – Shepherd/RB – 106L
6. Faehd Labik – Xray/Orcan – 106L
7. Ingo Braun – Capricorn/Orcan – 99L
8. Thorsten Lewandowski – Mugen/Reds – 96L
9. Bernd Rausch – Shepherd/Picco – 81L
10.Rüdiger Eilers – Shepherd/Novarossi – 58L
The 1/8th Stock class with standard engines from Novarossi and Sonic was the strongest class of the day. In his second race with Shepherd, Holger Hinnendahl took a surprising pole position ahead of young Christian Roenicke (Capricorn) and well-experienced Arno Puepke (Shepherd). But Hinnendahl gave it away already at the start when he dropped back to the very end of the field. So it was Roenicke leading the pack into the race, but he had to fight more than he might have expected. Ralf Wacker (Mugen), Matthias Guenther und Arno Puepke took over the first spot for more or less laps before Roenicke was back on top for the final and deciding ten laps. After 117 laps, Roenicke won the race only 3/10th of a second ahead of Waldemar Liedke (Mugen). Wacker on third was one lap down while Hinnendahl recovered to fourth.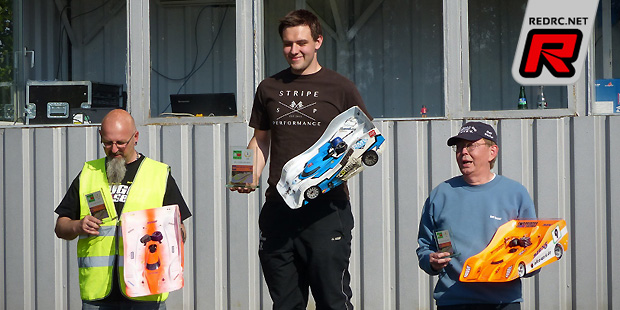 1/8th Stock result:
1. Christian Roenicke – Capricorn/Novarossi – 117L
2. Waldemar Liedke – Mugen/Novarossi – 117L
3. Ralf Wacker – Mugen/Novarossi – 116L
4. Holger Hinnendahl – Shepherd/Sonic – 114L
5. Jens Kopetzki – Serpent/Novarossi – 114L
6. Gunnar Blumendahl – Mugen/Novarossi – 113L
7. Dick Jansen – Xray/Novarossi – 109L
8. Matthias Guenther – Shepherd/Novarossi – 106L
9. Joachim Kuehn – Shepherd/Novarossi – 92L
10.Arno Puepke – Shepherd/Sonic – 55L
In 1/10th Stock Florian Trapp took the TQ like he did in Oberhausen. Furthermore, Marcus May (Shepherd) in second, Stefan Schumann (Shepherd) in third and Timo Niedling (Xray) in fourth qualified directly for the main race. While May was already out after four minutes, Schumann lost a place at the start but finished the first lap in the lead. Only during the first stop for refuelling he lost the lead but was able to open up a gap and finally captured the victory after 107 laps with two-lap margin on Trapp. Old-boy Werner Vogel with his lonely Kyosho once again made it to the podium with Guido Burghartz (Shepherd) in fourth and semi final winner Hans-Werner Dietz (Xray) in fifth.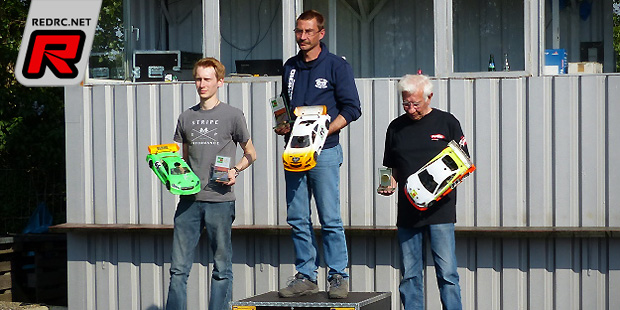 1/10th Stock result:
1. Stefan Schumann – Shepherd/Sonic – 107L
2. Florian Trapp – Caricorn/Sonic – 105L
3. Werner Vogel – Kyosho/Novarossi – 103L
4. Guido Burghartz – Shepherd/Sonic – 99L
5. Hans-Werner Dietz – Xray/Novarossi – 97L
6. Roland Karduck – Shepherd/Novarossi – 78L
7. Timo Niedling – Xray/Sonic – 57L
8. Marcel Beekman – Xray/Novarossi – 47L
9. Marcus May – Shepherd/Sonic – 15L
10.Robert Sieroczek – Shepherd/Novarossi – 0L
Source: Nitro-West [nitro-west.de]
---