June 23, 2015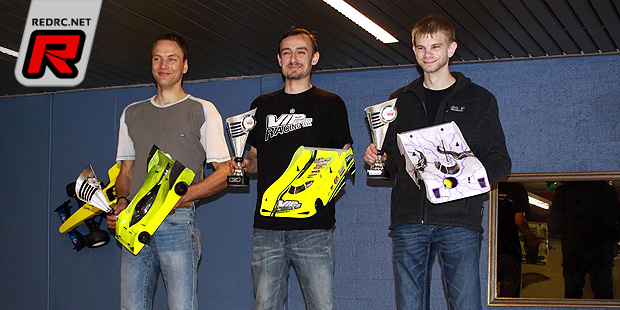 Round 3 of the 2015 RC Lemans Series was held in Utrecht, NL over the weekend in the classes of Pro10 Modified and Stock. Following a dry practice day the race day started out wet with the three qualifiers all being run under very severe weather conditions. In the Modified class Tim Altmann grabbed his first pole position of the 2015 season in front of his brother Kai. Tobias Weist, Reinder Wilms and Michael Finger rounded out the top 5 result. In the 10.5T non-boost class Sascha Lennartz took the TQ from Franz-Jakob Reinartz, Roy Pie, Mathijs Hermens and Nick Boon.

The opening A-main of the Modified class saw a close and exciting battle for the win between Kai and Tobias while Tim was not able to start due to electronic problems. After many position changes Tobias was able to secure the win some 4 seconds in front of Kai, benefiting of a small mistake of the latter. Reinder came in 3rd to round out the top 3 so far. A-main 2 was held under damp conditions and thanks to a clever tyre choice Tobias was able to secure the day's win pretty easy. Kai and Reinder again came in 2nd and 3rd respectively. The dry third A-main saw a four way battle between Kai, Tobias and Reinder with Tim ending the race early due to technical problems. With the win in A3 Kai secured himself the runner-up spot from Reinder while Tobias scored a third overall win in three rounds to build a 6-points gap on Reinder in the overall standings.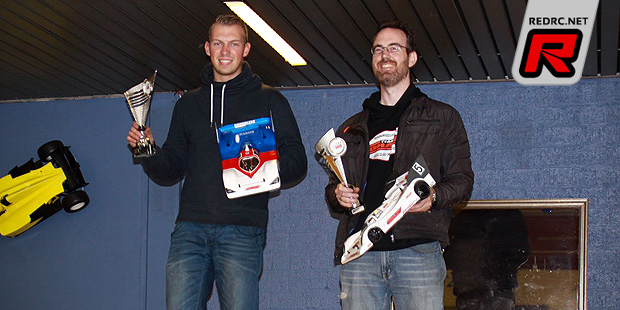 In the Stock class Nick Boon, coming from the 5 spot, took the win in the opening A-main one lap in front of Franz-Jakob and Roy Pie. Nick then went on to win the second A-main in similar fashion to grab the overall win early. Sascha Lennartz and Mathijs Hermens came in 2nd and 3rd respectively. With a win in the final leg Mathijs then secured himself the 2nd place on the podium while Franz-Jakob came in 3rd.
The fourth round of the RC Lemans Series will be held on the weekend of the 12th of July on the track of the MAC de Baanbrekers in Rucphen.
Source: RC Lemans [rc-lemans.de]
---