June 23, 2015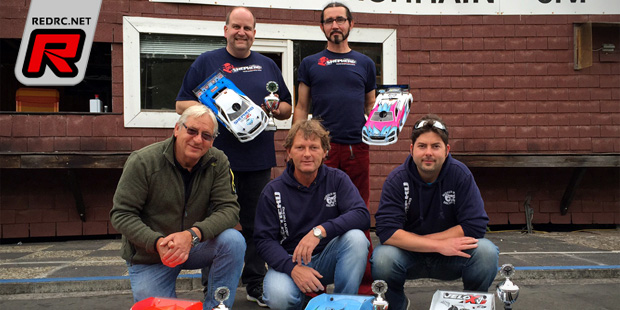 Round 3 of the Central German Nitro On-road Championships took place in Kirchhain with a total of 44 drivers in attendance despite the weather forecast being not very good. Luckily the main finals could be raced under dry conditions but the race time was shortened to 20 minutes as more rain was predicted. At the start of the 1/8th scale class 1 finale the track was still wet at some places so everybody was driving carefully. Patrick Schäfer had to start from 6th position as he had a technical problem in the single dry qualifier. Lap by lap he moved up the order and after the first round of pit stops he took over the lead from Peter Poldvere. Without looking back he controlled the race from the front crossing the finishing line 2 laps in front of Peter with Alex Schmitt completing the podium another lap down.

In the 1/8th scale class 2 it was Markus Friedrich who clocked consistent fast lap times but an engine flame-out at the start cost him nearly two laps. After 20 minutes he managed to get back to second position, 1 lap behind winner Eckart Blau. The podium was completed by Rudi Hofsäß.
In the 1/10th scale category it was Mirco Thalheimer who took the victory with a flawless drive in the main final. Starting from the 7 spot he managed to take over the lead just after the first round of pit stops. He continued to clock fast lap times and increased the lead step by step crossing the finishing line 1 lap in front of David Ranft with Hartmut Rose completing the podium.
Source: Shepherd [team-shepherd.com]
---