June 11, 2015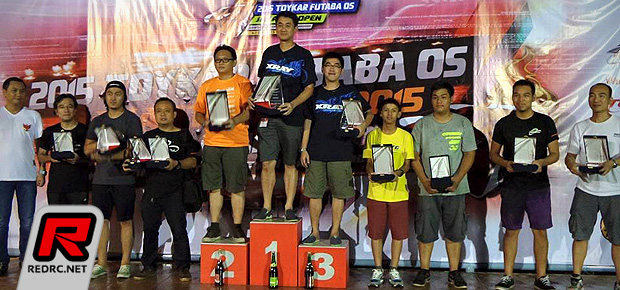 The recent 2015 edition of the annual Futaba Jakarta Open attracted more than 100 driver from from Indonesia, Singapore, Malaysia, Thailand, Brunei, Australia, Sweden and Italy, including special guests like Lamberto Collari, Carmine Raiola and Jesse Davis. The 1/8th class had Lamberto Collari (Infinity) taking the TQ from Nelson Lee (Serpent) and Trin Tanongsakchaikul (Infinity) while in the 1/10th class Jesse Davis (Capricorn) came out successful from Ryan Maker (Mugen) and Bowie Ginting (Serpent). In the 45 minute finale of the 1/8th class it was Xray driver Sadikin Sutrisno who took the win from Tay Wui Kiat (Serpent) and Suwardi Suliandy (Xray) while the top 3 qualified drivers all ended the race further down the field.
1/8 GP final result:
1. Sadikin Sutrisno – Xray
2. Tay Wui Kiat – Serpent
3. Suwardi Suliandy – Xray
4. M. Izzah – Mugen
5. Nelson Lee – Serpent
6. Trin Tanongsakchaikul – Infinity
7. Bowie Ginting – Serpent
8. Lamberto Collari – Infinity
9. Heri Susanto – Infinity
10.Kenji Taira – Infinity
The 1/10th 200mm Touring class final had Jesse Davis (Capricorn) defending his top position from Trin Tanongsakchaikul (KM). Fayakhun Andriadi (Xray) rounded out the podium after a long fight with fellow Xray racer Erwin Luhur.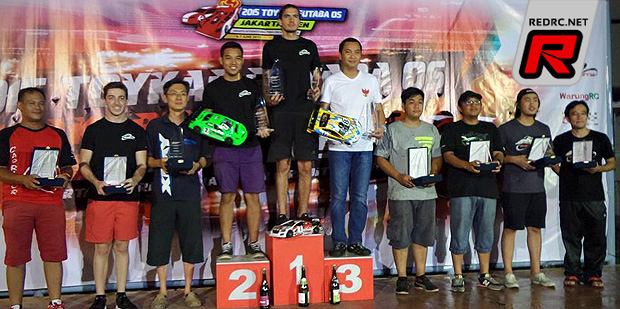 1/10 GP final result:
1. Jesse Davis – Capricorn
2. Trin Tanongsakchaikul – KM
3. Fayakhun Andriadi – Xray
4. Erwin Luhur – Xray
5. Bowie Ginting – Serpent
6. Aswin Narwandi – Xray
7. Ryan Maker – Mugen
8. Suhaimi Kimie – Capricorn
9. Heri Susanto – Mugen
10.Kenji Taira – Xray
Source: Xray [teamxray.com]
---