July 22, 2015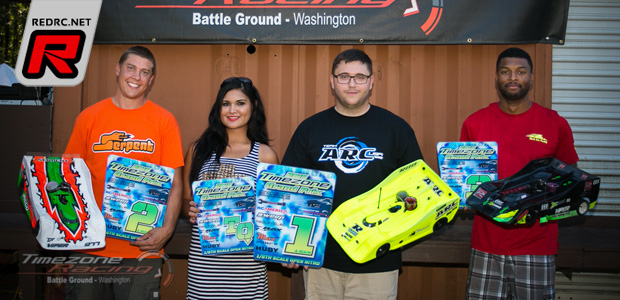 The 2015 Timezone GP was a race to remember. The sun was out, blistering at near 100 degrees. The track ready and prime, eagerly waiting to be driven on. The stage was set for a special weekend in Battleground, Washington. Unfortunately, this year's GP kicked off with a bit of bad news as the world famous Charlie Suangka, was unable to attend this year's race due to a scheduling conflict. The good news was that the unforgettable Scotty Ernst was able to step in as this year's guest RD. Bringing the excitement all the way from Wisconsin, this would also be Scotty's 1st trip to Timezone. Other notables that made the trip was everyone's favorite Canadian and Team Associated's on-road ace, Keven Hebert. Former world champion, Ralph Burch for RC America/Xray was also on hand to battle in the 1/10th scale nitro sedan class.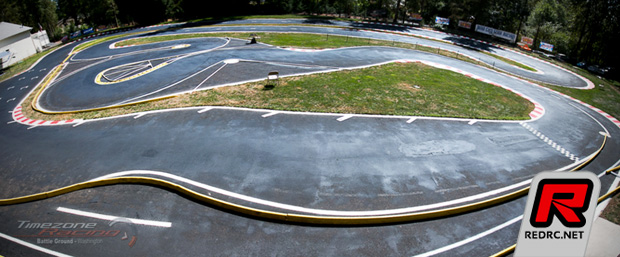 This unique, outdoor "ribbon" track magically enhances the realism of racing with its natural uneven surface and bumps. Any off course excursions resulted in your car mowing grass with a high potential of getting stuck waiting for a corner marshal. Add in the rotating sun mixed with the shadows from the surrounding trees makes it feel as if the track is alive and ever changing. Huge thanks to Rick St.Cyr and his family for opening up their home to all the racers and even allowing on-site camping on his property. Also, many thanks to Rose City Scale Racing's Ryan Newberry who did a fantastic job in organizing the race and getting the track flawless and race ready. The hard work definitely was definitely noticed and appreciated. Thanks to Scotty Ernst for RD'ing and being a part of this track's wonderful heritage.
The fastest cars on the track were undoubtedly the 1/8th scale nitro open cars and proving to be the man to beat all weekend was ARC's Kody Knudtson. Knudtson would start A-main in front of Exceed's KJ Jones and Serpent's Marty Barnes. Making his return to 1/8th scale nitro racing, Barnes would find his way around KJ on the 13th lap and take over 2nd. Looking super dialed and laying down ballistic laps, Knudston was on a mission and ran a mechanically faultless race that made him nearly impossible to beat. Barnes would twice lose his airbox dropping precious time to Knudtson and giving 2nd back to Jones. Bad luck would find Jones as he would run out of clutch and be forced to nurse a car to the finish. Knudtson would take the win while Barnes would finish 2nd and Jones in 3rd.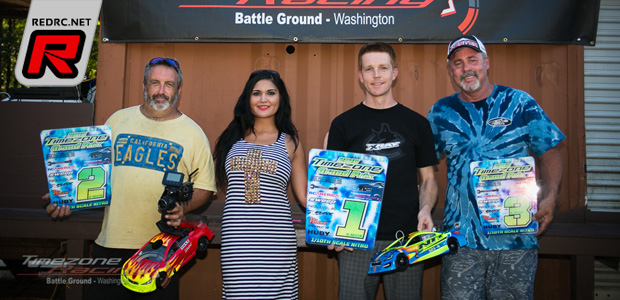 The 45 minute A-main for 1/10th nitro sedan was wild, crazy, and exciting. To no surprise, dominating in qualifying was former world champion Ralph Burch. The start of the A-main was perfect for Burch as he was easily able to pull away from the field. However, a third of the way into the race, Burch suffered his first mechanical issues to the front end of his car. He would give the lead to St.Cyr on the 55th lap only to rejoin the race in 6th and 2 laps down. Mounting a charge, Burch would close the gap every single lap, but unfortunately he would suffer the same mechanical issue requiring him to pit in once again. With a near flawless performance, Blake Bell would rise to the top to cross the line and take 1st. Battling it out till the very end, McKee and St.Cyr were going at it to see who would finish 2nd. Ultimately, St.Cyr would edge out Dana McKee for 2nd and McKee would wrap up 3rd.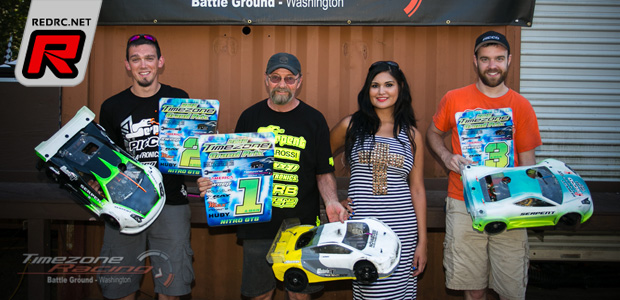 The racing was spectacular in this year's GT8 class with Troy McKune earning TQ honors in the final round of qualifying by just .4 seconds over Rick St.Cyr. Going into Sunday, the story was much different. Both St.Cyr and McKune would run into car issues forcing them to retire early in the race. As the 2 leaders would drop out, it became a 3 way battle between Ty Jacobs, Brad Borneill, and Gus Wood for the win. Through the 45 minutes of racing between Jacobs and Woods, there was a total of 4 lead changes between the two. Finally, on the 116 lap of 135, Wood would solidify his lead and take the win by just 7 seconds over Jacobs. Borneill would finish out the top 3 with a fantastic drive.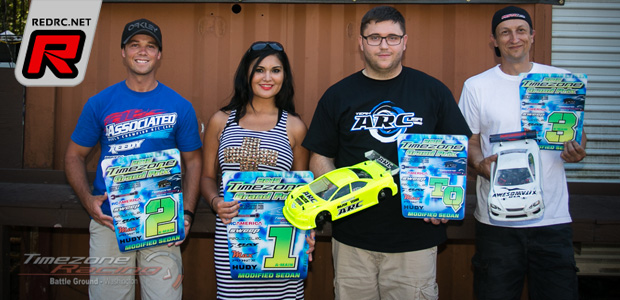 1/10th Modified Sedan was a terrific showdown between Team Associated's Keven Hebert and ARC's Kody Knudtson. The two drivers would masterfully pilot their cars to grip's edge, trading lap for lap in every round of qualifying and mains. When the dust settled, Knudtson would emerge as the class' top qualifier with Hebert a close 2nd. The start of A1 saw a bit of carnage as VBC's Dave Ehrlich and Knudtson making contact right before the high-speed straightaway resulting in a huge crash. Knudtson was out from the damage and one lap later, Ehrlich was forced to retire as a result. With Hebert's rivals out, he would go on to win A1 putting pressure on Knudtson. Bouncing back from a horrendous A1, A2 proved to be the showdown everyone was waiting for. This time, Knudtson would lead wire to wire and fend off Hebert's attack to take a much-needed win in A2. Hebert would finish a close 2nd and Ehrlich 3rd. In A3, Hebert would get shuffled back to 7th on the first lap with a lot of work to do. By the 9th lap, Hebert was able to get back to 2nd, but too distant to apply any kind of pressure on Knudtson. With clean air and no pressure, Knudtson cruised home to an easy victory in A3 giving him the overall win in modified sedan. Hebert would finish 2nd overall and Jake Danilchik 3rd on the podium by winning a 4 way tie-breaker.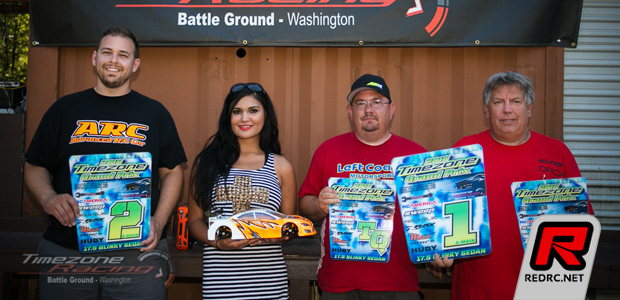 Defending TZGP Stock Sedan champion, Devin Patterson would repeat a similar feat as Pate in VTA by taking TQ and winning A1 and A2 to win the overall and repeat as champion. Moving up from 4th on the starting grid, Dick Reece would finish 2nd in A3 and jump up to finish 2nd overall. Tim Copp also put in a stellar drive by taking the win in A3 giving him 3rd on the podium.
British Columbia's Alex Pate was on fire in VTA. Taking TQ and finishing 1st in A1 and A2, Pate only needed 2 mains to seal the deal leaving the rest to battle for 2nd and 3rd. VBC's Robert Bakoczy would go on to win A3 giving him 2nd overall and Mike Biscieglia would round out the top 3 with clutch drives and two 3rds.
Thanks to Thomas Tran for the report.
---