July 9, 2015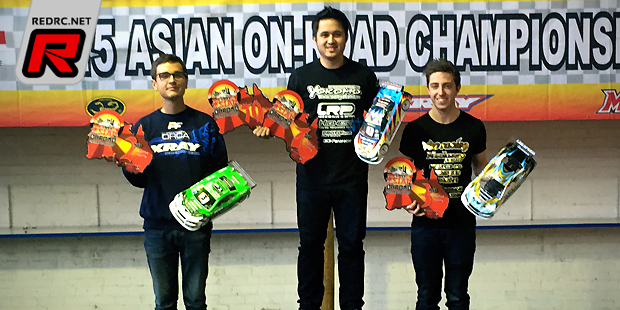 Round number 2 of the Asian On Road Championship is in the books with the event being held at Hobby Habit in Adelaide, Australia. Hobby Habit has a wonderful facility that is not just a track but a whole complex. Housing a huge hobby shop carrying all aspects of hobby related products as well as 4 race tracks, 5 slot car tracks, birthday area as well as a kitchen. Drivers from all over Australia joined as well as top touring professionals Ronald Volker from Yokomo and Alexander Hagberg from Xray. The official days of the AOC are normally 3 days, Friday thru Sunday, but with the attendance of Alexander and Ronald, many racers came on Thursday to get some extra practice and get assistance from these two top Pros.

Practice continued on Friday and the track was in great condition. It is an indoor tarmac track with 3-4 meter wide lanes on a very high grip surface and thus Volante 36 tires were chosen for this event in combination with LRP Carpet 3 additive as a controlled tire additive that had to be applied in a controlled area as this made sure all drivers were using the same additive.
Saturday brought 4 rounds of qualifying and Sunday was round 5 of qualifying and triple mains for all classes and all mains. This was a big hit with the racers as they were able to get a great amount of track time and racing in during the AOC. The premier class was of course Modified. Qualifying came down to the last round with Ronald holding the edge over Alexander. Alex would have to TQ the round with a faster time than Ronald did in his earlier round. Unfortunately for Alex he was not able to go faster than Ronald's time and Ronald would start on pole. For A1, Ronald made a perfect start but was pressured by Ryan Maker driving for VBC with Alex right behind. These 3 would pull away and have a good race but after a strong fight for the first 3 minutes, Ronald was able to pull away a bit and take the win. In A2 a rough start for Alex as he got collected in the first turn which dropped him all the way back to last pretty much took away any shot of a win. Ronald and Ryan had another great fight but Ronald proved to be to strong and was able to take the win and wrap up the overall. A3 was one of the best races of the day. Ryan and Alex had an amazing fight for the first 4 minutes with no more than a meter between them. Ryan never giving Alex a chance to make a pass until he got his car up on 2 wheels which was the only opportunity Alex needed and dove to the inside to make the pass and was able to hold off Ryan for the rest of the final. The final podium position then was Ronald, Alex and Ryan.
Touring Car Modified A-main result:
1. Ronald Volker – Yokomo/LRP/LRP/LRP
2. Alexander Hagberg – Xray/Orca/Orca/Orca
3. Ryan Maker – VBC/Muchmore/Muchmore/Silverback
4. Simon Nicholson – Yokomo/LRP/LRP/LRP
5. Jesse Davis – Yokomo/Hobbywing/Hobbywing/Silverback
6. Antoni Caretti – VBC/Hobbywing/Hobbywing/Moore Speed
7. Corey Broadstock – Xray/Nosram/Nosram/Nosram
8. Jordan Cullis – VBC/na/na/na
9. Jack McMillan – Xray/Hobbywing/Hobbywing/Moore Speed
10.Nathan Reese – Yokomo/Muchmore/Muchmore/Muchmore
In the largest class of the event, Super Stock 13.5, it was Tom De Nardis who started on pole and drove two perfect mains to earn the overall win. Tom was pressured in each of the two finals by Tim Gaukroger but Tom drove flawlessly and took a well earned win. In A3 with Tom sitting out since he wrapped up the win, it was a great race between Tim and Alex Ilievski. They raced nose to tail for the entire race and only a small mistake by Alex on the closing laps would give Tim a 3 second win and secure him 2nd overall with Alex taking the final spot on the podium.
Touring Car Super Stock 13.5T A-main result:
1. Tom De Nardis – Awesomatix/na/Thunder Power/Thunder Power
2. Tim Gaukroger – Capricorn/Tekin/Thunder Power/Thunder Power
3. Alex Ilievski – Xray/Nosram/Team Powers/Nosram
4. Damien Zarb – Xray/Nosram/Team Powers/na
5. Ben Kleinschmidt – Serpent/Nosram/R1/Moore Speed
6. Rhys Marshall – Serpent/Hobbywing/Trinity/na
7. Tony McHahon – Xray/Team Orion/R1/LRP
8. Marin Grantham – Xray/Hobbywing/Hobbywing/na
9. Gavin Hatherly – VBC/na/na/na
10.Scott Mahoney – Xray/Orca/Hobbywing/Moore Speed
In the Stock class it was Patrick Saelzle who would take the top spot on the podium in the category that was run with 21.5T motors. Patrick was the TQ of the class but had to really work hard to secure the win after some bad luck in A1. Patrick had worked up to a 5 second lead and with 30 seconds to go in A1 some contact from a back marker tucked his body and he would drop to 3rd. In A2 and A3 Patrick was on a mission to convert his TQ to a win and that is what he did. He withstood some early pressure from Matthew Pimblett in both finals and was able to secure the win. John Karnaros would move up 1 spot overall from his qualifying position to take 2nd and Mathew Pimblett would round out the podium.
In 1/12th it was Dan Maher who was the fastest in qualifying taking 4 of 5 of the rounds. The other driver TQing 1 round was Justin Reediex, who was a late entry into the event and got faster as the event progressed. In the finals, Dan took full advantage of his TQ starting spot and drove two nearly flawless mains not giving Justin any chance to take the lead and Dan went on to win the first two finals. In A3 it was a very good race between Justin and Steve Young. They had a great battle that lasted for most of the race and in the end it was Justin who would win A3. Podium positions went to Dan Maher, Justin Reddiex and Steve Young.
The Formula class was a very good battle between Dan Maher and Mark Wallin, They went back and forth in qualifying with Dan earning the TQ spot. In A1 it was Dan who would fight of the early charge from Mark to take A1. A2 it was Mark getting the upper hand making a good pass to take the lead and earn the win which would make the overall winner decided in A3. At the tone, Dan jumped out to an early lead with Mark challenging behind him but a very good drive from Dan gave him the A3 win and the overall win. Mark would finish in 2nd and Scott Rawlings would take 3rd overall.
Up next for the AOC will be round 3 August 21-23 at Urban Play space in Singapore, followed by round 4 in Hong Kong at TRC Sept 25-27 and the finals at historic Yatabe Arena Nov 27-29.
Source: AOC [aocrc.com]
---