July 20, 2015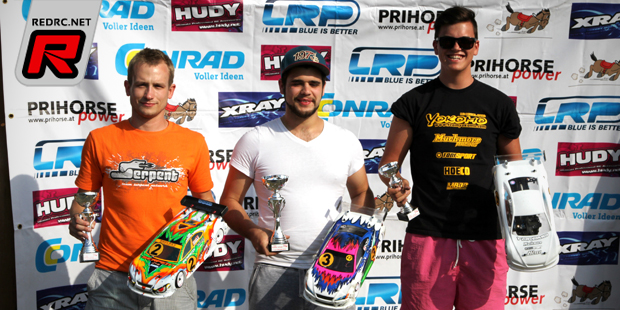 The 4th round of the Austrian Electric On-road Nationals was held at Team Speed Freaks track in Krieglach with 30 racers signing in for the Touring Car Modified, Touring Car Stock and Formula classes. The track is well known for its very difficult layout and all drivers had to push hard in order to pull fast laps. In Touring Car Modified the battle was on between reigning champion Dominik Vogl and his hardest competitor Patrik Gollner, but this time Patrik was the faster man on track and he pushed hard in the qualifiers to grab the TQ in front of an extremely quick Mario Sowka. The 3 spot went to Jakob Zündel while Dominik Vogl found himself only in fourth position after the qualification heats.

The opening final then was an easy affair for Patrick and he looked like he would be able to take a maiden victory at the nationals but following unbelievably bad luck in A2 and A3 he only finished 4th overall. Up front a surprised Jakob Zündel took the day's win from Mario Sowka on the runner up spot and Dominic Vogl who completed the podium in 3rd and who in the progress also took his second consecutive national title.
Touring Car Modified A-final result:
1. Jakob Zündel
2. Mario Sowka
3. Dominic Vogl
4. Patrick Gollner
5. Sascha Klug
6. David Wöß
7. Werner Schmitzer
8. Christoph Ramsauer
9. Alojzij Osvald
10.Toni Eder
In Touring Car Stock a couple of drivers were fighting for the TQ spot. Jürgen Horn, Jan Popic, Thomas Rossegger, Alexander Hochegger, Manfred Pasch and Vinzenz Schrank were racing within some tenth of a second, but finally it was again Jürgen who made no errors to take the TQ, followed by Thomas and Jan. In three very exciting and sometimes confusing finals, caused by the very tricky track, Jürgen scored a third victory at this year's nationals and with it he also secured himself the national championship title early.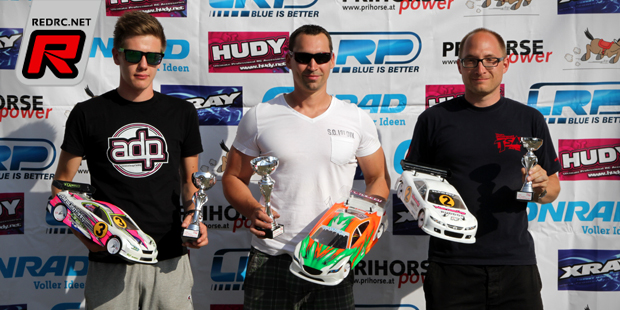 Touring Car Stock A-final result:
1. Jürgen Horn
2. Jan Popic
3. Thomas Rosegger
4. Alexander Hochegger
5. Vinzenz Schrank
6. Rene Kronsteiner
7. Manfred Pasch
8. Christian Schiff
9. Markus Linecker
10.Christian Völker
In the Formula class Herbert Weber again was unbeatable. He made a clean sweep in the qualification heats and went on to win A-main one and two. Herbert completed a perfect season with a fourth win in a row and he was the third driver this weekend to grab the overall championship early.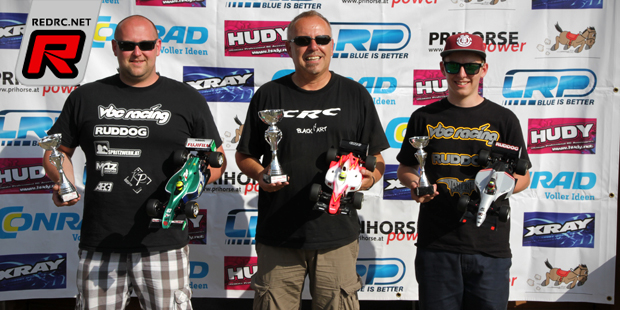 Formula 1 top 4 result:
1. Herbert Weber
2. Andreas Teubl
3. DavidStrecker
4. Bernhard Welker
Round 5 of the National Championship will be held on the weekend of the 9th of August at the ERC Wiener Neudorf racing arena in Vienna.
Source: Öfmav [ofmav.at]
---