July 2, 2015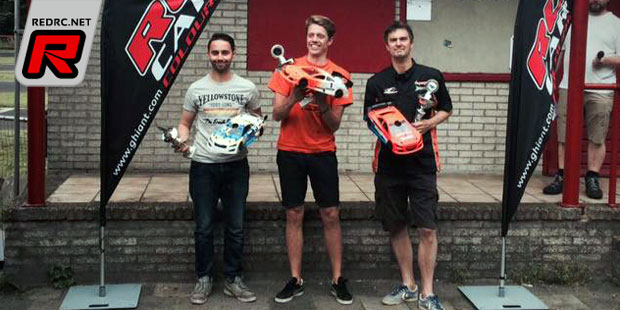 The third round of the Dutch 200mm Nitro On-road Nationals was held at the Baanbrekers track in Rucphen, home of last year's 40+ European Championship. Weather predictions for the weekend were good and apart from a few rain drops it stayed dry all of the time with the track being in perfect condition which was reflected by the very quick times set in qualifying. The Dutch Nationals are run with mandatory Novarossi Sturm engines and Hipex low noise pipes and despite this being a somewhat "budget" solution it is a very powerful package as the times set were only a couple of tenth off of the current track record. In qualifying the battle for the four direct qualifier spots was very close, Daan Jacobs took the TQ with his Serpent followed by Pedro Rombouts (Xray). The 3 spot would be taken by John Bruins (Capricorn) with Serpent driver Julius Kolff only 0.13 seconds behind in 4th. Milan Holthuis would miss the direct final entry by only 4 tenths. Overall this was the closest qualification this year.

After the dust had settled from the battles in the semifinal ten cars lined up for the main event. After a clean start the first few laps were run in starting order. To get through the 30 minute final without a pitstop for tyres everyone started with pretty big rubber and this would lead to a number of traction rolls in the beginning. After 10 minutes Daan Jacobs would find himself a lap ahead of the pack, with Milan, John, Glenn and Julius swapping positions 2 to 5 all the time. This fight would continue until halfway when an unfortunate crash with a backmarker would end Milan's race. This left Julius, John and Glenn to fight over the remaining podium places, as Daan was already cruising towards the win up front. Due to different pit strategies it was difficult to predict the outcome and everyone pushed hard until the end. After the last pitstops were done it was apparent that Julius had been able to push pretty hard as he put his Serpent on the 2nd spot with John's Capricorn only 2 seconds behind in 3rd. Ultimately a dominating performance of Daan Jacobs throughout the day gave him a deserved win, making him the third different winner in as many races this year. The next race will be at the AMCA track in Apeldoorn where the quest for the title will continue.
Final result:
1. Daan Jacobs – Serpent – 118L 30:14.054
2. Julius Kolff – Serpent – 117L 30:13.705
3. John Bruins – Capricorn – 116L 30:00.637
4. Glenn Hogervorst – Capricorn – 115L 30:02.825
5. Robert Krens – Shepherd – 111L 30:06.222
6 Roy Bakker – Shepherd – 105L 30:05.974
7. Dave de Ruiter – Capricorn – 102L 30:09.315
8. Pedro Rombouts – Xray – 92L 26:21.955
9. Jos Remmerde – Capricorn – 86L 30:03.434
10.Milan Holthuis – Serpent – 64L 16:56.159
Thanks to Ruben d'Arco for the report.
---