July 12, 2015
With a flawless qualifying effort in round 1, Rivkin is looking for another clean sweep in the 2nd round of qualifying. Starting with Modified Short Course, AE's young superstar was on a mission to match his earlier performance by TQ'ing the round with a 20 5:02.1. Improving on his first run by almost 10 seconds, Rivkin and his new SC5M is looking unstoppable. Consistent and quick, Jason Moberly would again post the 2nd fastest run with a 19 lap 5:09.4 and Kyle Layton would round out the top 3 fastest SC trucks with a 19 5:11.6.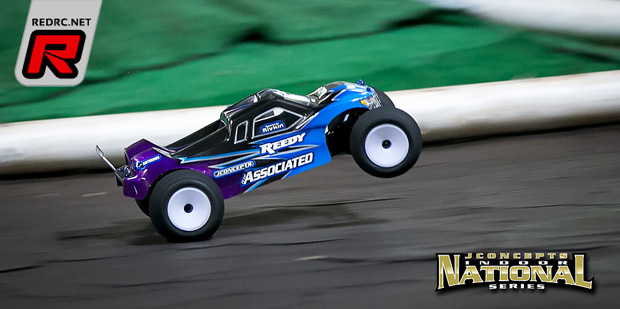 Modified Truck took the same fate as SC with Rivkin outpacing the field and taking TQ with his Reedy powered T5M. Making it look relatively easy, Rivkin's time was unmatched with a 21 5:11.0. Not having a perfect run, Nathan Bernal would still manage to finish 2nd fastest with a 20 5:05.0. AE/JConcepts' Eric Albano was able to put in his best finish as of yet and starting to look a lot more comfortable on the track and finished 3rd with a 20 5:07.5. Unfortunately for Tommy Hinz who suffered a servo failure during his run and would have to make round 2 is his throw-out.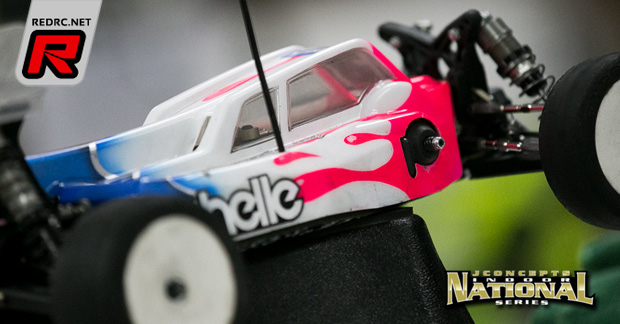 Moving a step closer to another round of perfection, Rivkin laid it down again in his Reedy-powered B44.3 equipped with JConcepts Smoothies and put down the fastest time once again with another 22 lap 5:09.4. Having said all his cars are "so easy to drive," no changes will be made for the next round of quals. Derek Stephansen would put in his best time so for in 4WD and finish 2nd for the round with a 21 5:01.0 and slowly inching closer to a 22 lap run. Kyle Turner would also capitalize on other's misfortune this round and run a time almost equal to Stephansen's with a 21 5:01.9. Only completing 2 laps before a ballstud would eventually loosen up on his 4WD's caster block, Schoettler was forced to pull off making round 2 a throw-out.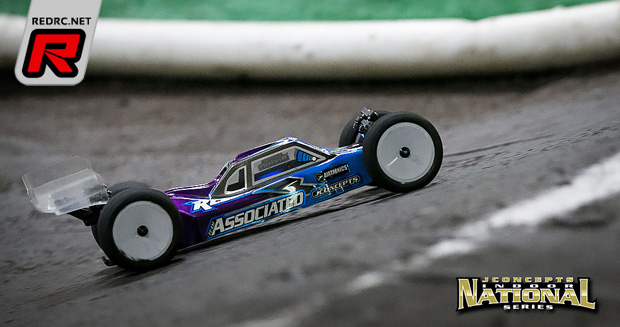 Doing the unbelievable and completing another successful round of flawlessness, Rivkin would TQ another round of 2WD Modified. Setting a pace untouchable by his competitors with a 21 5:00.1, nearing a 22 lap run in 2WD as well. Teammate and friend, Tommy Hinz would finally start to show his speed and score a 2 for the round with a 21 5:06.3. With some wholesale changes to his B5M, Team Associated/JConcepts' John Walentia also put down his best run of the event so far with 21 5:12.2 finishing 3rd for the round. The battle for the podium is starting to shape up as racers are starting dial in their cars and inch a bit closer to Rivkin.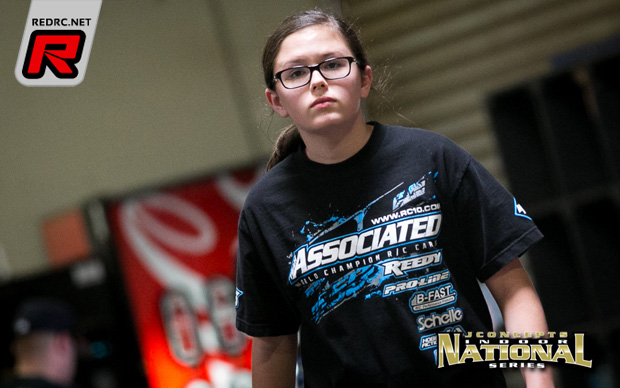 Other notable finishes of the day was the very popular, Kamryn Ayers in the 13.5 4WD Superstock class with a near perfect drive to earn her yet another TQ with a 20 lap 5:03.5 in round 2. Derek Stevenson would repeat his earlier TQ in round 1 with another TQ in round 2 of 17.5 Stock buggy with a 20 5:04.8.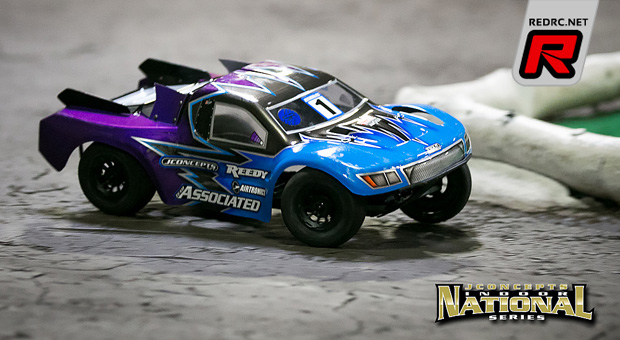 Q3 then again was all about Spencer Rivkin. Having a lot of experience on high bite surfaces from his home track to the Pre-Worlds warm-up race at Yatabe Arena, Rivkin was clearly in a class of his own. However, as other racers start to take setup cues from the ultra hot youngster, the gap is starting to close as his competitors are slowly dialing in their cars. In Modified Short Course, the story was on repeat with Rivkin taking TQ in Q3 and sealing the deal as overall TQ with a 20 5:17.3. This time, it would be Kyle Layton finishing in 2nd over Jason Moberly with a 19 5:09.3 while Moberly was able to stay in the top 3 with a 19 5:15.0. Moberly is currently ahead of Layton by 1 point going into tomorrow's final round of qualifying.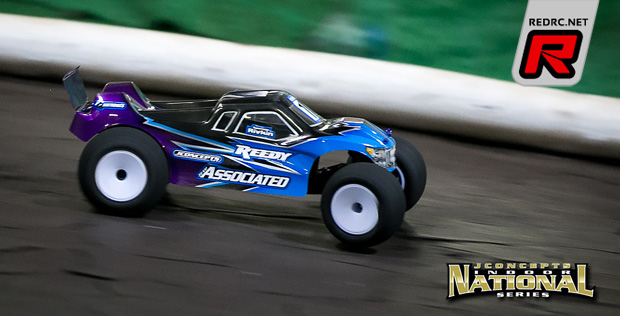 Next test for Rivkin was Modified Truck. With a combination of silky smooth yet fast, aggressive driving, Rivkin once again was able to outpace his competitors and this time the margin was closer than before. Having earned his 3rd consecutive TQ in the class, Rivkin would take the overall with a 20 5:01.1 20. Staying within striking distance, AE/JConcepts' Nathan Bernal was starting to feel the groove and put in a great run with a 20 lap 5:05.6. Kyosho/JConcepts' Ryan Matesa was also starting to pick up his pace and finished 3rd for the round with a 20 5:09.9. Prayers go out to Eric Albano's mother who was in an accident as Eric would have to abandon the race in the emergency.
Having almost missed his heat because of the re-sort, Rivkin rushed to the track just in time to start the qualifying round of 4WD Modified. Calm, cool, and consistent, unshakable Rivkin added another overall TQ to his belt by setting the fastest time in 4WD with a 22 5:10.2. Saying that his buggy was "so good and easy to drive" Rivkin is the only one putting in solid 22 lap runs in 4WD. Adding his name to the mix of ultra fast wheelers, Kyle Turner put in a super run with a 21 5:04.4 and finished 2nd for the round. Having suffered a breakage in round 2, Michael Schoettler finished with a much needed top 3 run with a 21 5:06.3 leaving the doors wide open for tomorrow's final qualifier.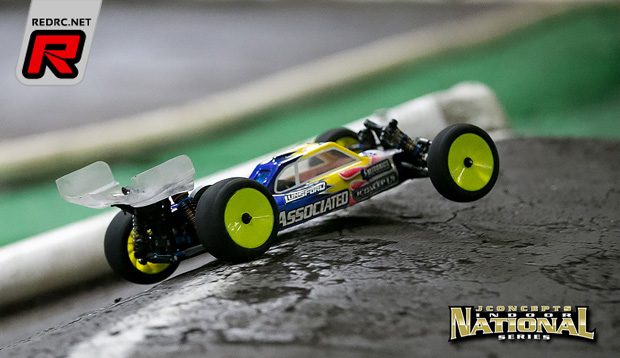 The final test for Rivkin to complete his flawless day of qualifying and TQ'ing all 4 of his Modified classes was 2WD. Needless to say, the outcome has been very predictable as there was no stopping the Rivkin train who once again dominated the field with an impressive 21 5:01.6 and completed his quest for 4 TQ's in 4 different classes. Recovering from a failing gear diff in the previous round, Michael Schoettler was starting to figure out his car on slicks and put down a 21 5:08.4. Having said he will try a front shock package "similar to what Spencer and Tommy are running," Schoettler is still in the hunt to position himself well for Sunday's triple A mains. CJ Jelin would come out of no where and finish 3rd for the round with a stellar 21 5:11.1.
Meanwhile in the 13.5 Superstock 4WD class, Eddie Bernal would shoot to the front of the pack for round 3 and earn his first TQ of qualifying with a 20 5:03.3. Also, in the 17.5 Prostock buggy class, Kyle Layton would have a near perfect drive to edge out round 1 and 2 TQ, Derek Stephansen. The battle will definitely go down to the wire.
Thanks to Thomas Tran for the report.
---