July 27, 2015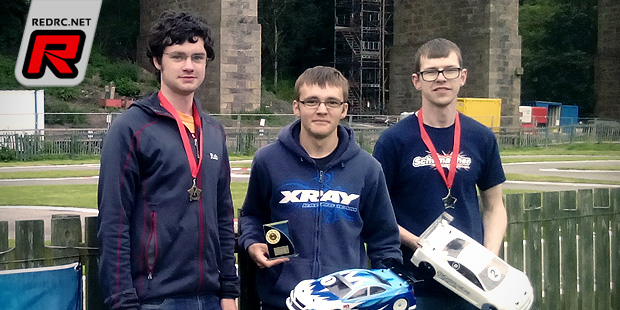 The first round of the 2015 Muchmore UK GP Series took place at the Stonehaven circuit in Scotland this past weekend and combines with the series finale at a second round held at the Carlisle track on the 22nd and 23rd of August. In previous years, the Muchmore UK GP has attracted World Champion racers and has always been a launch platform for young RC talent destined for Regional, National and International competitions and it was local club racer Peter Eagles who took a clean sweep in all three of the A-main modified finals to take the round win, followed up by John Simpson in 2nd and Andrew Walters in 3rd.
Pro-Stock class runs a 13.5T brushless motor, with open ESC choice and is always more popular at the Carlisle round where it is a club class too. The top 4 drivers in the class were in very close contention for the title but with a win in 2 out of 3 of the finals, it was Ian Willacy who took 1st place from Jeremy Stephens in 2nd and Rob Harry in 3rd.
The Spec class has also proved popular running 17.5T brushless motors with a blinky ESC and remarkably the grid position of the top 5 was repeated in the results of all 3 finals with the top 5 cars finishing in grid position in each of the 3 final racers and pole guy David Fraser therefore taking the overall win.
In the supporting Formula class, Andrew Walters, another racer that started out racing at the Muchmore GP a few years ago, took the overall win, following his Formula debut at ETS Slovakia last month.
The Mini class is another supporting class that continues to grow with a large entry this year. Denis Milton took the overall win in the C final from Logan Spiller and Evan Morris. Nick Roccas took the overall win in the B final from Joe Anderton and Edward Burnett. In the A- final, Mini specialist Paul Davidson took the overall win from Chris Mitchell and Callum Keith.
Source: Muchmore [muchmoreracing.com]
---