July 6, 2015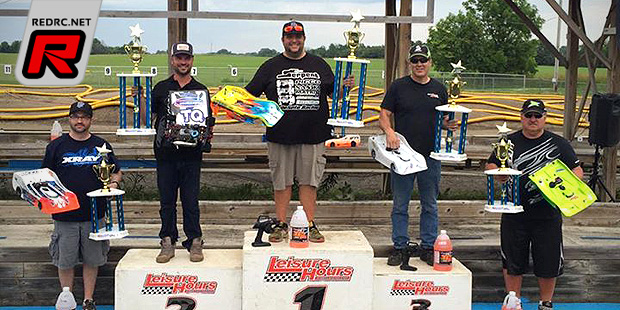 The annual Byron Fuels Challenge was held at Leisure Hours Raceway in Joliet, Illinois in the the three classes of 1/8th Nitro On-road, 1/10th 200mm Sedan and 1/8th GT. The event officially kicked off on Friday but the day had to cut short due to bad weather. Qualifying got underway in a very similar format to an IFMAR race with 10 minute qualifiers, points system and one hour mains. In the opening round of the 1/8th class Paolo Morganti had a nice clean run and he was able to TQ that round by a large margin. After a heats of the second round, water started to come up making the track slippery. The track crew was trying to keep it dry but at some point it got really bad and they decided to stop. They came up with the solution to change the layout and since in the process they lost some time sorting this out, they decided to go to a 5 minute qualifying program. The interesting part was that the whole left of the track was different, with really narrow sections and chicanes – a typical EP sedan layout.

Without any practice everyone went for the second round and for the 1/8th scale cars, the layout was very narrow and tricky, super technical and really hard to go fast. Since there was a chance of rain for Sunday, the 4th qualifier planned for Sunday was dropped. In that last round, Chris Tosolini was ahead and Paolo was following and while Chris got the overall TQ a second place would give Paolo the second place in the grid.
The forecast for Sunday was calling for rain, so the organizers decided to cut the main short and instead of one hour they would run 30 minutes mains. In the 1/8th class Paolo had a good start and at the second turn Toso went a little wide and Paolo was able to overtake him. From there was a 30 minute battle, with almost identical lap times and just swapping positions at the pit stops. Sometimes Paolo was able to build some gap but then he was less fortunate and maybe more careful in the traffic and Chris was able to catch up. Both had different pit strategies and everything came down to the last 4 minutes. Paolo was first and Chris was in second and hard charging and at the end Paolo got him by less than 2 seconds.
Source: Serpent [serpent.com]
---