July 24, 2015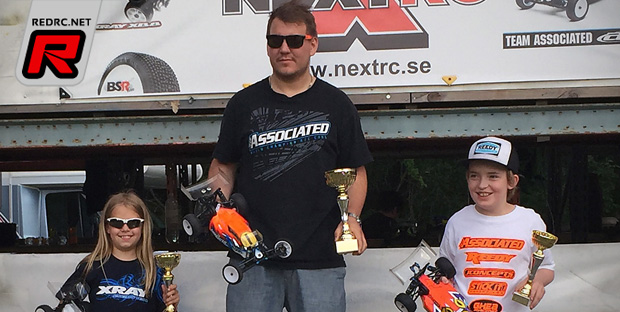 Round 2 of the Swedish National 1/10th Buggy Series was held at the Skarpnäck astroturf track just outside of Stockholm. The 2WD class was run on Saturday and just in time for the practice heats rain started to fall. The organisers decided to postpone the start and thus only two 7-minute heats of practice would be held on a still wet track. After the four qualifiers local driver Niclas Mansson (Team Associated) took the TQ from young Malin Karlsen (Xray). In the triple A-mains Niclas would win A1 and A2 to grab the overall win early while Malin took the win in A3 to snatch the runner-up spot. Wilhelm Skjoldebrand (Team Associated) rounded out the top 3 result.
2WD final results:
1. Niclas Mansson
2. Malin Karlsen
3. Wilhelm Skjoldebrand
4. Mattias Fransson
5. Martin Johansson Nielsén
6. Alexander Landén
7. Henrik Karlsson
8. Johnny Sageborn
9. Frank Holmgren
10.Lars Jonsson
Sunday's 4WD events would start on a dry and very high grip track and with a dominating Malin Karlsen (Xray) who TQed three of the four qualifiers even though she was hindered by a motor sensor problem in Q3. In the mains Malin would come in first in A1 and A2 to take the day's win and with it the overall title in the 4WD class. Niclas Mansson (Team Associated) ended the day in second, Alexander Landén completed the top 3 result.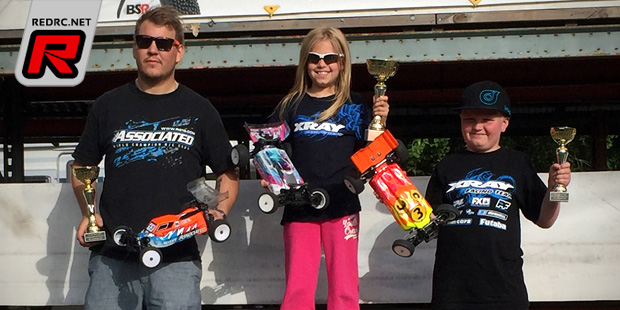 4WD final results:
1. Malin Karlsen
2. Niclas Mansson
3. Alexander Landén
4. Wilhelm Skjoldebrand
5. Michael Kronostrom
6. Klas Bredberg
7. Martin Johansson Nielsén
8. Hugo Bjurman
9. Mattias Fransson
10.Per Lidén
Source: Xray [teamxray.com]
---