July 16, 2015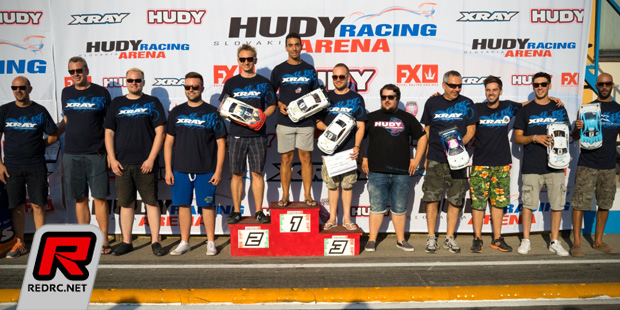 The Xray X-Race Italy was held last weekend in Bientina in several electric on-road classes. Good weather and a friendly yet competitive atmosphere and the attendance of some of the fastest Italian driver with guests from abroad made for a nice weekend of racing. In the Touring Car Modified class Portuguese frontrunner Bruno Coelho took the win from Xray's own Martin Hudy. Alessio Mancini came in 3rd while Alessio Menicucci and Jan Ratheisky rounded out the top 5 result.
Touring Car Modified results:
1. Bruno Coelho
2. Martin Hudy
3. Alessio Mancini
4. Alessio Menicucci
5. Jan Ratheisky
6. Gilles Marletta
7. Luca Torreggiani
8. Nicola Marrone
9. Fabrizio Manicardi
10.Davide Campanini
The 13.5T Stock class saw a close fight between TQ Jan Ratheisky and Mattia Collina. While Jan won the opening A-main, Mattia stroke back in A2 so the overall win would be decided in the third and final A-main in which Jan took an undefeated win to take the overall victory from Mattia. Roberto Fabiano completed the podium result in 3rd.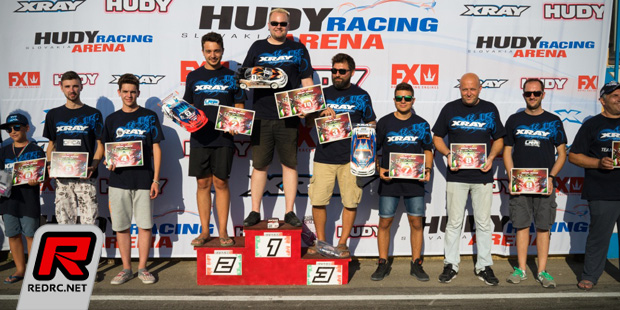 Touring Stock 13.5T results
1. Jan Ratheisky
2. Mattia Collina
3. Roberto Fabiano
4. Davide Bertuzzi
5. Manuel Wagner
6. Andrea Ghilotti
7. Paolo Bertora
8. Saverio Sodini
9. Andrea Valerio
10.Tiziano Borgogni
The 17.5T Real Stock class had Biagio Verbicaro coming out successful from Emanuele Agnoletti. Christian Raffo rounded out the top 3.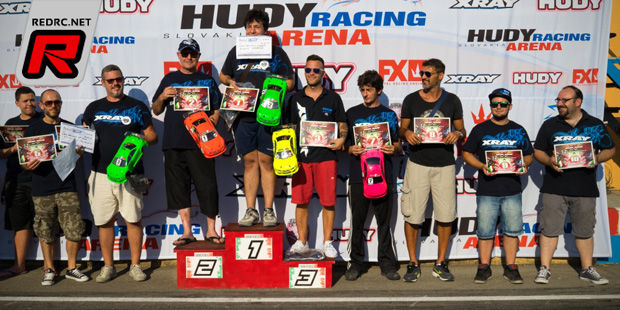 Real Stock 17.5 results
1. Biagio Verbicaro
2. Emanuele Agnoletti
3. Christian Raffo
4. Vincenzo Vazzana
5. Sergio Furelli
6. Gabriele Peafrini
7. Fabio Cocca
8. Samuele Papi
9. Andrea Gavi
10.Pericle Tancioni
In the ever growing Formula class Jan Ratheisky was able to set TQ and win the first two finals. Simone Brocca came in 2nd, Maurizio Materassi rounded out the top 3.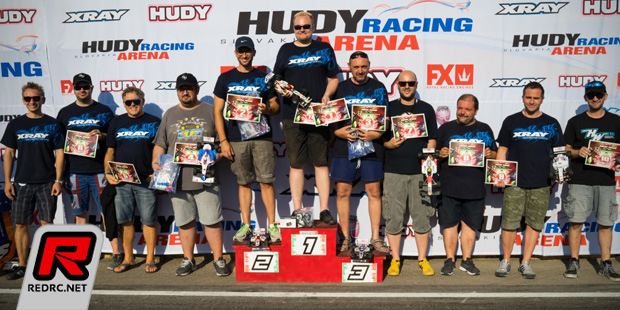 Formula results:
1. Jan Ratheisky
2. Simone Brocca
3. Maurizio Materassi
4. Paolo Paoletti
5. Matteo Berlincioni
6. Alessandro Arisi
7. Davide Carbone
8. Roberto Rampini
9. Andrea Selva SMR
10.Alessandro Bandoni
Last but not least in the 1/10th scale Pan Car class Umberto Pernice took the day's win from "Team Xray" and Andrea Valerio.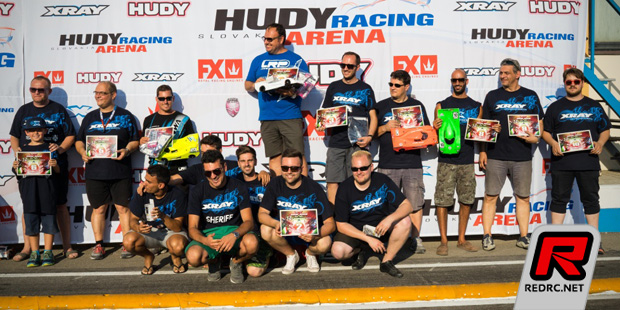 Pan Car results:
1. Umberto Pernice
2. Team Xray
3. Andrea Valerio
4. Alessandro Bianchi
5. Alessandro Rampini
6. Cristiano Ciarlone
7. Stefano Bettazzoni
8. Nicolò Grisenti
9. Alessandro Rota
10.Claudio Brandi
Source: Xray [teamxray.com]
---