August 3, 2015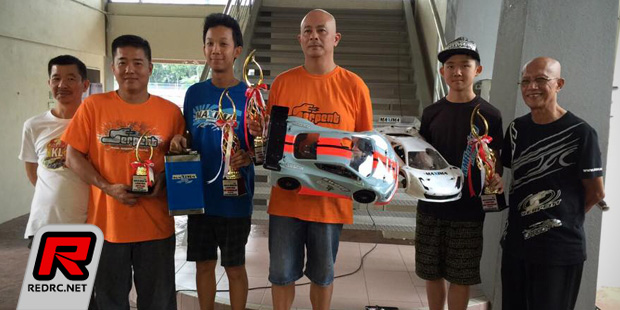 The warm-up race for the 2015 1/5th and 1/8th GT World Cup took place last weekend in Kepong, Kuala Lumpur, Malaysia. Apart from the two classes of the World Cup, the race also saw 1/8th and 1/10th nitro on-road racing. In the 1/8th GT Class, Thailand's Paphon C would take the TQ ahead of local drivers KL Lim and Nick Chong. In the 1/8th class Nelson Lee came out fastest from Alvin Ng.

The finals would start with a slight delay following heavy rainfall. In the very competitive 1/8th GT class, which was run in semi-wet conditions, the early battle was between Paphon and Nick Chong, as the two front runners got away from the rest of the pack. However after running into some problems, both Paphon and Nick Chong dropped down the pack which allowed Anthony Wee to take the win, a lap ahead of Paphon with KL Lim rounding out the podium after the hour long final.
1/8 GT A-main result:
1. Anthony Wee
2. Paphon
3. KL Lim
4. Pason Phua
5. Mizan
6. Nick Chong
7. Archawarok
8. Tan Seng Chye
9. Joe Hwee
10.Abedey
In the 1/8th Class, Alvin Ng spun out right at the start allowing Daryl Thong to move up into second. Later in the lap, leader Nelson Lee encountered issues which promoted Daryl into the lead, with Don Chng closely behind. The battle for the lead between Don and Daryl then was on for the majority of the race before Don encountered handling issues due to high tyre wear. As Daryl did not have to change tyres, he had a comfortable lead which he held on until the end. Don would finish in 2nd and local driver Haji Jusri rounded out the podium after the 40-minute final.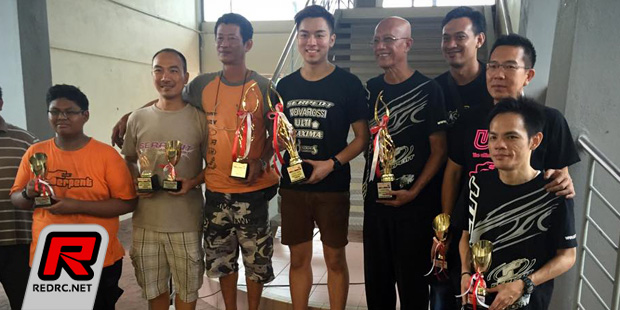 1/8th A-main result:
1. Daryl Thong
2. Don Chng
3. Haji Jusri
4. Alvin Ng
5. Daniel Chee
6. Abedey
7. Danial Nasir
8. Nelson Lee
9. Lai Kok Heng
10.Alex Ooi
11.Richard How
12.Wong Yoke Wah
13.Anthony Chea
In the 1/10th Class, Fabio K took the lead on the first lap and never looked back, taking a commanding win after 30 minutes as rain started to fall.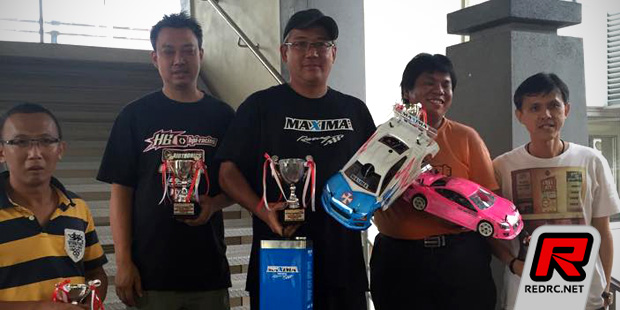 1/10th A-main result:
1. Fabio K
2. Joe Hwee
3. James Lim
4. SK Heng
5. CS Lee
6. Faisal
7. Teddy Yeong
8. Bob Yat
9. Freddy
10.Baha
Source: Serpent [serpent.com]
---