August 11, 2015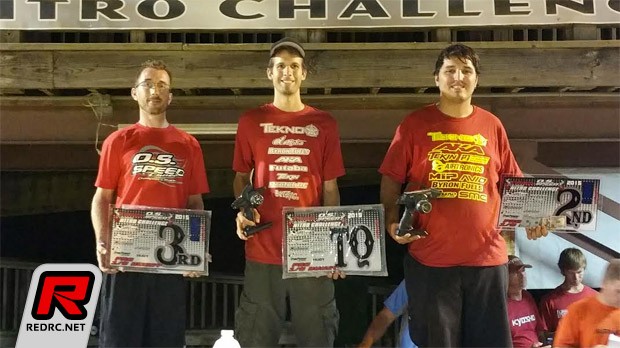 The 2015 Futaba/O.S. Racing Nitro Challenge is in the books and it was an incredible event and this year featured an excellent but challenging track from Sik Track Designs (AKA Levi Jackson). With all the top guns from the Midwest and factory drivers Ryan Lutz, Joe Bornhorst, Josh Wheeler, Matt Gosch, and Michael Paige, the competition was going to be tough. The format for this race is different than most races with practice on Thursday evening and on Friday. With the first round of qualifying on Friday night under the lights. The final 2 round of qualifying on Saturday and the raffle, Dash for Cash, and all the mains on Sunday. This race features double A Mains for both Pro Buggy, Pro Truck, and E Buggy.
With over 230 drivers in attendance, a very challenging track and the extreme heat and humidity, it was a true accomplishment for both the cars and the drivers just to make it into the A Mains and for the pros with the double A Main format, it was even more gruelling! Once qualifying was over, Futaba team driver Ryan Lutz took the TQ in Pro Buggy, Pro Truggy and E-Buggy completing the tri-fecta. Also in the top five were Josh Wheeler, Joe Bornhorst, Matt Gosch, and Michael Paige.
In the E-Buggy A Mains, the battle was between Lutz and Bornhorst while both drivers were putting on a driving clinic, it was Bornhorst who would come out on top in A1 and A2.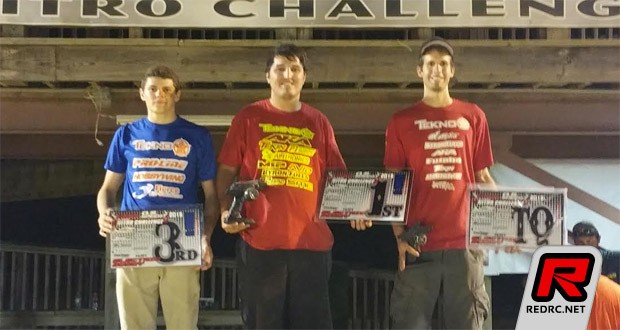 Final Results from Ebuggy
1. Joe Bornhorst
2. Ryan Lutz
3. Carter Flotron
4. Graham Gonzales
5. Nate Jaskot
6. Colton Kiefer
7. Jimbo K
8. Sonny O
9. Jared Wiggins
10.Zach Phillips
11.Julian Malevanets
12.Johnathan Burkhalter
In Pro Truggy, it was an epic battle between the Lutz, Wheeler and Bornhorst. In the first 20 minute main, Lutz walked away from the competition and came out on top with Wheeler in second and Bornhorst in third. In the second 20 minute main, it was much of the same with Lutz coming out on top this time again but with Bornhorst in second and Wheeler in third.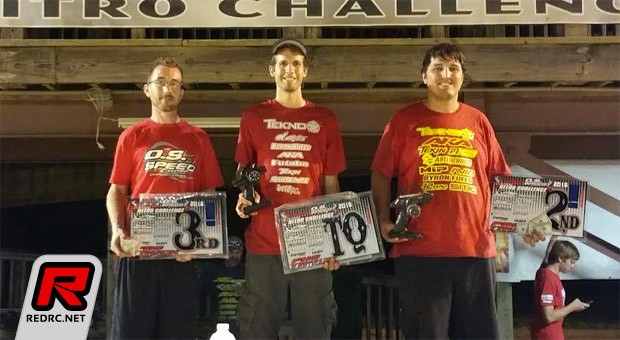 Final Results from Pro Truck
1. Ryan Lutz (TQ)
2. Joe Bornhorst
3. Josh Wheeler
4. Michael Paige
5. Graham Gonzales
6. Dillon Caldwell
7. Colton Kiefer
8. Chris Marrant
9. Sonny O
10.Britten Curry
11.Jimbo K
12.Cole Tollard
In Pro Buggy, Futaba young gun Michael Paige, took the $150.00 dash for cash and the pole position for the first Pro Buggy A Main. When the tone sounded, Lutz was off. The first part of the race it was a 5 way battle. In the end, Lutz took the win with Bornhorst coming in second and Paige falling back to third. Wheeler would end up fifth after a long pit stop changing a flapping tire. In the second A Main, it was the Wheeler and Lutz show. Wheeler was on a mission to finish better than the first one and would end up on top with Lutz in second and Bornhorst coming in third.
Final Results from Pro Buggy
1. Ryan Lutz (TQ)
2. Joe Bornhorst
3. Josh Wheeler
4. Mitchell Gardner
5. Michael Paige
6. Jimbo K
7. Justin Wheeler
8. Jared Wiggins
9. Nate Jaskot
10.Colton Kiefer
11.Carter Flotron
12.Matt Gosch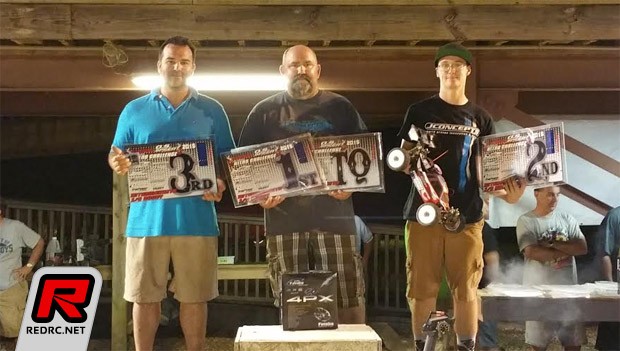 In the intermediate classes it was James Flagg that took the win in Intermediate Buggy and Randy Keesling that took the win in Intermediate Truck.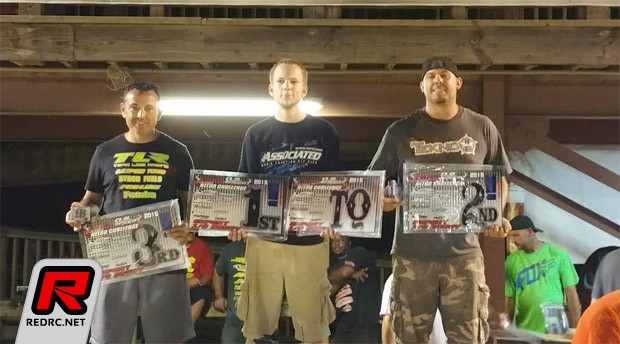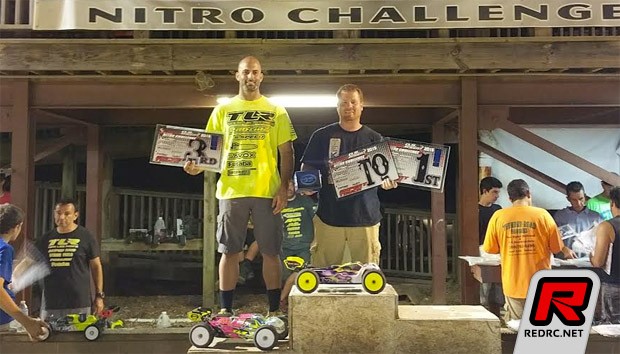 In the Expert Classes it was Sean Ramos that took the win in Expert Truck and Brad Dean that took the win in Expert buggy after a hard fought battle with Mike Murphy for the last 15 minutes.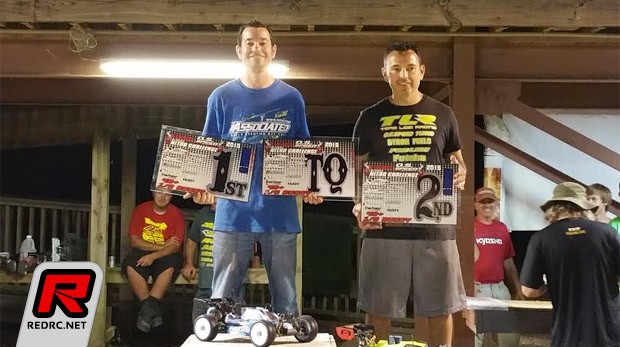 In the 40+ buggy class it was local Rod Rippee that took home the win.
Source: Kiefer Designs [kieferdesigns.com]
---