August 25, 2015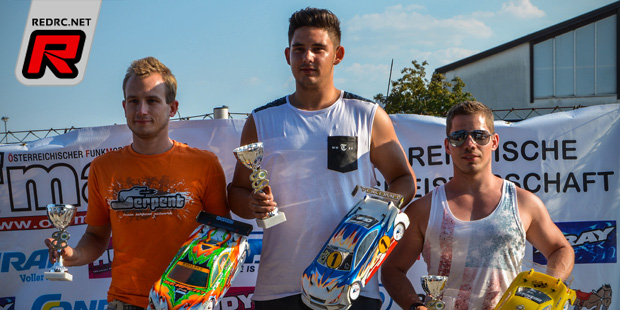 Round five of the Austrian Electric On-road Nationals was held under extremely hot weather conditions at the ERC Wiener Neudorf track near Vienna, with ambient temperatures reaching 40 degree Celsius and the track surfaces reached a scorching 60 degree Celsius. A total of 29 drivers attended in the three classes of Touring Car Modified, Touring Car Stock and Formula. The newly crowned champion Dominic Vogl was on holidays so Patrick Gollner (Yokomo) was the pre-event favourite in the Touring Car Modified class. As expected Patrick grabbed the TQ, although five-time champion Martin Schuster (Tamiya), at his maiden outing this season, as well as Mario Sowka (Serpent) gave Patrick a hard time. In the finals Patrick scored two easy wins to secure his first victory this season. Winning the third A-main and securing the runner-up spot was Mario Sowka, followed by Martin Schuster.
Modified A-final result:
1. Patrick Gollner
2. Mario Sowka
3. Martin Schuster
4. Toni Eder
5. Sascha Klug
6. Manuel Gremlica
7. Helmut Frauenschuh
8. Florian Luyer
9. Christian Frauenschuh
10.Christoph Holzer
In Touring Car Stock Jürgen Horn (Xray) again dominated as he won three out of four qualification heats and again made a clean sweep in the finals. Next to him were Jan Popic, 2nd after the qualification and Christian Völker on the 3 spot on the grid. In the finals it was Christian who had flawless runs with Yokomo to grab the runner-up spot from Jan Popic (Xray).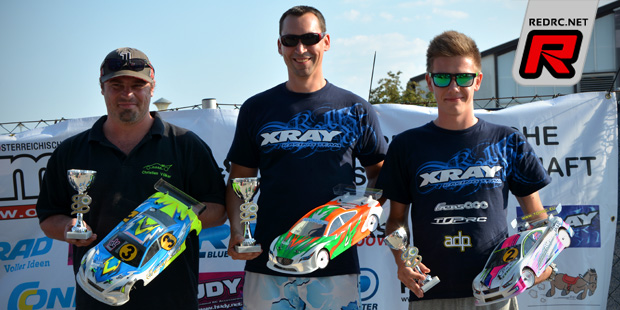 Stock A-final result:
1. Jürgen Horn
2. Christian Völker
3. Jan Popic
4. Vinzenz Schrank
5. Markus Linecker
6. Rene Kronsteiner
7. Rudolf Pobuda
8. Karl Kop
The Formula class proofed to be a much closer affair than normal. Herbert Weber put his CRC on TQ followed by Markus Wurmhöringer (VBC Racing) and Thomas Landegger (CRC). After some exciting finals, it was Herbert Weber who took the win, followed by a very strong and smooth driving Rudolf Pletka (Xray) and Markus Wurmhöringer in third place.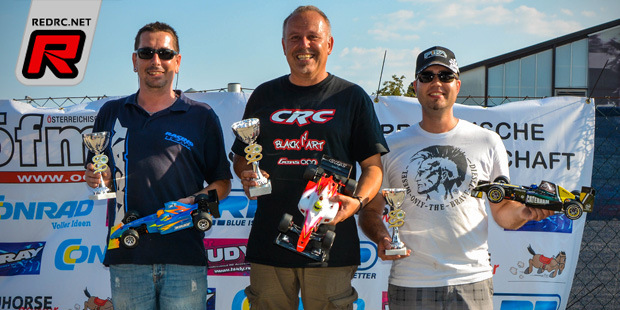 Formula A-final result:
1. Herbert Weber
2. Rudolf Pletka
3. Markus Wurmhöringer
4. Andreas Teubl
5. Thomas Langegger
6. Hermann Böhz
7. Bernhard Welker
8. Franz Pletka
The sixth and final round will take place in Linz at RCR raceway on the weekend of the 6th of September.
Source: Öfmav [ofmav.at]
---