August 7, 2015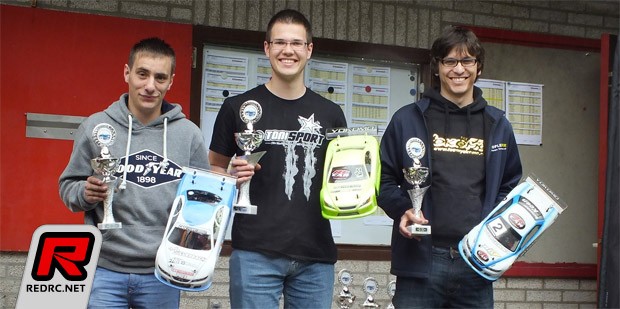 The fifth round of the Belgian Electric Touring Car Nationals was held at the circuit of M.A.C. de Baanbrekers in Rucphen last weekend a circuit which is known for its fast corners and high speed straight. The day started sunny but as expected, rain was on its way. In the EFRA class it was Michell Van Es who took the TQ, right behind him was Nick Joosens in second place, followed by Thomas Stockman. During the first final Mitchell managed to create and maintain a gap between him and the second car. Fighting for that second place were Nick and Thomas. But as the clocks was ticking down, Thomas came a lap short. Mitchell won, followed by Nick and Thomas.
The second final was a whole other story: it was raining. Due the bad weather, some riders forfeited, including Thomas. At the start Nick quickly overtook Mitchell and could cruise to victory on the slippery track. Stefan Rommens managed to beat Mitchell, finishing second. Mitchell came in third. The third final was the deciding final for getting first place. After 2 minutes, Nick took the lead from Mitchell. After a few laps Nick made a mistake and Mitchell took the lead back, after an exciting last minute Nick came 0.4 s too short for the win, so Mitchell won with Nick right behind him, Robby Engelen finished third. Dutchman Mitchell Van Es (Yokomo) won his first Belgian national, followed by Nick Joosens (Yokomo) and Stefan Rommens (Hot Bodies).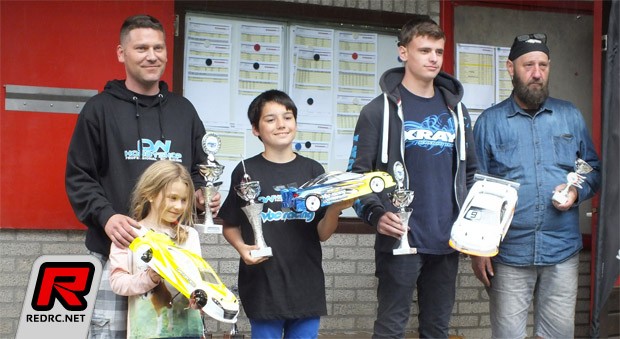 In the Stock class it was Athan De Witte who took the pole position, followed by Kristof De Witte and Frans Engelen. In the first two finals, Athan managed to take a big lead on the rest of the track, ensuring a win. Athan (VBC) took two wins and thus winning this round, followed by Kristof De Witte (ARC) in second place and Dylan Senaeve (XRay) in third place.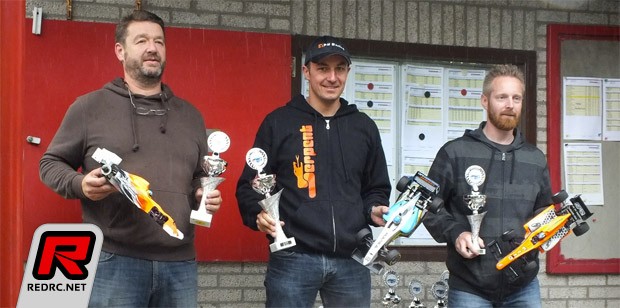 In the Formula 1 class it was Steve Deblaere who took TQ and the win, in front of Stephane Delise and home driver Eppo Cleiren.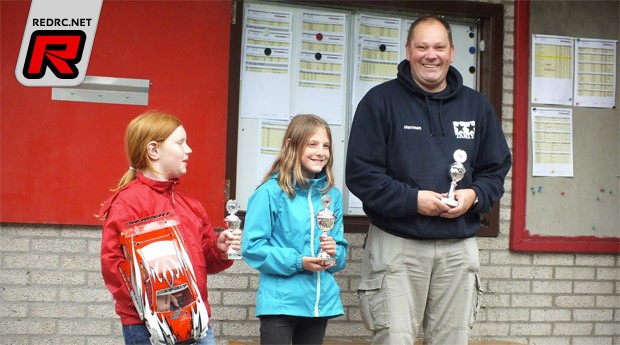 Also the Rookies ran their race with Femke Roelans who won in front of Herman Van Gansen and Dillon Cleiren.
Thanks to Krist Bultynck for the report.
---