August 24, 2015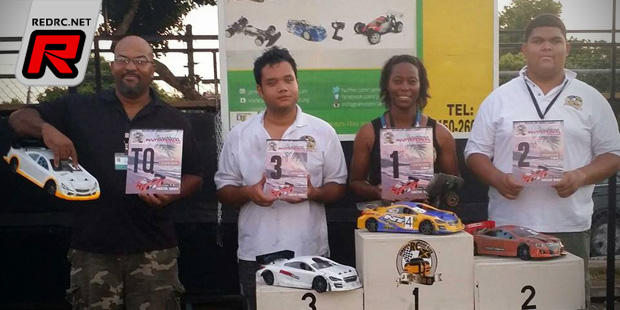 JamRock Radio Control Car Club of Kingston, Jamaica, recently hosted its inaugural Caribbean Invitational event. The Jamaicans competed with racers from Curacao as well as Trinidad and Tobago at this historic event whose 3-day schedule included a day of open practice, four rounds of qualifying and single nitro as well as triple electric A-mains. Michael Clarke (Jamaica) took the TQ in 1/10th scale Nitro Sedan, Andy Debique (Trinidad & Tobago) came out fastest in 1/8th Nitro GT, Nikoli Yap (Jamaica) TQ'd 1/8th scale 4WD Open and Marwen Martina (Curacao) put his car on top of the Electric Touring 13.5 Blinky timing sheets.

In the Nitro Sedan A main, Denise Burton-Clarke showed some classic driving as she took the lead some nine laps into the 40-minute main. She was able to fend off several challenges to maintain her position with some clean and consistent lines. She ended the race with a 6-lap lead over her closest rivals, fellow Jamaicans Chad Chang and Marc Yap who finished second and third respectively.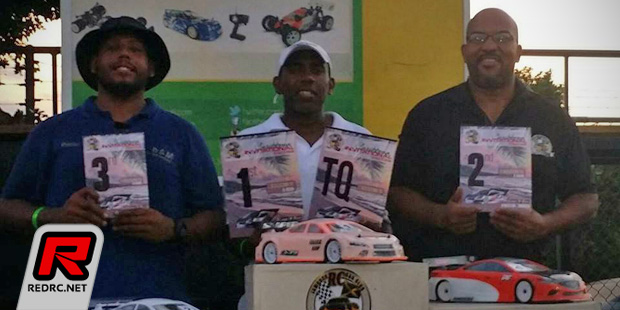 The Electric Touring 13.5 Blinky triple A-mains were in total control of Marwen Martina out of Curacao by achieving 23 laps in two of the mains. Paolo Inocencia had the fastest lap time of the event setting a new track record. He was able to put down consistent 15.6's, however he had to settle for third place after Mike Clarke from Jamaica snatched the runner-up spot from him.
Howard Maitland made good on his promise to come out as the event champion in Nitro GT. He took the lead from top qualifier Andy Debique (Trinidad & Tobago) at lap 29 and held on to it, to win with a 2-lap margin. He was followed by Andy Debique in second and Jason Givans (Jamaica) in third.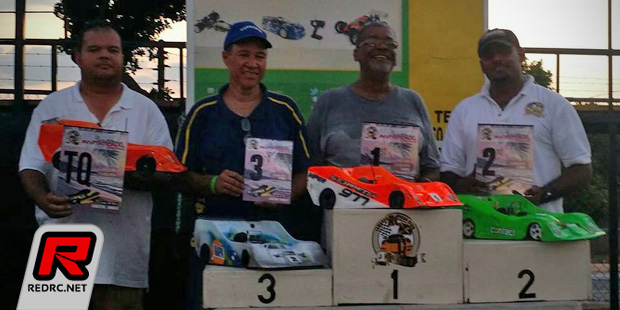 When the high speed cars of the 1/8th 4WD Open class entered the track, the spectators gave special attention. Top qualifier Nikoli Yap (Jamaica) ran into trouble just 3 laps into the 40-minute main. He was able to get back on the track setting blazing lap times of low 13's but shortly after retired from the race due to a broken rear lower arm. The battle for the positions was on between Giordano Pieternella (Curacao) and Douglas Day (Jamaica) but Day was able to get the better of Pieternella finishing the race with a comfortable lead of 24 laps, Raffique Golaub (Jamaica) finished second and Pieternella third.
Thanks to Franklin Thomas for the report.
---