August 16, 2015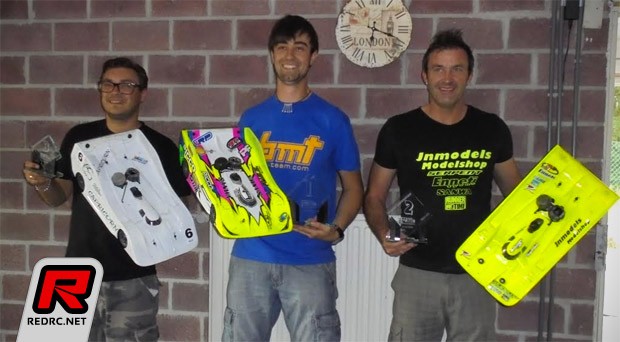 The third round of the Belgian 1/8th and 1/10th onroad gas championships took place in Roeselare last weekend in very nice weather conditions. In 1/8th scale it was again Robin D'Hondt (BMT) who convincingly took TQ, being the only driver of the 17 present in the class able to put 22 laps on the board. He was followed by 3 MRCL-drivers, Hugues Yerna, Yves Zoma and Augustin Mejor with qualification times within 0,5 sec of each other. Robin dominated the 30 minute final and found no competition for first place. Behind him an exciting battle took place for the other 2 podium places, in this the pit stop performance played a key role for the end results. After many position switches Nico Vandewynckel came in 2nd, a few seconds in front of Yaramishan Alexy in 3rd and a strong driving Hugeus Yerna in 4th.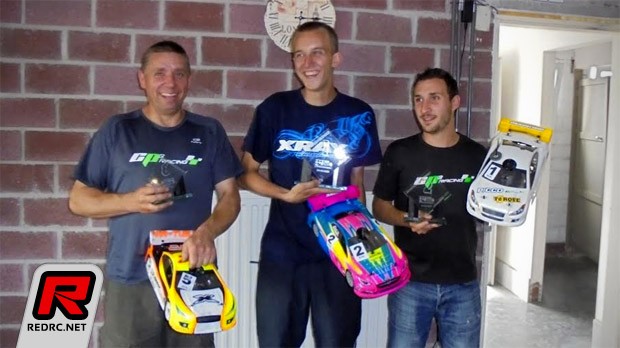 In 1/10th the field of drivers was made up of 15 drivers, with the majority coming from MRCL. Jonathan Sanza TQ'ed and was leading in the final up until he had some gear problems causing him to drop down to 6th position. Dimitri De Baeker, 2nd on the grid, then took over 1st position and kept it to the finish. Jonathan was able to recover to 2nd, with Eric Daniels only 2 seconds behind him in 3rd. The last race for the Belgian championship is run in Genk on 6th of September, with the battle still open for the national title in 1/8th.
Thanks to Bert Aerts for the report.
---