August 5, 2015
Round 4 of this year's Dutch BL-Cup was held at the Mach-one circuit in Helmond. The winner of the previous two races, Bart Mullink, was attending a different event, giving other drivers the chance to score maximum points for the overall standings. This turned out to be a bit more difficult than expected as a few local drivers of the Mach-one club participated for the first time in the BL-Cup and one of them was Sander van Genechten who ultimately took the win. The 2nd place went to Stefan Petrich followed by Erik Wadners in 3rd.

For the fifth round of the BL-Cup the drivers travelled to the new off-road track of the Real80 club in Groningen. Again Sander van Genechten drove good, just missing out a podium finish in 4th place. Bart was again very quick but a blown speed controller had him starting from the lower finals to bump up into the main final. He then had a nice battle with Patrick Carels with the better end for Bart. Patrick Carels came in 2nd and Robbert de Weerd finished in 3rd place. With the win at round 5 it is nearly impossible for the other drivers to grab the title and with only one race to go Bart looks to have locked up the title for 2015.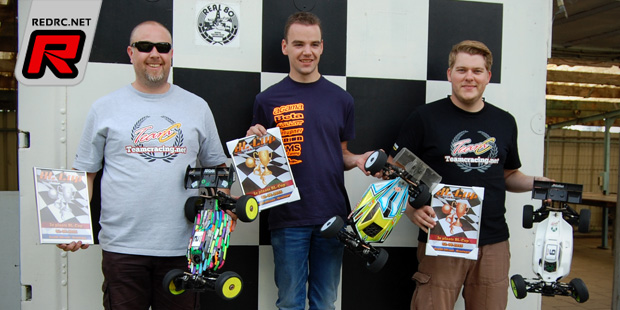 Thanks to Oscar Koot for the report.
---