August 26, 2015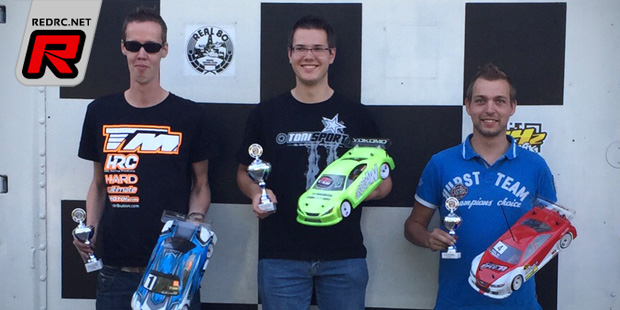 Round five of the Dutch electric on-road nationals was held in the North of the Netherlands at the Real80 track in Groningen. Beside the usual Touring Car Modified and Stock as well as Formula classes the event also saw the running of a supporting Club class. Saturday's practice sessions were run in perfect weather conditions and many drivers made use of the opportunity to adapt their cars to the bumpy track surface. The nice weather also held up for Sunday and the schedule with three rounds of qualifying and triple mains could go ahead a planned. In the Modified class Rob Janssen (Team Magic) took the TQ from Mitchell van Es (Yokomo) and Bram Lagerwey (Xray) while in the Stock class Sybrand de Boer, Vincent Koers and Fokke Groen made for an Xray 1-2-3 after the qualifiers.

The Formula class had Martijn van der Heijden (Xray) coming out fastest from Michel van der Velden (Tamiya) and Raimond Kieftenbeld (Xray). Last but not least in the club class it was Dennis Been (Xray) who took the TQ from Marcel Pinkster (TOP) and Gerrie Swarts (Xray). After the lunch break the finals would be held and despite the sun shining the track conditions changed a bit due to a big dust cloud that covered the track, making things a bit unpredictable. In the Modified finals Mitchell van Es and Rob Janssen swapped places compared to the qualifying result with Jetze Reitsma (Spec-R) rounding out the top 3 result.
Modified top 3 result:
1. Mitchell van Es – Yokomo
2. Rob Janssen – Team Magic
3. Jetze Reitsma – Spec-R
The Touring Car Stock class had Sybrand de Boer coming out successful from Rick van Akker in second and Martijn Spaans in third.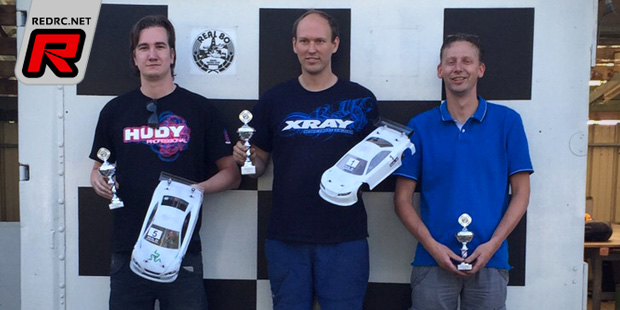 Stock top 3 result:
1. Sybrand de Boer – Xray
2. Rick van den Akker – Xray
3. Martijn Spaans – VBC
The Formula class saw Martijn van der Heijden taking the day's win from Raimond Kieftenbeld and Michel van der Velden in second and third respectively.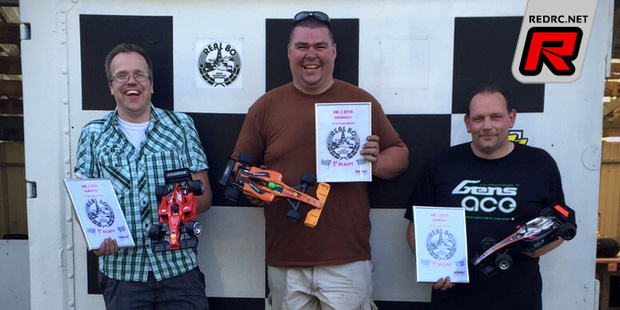 Formula top 3 result:
1. Martijn van der Heijden – Xray
2. Raimond Kieftenbeld – Xray
3. Michel van der Velden – Tamiya
In the Club class Dennis Been was able to conserve his qualifying performance to take the win from Marcel and Andre.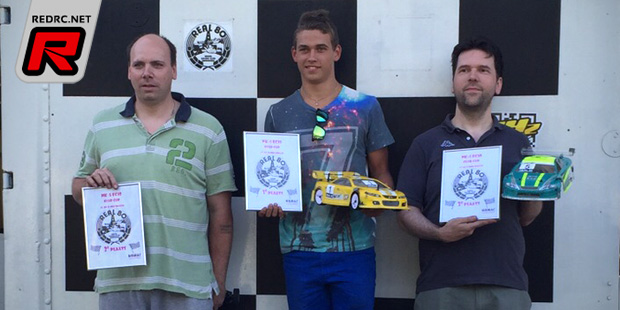 Club top 3 result:
1. Dennis Been – Xray
2. Marcel Pinkster – TOP
3. Andre Bos – Xray
The final round of the nationals will be held on the weekend of the 27th of September at the MAC de Baanbrekers track in Rucphen.
Thanks to Martijn van der Heijden for the report.
---