August 31, 2015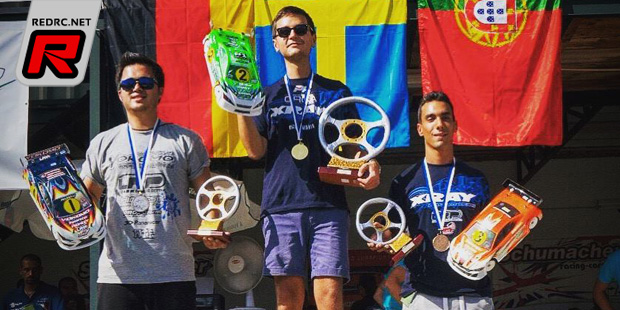 The 2015 Electric Touring Car European Championships were held at the Torres Novas track in Portugal. The fairly technical track was host of an EFRA TC Euro before and it offered a medium traction level for the drivers in both the Modified and Stock classes. In Modified, Alexander Hagberg and Bruno Coelho were the pacesetters in both practice and qualifying. A power failure in the forth qualifying round made for some drama and unexpectedly cold track temperatures gave Ronald Völker a huge advantage in Q5 to win the tie-breaker over Alexander so Ronald would grab the pole position from Alexander in second and Bruno in third.

In the opening Modified A-main Ronald and Alexander would be the only front runners on new tires. Alex tried to make the best out of the fresh rubber but was a bit too aggressive on his first attempt to overtake Ronald, sending the German's Yokomo on the roof. Alex waited in great sportsmanship and he later was able to catch Ronald in the closing stages of the final to take the win in A1. In the second A-main Bruno Coelho, on new tyres, took a straightforward win, passing Alex and Ronald in the opening stages of the leg while Alexander only came in fourth due to a lack of grip on old tyres. The third A-main would be the decisive final and from the tone Ronald opened a small gab. Alexander eventually managed to close that gap, closely followed by Bruno. Alexander was able to stay on Ronald's tail but without any chances for a clean pass and so Ronald would bring home the win but with a slower time than Alex in A1, handing the Xray driver the European Championship title and his chassis sponsor the first Touring Car Modified Euros title. Ronald Völker ended the event on the runner-up spot while Bruno came in third to round out the podium.
Modified results:
1. Alexander Hagberg – Xray
2. Ronald Völker – Yokomo
3. Bruno Coelho – Xray
4. Marc Rheinard – Tamiya
5. Elliott Harper – Schumacher
6. Loic Jasmin – Yokomo
7. Viljami Kutvonen – Awesomatix
8. Martin Hudy – Xray
9. Marco Kaufmann – Xray
10.Olivier Bultynck – VBC
In the Spec class, Marek Cerny converted his TQ into a win with two tone to tone finishes in the first and second A-final. The result handed Marek the title for the second time in a row. Team mates Jan Ratheisky and Pierre Delorme would round out the podium while young David Perez snatched the European Junior Champion title.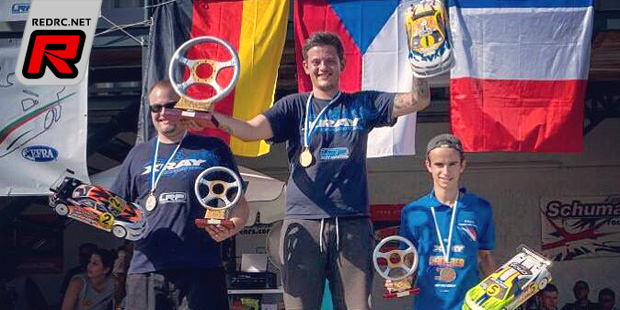 Spec results:
1. Marek Cerny – Xray
2. Jan Ratheisky – Xray
3. Pierre Delorme – Xray
4. Jeremy Delalondre – Yokomo
5. Martin Hofer – Yokomo
6. Tony Streit – Awesomatix
7. Mike Gosvig – Xray
8. Aaron Rose – Schumacher
9. Steve Favrelle – ARC10
10.Jean Delorme – Xray
Source: Xray [teamxray.com]
---